The first days of November brought a pair of private equity-related developments in the consumer sector. Leonard Green & Partners agreed to acquire UK fitness center operator Pure Gym at a reported valuation of some £600 million, while Apollo Global Management is reportedly bidding to buy Qdoba, an operator of fast-casual Mexican restaurants, from Jack in the Box. That deal could be worth up to $500 million, per the New York Post.
Those moves are something of a rarity in 2017—a year that's seen a sharp decline in global private equity deals in the restaurants, hotels & leisure sector after activity in the space reached record heights just two years ago: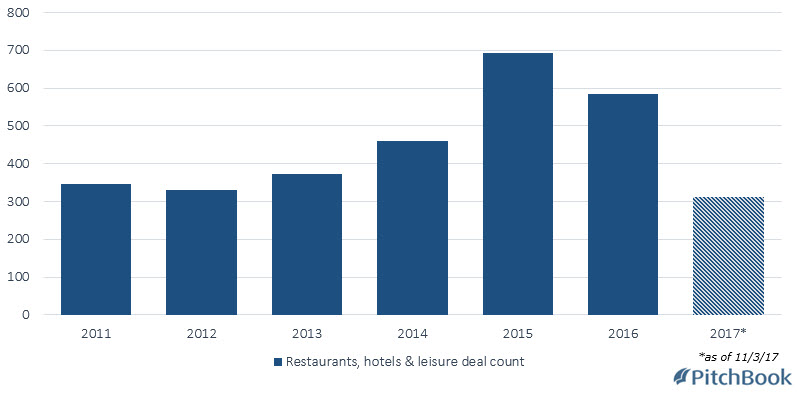 Investors have completed 312 transactions in the space across all geographies
so far this year
, according to the PitchBook Platform, on pace for barely half as many as in 2015. A similar trend is occurring in the B2C sector as a whole, but the phenomenon is more intense when it comes to restaurants, hotels & leisure. Activity in the subsector this year is on pace to end up at 53.5% of 2015 levels, per PitchBook data, and that number is on track to finish at about 65%
for all of B2C
.
Another ongoing development in the restaurants, hotels & leisure space is the rise of Europe at the expense of the US. In 2012, for instance, more than 48% of deals in the industry took place in the US, while 38% occurred in Europe. So far this year, though, the numbers are very different: Nearly 52% of investments have involved European companies, compared to 36% for the US.
On that front, LGP's pending takeover of Pure Gym is perhaps not so surprising. The buyout firm is set to purchase the company from CCMP Capital Advisors, which had backed the UK-based fitness business since 2013. Headquartered in Leeds, Pure Gym operates 189 locations and claims more than 950,000 members.
Any potential deal between Apollo and Qdoba, meanwhile, is likely still weeks away, with Jack in the Box said to still be considering bids from several suitors. Founded in 1995, the company is a wholly owned Jack in the Box subsidiary that runs about 700 restaurants in the US and Canada.
Want more? PitchBook subscribers can check out the full data on restaurants, hotels & leisure.