The buy-and-build model is popular in the PE industry. Investor appetite for add-ons stretches back about a decade, but most of the increase has taken place in the middle market, per our
2017 Annual US PE Middle Market Report
. Following the financial crisis, lower- and core-middle-market add-on activity in the US exploded by volume, peaking in counts in 2015 and 2014, respectively. Upper-middle-market activity accelerated just as strongly, increasing by more than 1,000% between 2009 and 2017. It should be noted, though, that UMM add-ons were a rarity in 2009 (only 14 for the entire year), making last year's 171 add-ons seem like a much higher surge in percentage terms.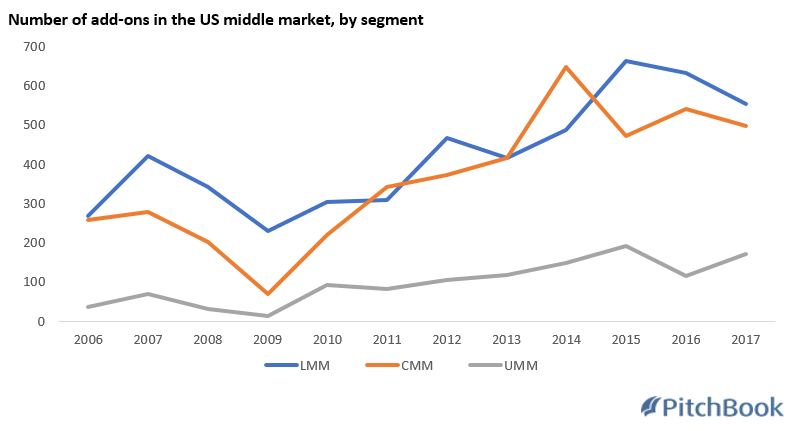 The "buy-and-build" approach has become so common that it's now considered an integral part of the buyout market. That wasn't always the case—in years past, PEGs relied heavily on financial engineering and arbitrage opportunities to earn their massive payouts. As the industry grew in size and the market became much more competitive, leverage and arbitrage were suddenly far less reliable tools. The financial crisis was a turning point for private equity, insofar as new ideas and approaches were quickly needed to outperform the market. The industry turned to add-ons, which in many cases involved much those smaller companies historically overlooked by investors. Portfolio companies large and small require significant amounts of operational improvements to make successful investments. Therefore, the bias toward large targets was justifiable in that sense but, post-2009, those targets didn't offer the same potential as they once did. Smaller companies lacking managerial expertise and capital quickly garnered PE's attention, as the accompanying chart makes clear.
Fast-forward 10 years, and today's investors are often expected to have a list of roll-up targets ready to go before the platform is even acquired. If the platform company isn't impressed, another PE firm might be waiting in the wings with a better roll-up plan. No longer ignored, smaller companies now play a significant, sometimes crucial role in the fortunes of investors, demonstrating what a difference a decade can make in the PE world.
This column originally appeared in The Lead Left.