Investor Spotlight: Providence Equity Partners
June 22, 2016
Providence Equity Partners' pride in its outsider status is right there in the name. Headquartered in the capital of Rhode Island, the smallest state in the U.S., the private equity firm is just 180 miles from New York City but a world away from the Big Apple's spotlight. At times, that gives Providence the chance to fly under the radar.
"It's harder to do what we do if we telegraph our moves," CEO Jonathan Nelson told The New York Times in 2003. "I love the fact that we're not covered. If you think our [firm's] profile is low in New York, it's even lower here (in Providence)."
Nelson and his firm have encountered plenty of dizzying highs and frustrating lows since that 2003 interview, but one thing has never changed: No matter what, Providence Equity Partners always keeps it interesting.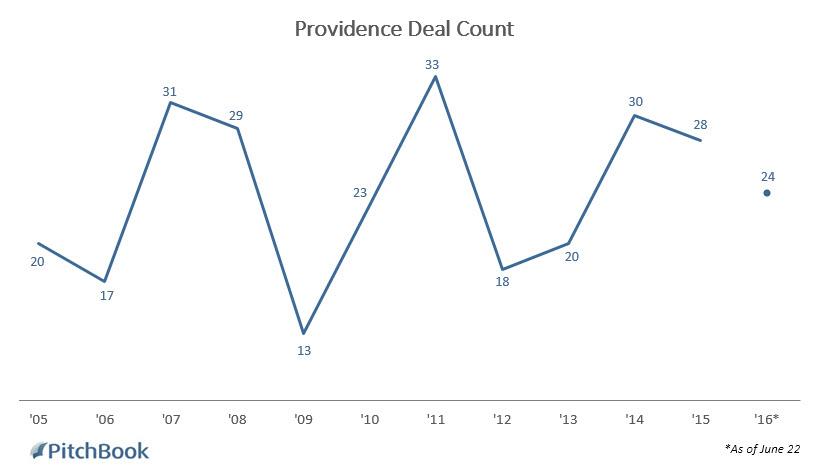 Firm History
Nelson grew up in Providence and spent his undergraduate years at Brown University, so the city was a natural home when he started his own firm in 1989 alongside Glenn M. Creamer. In its early years, Providence Equity Partners invested solely in the media and telecommunications space, the industries on which Nelson and Creamer focused earlier in their careers. The firm entered the private equity consciousness with a few wildly successful deals in its first decade-plus, including an investment in Brooks Fiber Properties that resulted in a 7x return and turnarounds of VoiceStream Wireless, cable television giant Kabel Deutschland and Irish phone company Eircom.
Before long, Providence was one of the hottest names in PE. The hullabaloo reached a peak in 2007 and 2008, a stretch in which the firm closed a massive $12.1 billion fund and led an investment totaling $51.5 billion in BCE, the parent company of Bell Canada. To celebrate that particular purchase, kingmaking magazine Fortune slapped a photo of Nelson on the cover of its May 2008 issue alongside a headline that screamed, "The Biggest Deal Ever."
In retrospect, Nelson would put it bluntly: "We grew too fast," he later told The New York Times. In its rush to unload an ever-growing pile of capital, Providence had begun to branch away from its core media and communications investments, dipping its toes into a widening array of industries. The result was a number of high-profile losses (including the bankruptcy of Altegrity, the security company that vetted Edward Snowden for the NSA) and two consecutive funds that posted disappointing returns.
The poor results were a wakeup call, resulting in a resumption of focus on the media and communications sectors. If Providence's early success was an introduction and its boom-era disappointments an Icarus-like rise and fall, consider the current management of its seventh flagship fund an important third act.
Investment Strategy
Today, Providence focuses on media, communications, information and education, the areas of its partners' expertise. According to the PitchBook Platform, a whopping 97% of the firm's active portfolio companies fall into the B2C, B2B or information technology sectors.
During the past decade, the firm averaged 24 private equity investments per year, or two per month, with annual totals ranging from 13 (in 2009) to 33 (in 2011). Last year, 16 of Providence's 28 deals were LBOs, the highest proportion (57%) since 2006. Of those acquisitions, 21 were add-ons, the most by the firm in a single year and the highest percentage of buyout activity since 2007.
One of the unique aspects of the firm's strategy is its focus on sports. In 2013, for instance, it announced an investment partnership with the National Football League, with each of the NFL's 32 teams contributing $1 million and Providence providing an additional $250 million. Bruin Sports Capital and Redbird Capital Partners have since joined the venture, which invests in companies with some potential benefit to the league. While the firm has divested some of its more high-profile athletic stakes—such as New York Yankees broadcaster the YES Network and triathlon brand Ironman—the Providence portfolio still includes plenty of other noteworthy sports businesses.

Notable Dealmakers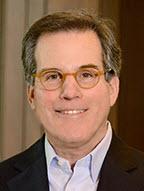 Jonathan Nelson, CEO and Co-Founder
As his chief executive and co-founder status would indicate, Nelson is the clear face of the firm, gracing the aforementioned cover of Fortune and serving as the subject of two lengthy features in The New York Times. Like Providence itself, his investment specialties are media and telecom companies. Nelson currently serves on the boards of MLS Media, Univision Communications, TVB and The Chernin Group.
Glenn M. Creamer, Managing Director and Co-Founder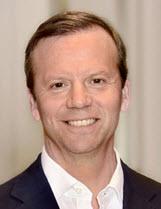 Creamer's days alongside Nelson date to the 1980s, when the two worked together at Narragansett Capital before departing to form their own shop. Before that, Creamer worked in investment banking at Merrill Lynch and J.P. Morgan. Today, he's on the board of directors at CDW, a major retailer of tech products and services acquired by Providence (in tandem with Madison Dearborn Partners) for $7.3 billion in 2007.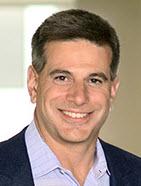 Paul J. Salem, Senior Managing Director
Salem is the resident Europhile on the Providence masthead. Before joining the firm, he helped Prudential Investment establish an office in Europe, and in 1999 crossed the Atlantic again to do the same thing for Providence, spending two years helping the firm's fledgling London office get up and running before returning to the U.S. He's also on the board of directors for Providence's partnership with the NFL.
Mark Hastings, Managing Director & Head of Strategic Growth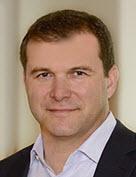 As the leader of PSG, the firm's tech-focused strategic growth arm, Hastings pursues earlier-stage investments than many of his Providence peers. Before joining Providence, he worked as a managing partner at Garvin Hill Capital Partners. Some of his recent deals including backings of content marketer SnapApp and logistics business GlobalTranz.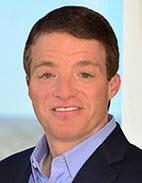 Michael Dominguez, Managing Director
Nearing his 20-year anniversary at Providence, Dominguez specializes in the media and communications sectors. His current board seats include CDW and ZeniMax Media, a video-game publisher that owns intellectual property rights to franchises such as Fallout and Doom. He's joined on the ZeniMax board by film producer Jerry Bruckheimer, baseball legend Cal Ripken Jr., CBS president Leslie Moonves and one Robert S. Trump, the brother of Donald Trump—a group that has the makings of a dinner party for the ages.
Peter Wilde, Managing Director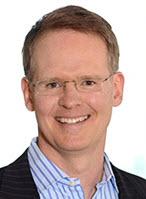 As the leader of Providence's activities in education and information, Wilde is a board member at a wide swath of companies, including professional training provider Ascend Learning, edtech darling Blackboard and continuing-education company Vector Learning. He also works alongside Hastings as a member of the PSG investment committee.
Industry/Geography
As mentioned above, Providence displays a real preference for the B2B, B2C and IT spaces, with the vast majority of its deals falling under one of those umbrellas. Delving a little deeper into the PitchBook Platform unveils a more detailed picture. The firm has of late steadily increased its exposure to the B2B sector, with such deals accounting for a full 50% of its 2015 activity, the culmination of a steady rise from 17% since 2010. So far in 2016, though, that fraction has dipped back down to 29%.
IT investments are filling the void. So far 46% of Providence's deals this year qualify for the sector, the largest figure in more than a decade. Media companies, meanwhile, account for a smaller share of activity, winding up as less than 20% of all deals in every year since 2007 (with the exception of 2011, when they made up 21% of the firm's deal flow).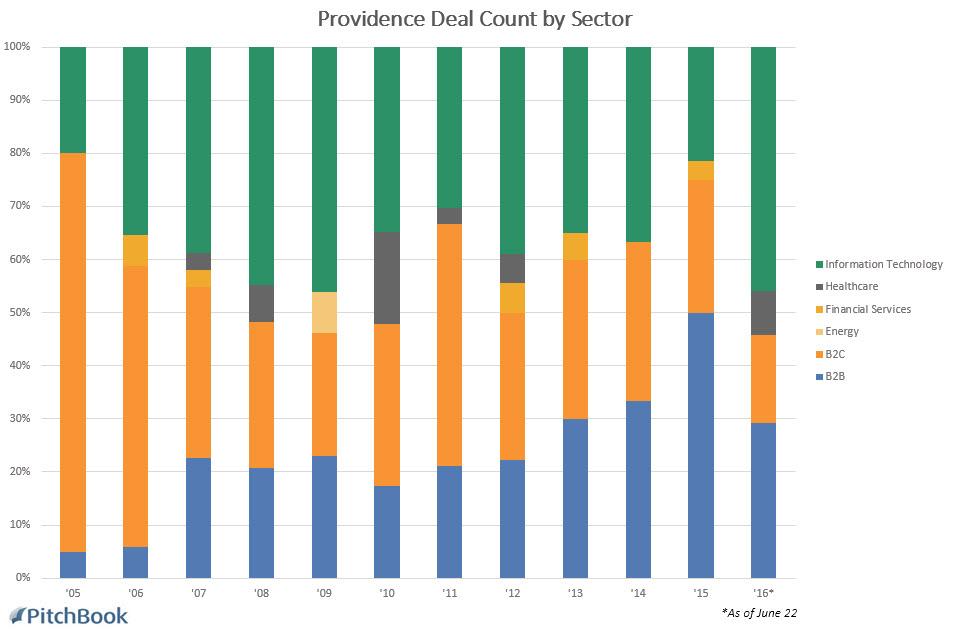 Geographically speaking, Providence operates almost exclusively in the U.S. and Europe, with a heavy lean toward domestic investing. Each of the past two years, 69% of its deals were in the U.S. The firm made between one and four investments in Asia every year from 2008 to 2014, but hasn't returned since. Within the U.S., Providence focuses on the Eastern Seaboard, with either the Mid-Atlantic or Southeast stacking up as the most active region each of the past five years. So far in 2016, though, that preference has slightly shifted, with half of the firm's deals occurring in the South or on the West Coast.
Fund Performance
Like many firms, Providence raises a variety of vehicles ranging from growth capital to distressed debt. We'll focus here on the firm's flagship buyout funds.
The metrics (IRR as of 4Q 2015 and other return multiples through 1Q 2016):

There's a very distinct point of demarcation between Funds IV and V, which roughly corresponds to the juncture at which Nelson has said his firm began to stray from its roots in media and communications. Fund IV ranked in the upper quartile of its benchmark with an eyebrow-raising IRR, while its two successors each currently sit in the bottom quartile of their respective peer groups. While those two poor performers did lead to a distinct drop in the size of Providence Equity Partners VII, though that vehicle's $5 billion cap still leaves the firm with plenty of flexibility. And considering that fund is still being managed, there's still plenty of time for these metrics to rebound even further after an extended downturn in the late-aughts.
Key Buyouts
In the past three or four years, Providence has moved away from the multibillion-dollar buyouts that dotted its portfolio during the preceding decade, showing instead a preference for smaller deals. Smaller, though, is of course a relative term. The firm still participated in a $630 million growth investment in telecom business Helio Towers Africa during 2014, as well as the 2015 acquisitions of trade-show organizer Clarion Events for £200 million and sports-marketing agency Chime Communications for £374 million.
The purchase of Chime served as a prelude to 2016, when Providence has been highly active in sports business investments. That includes a buyout of lowbrow blog network Barstool Sports via Providence's Chernin Group platform, reportedly for between $10 million and $15 million; a growth investment in Topgolf Entertainment Group, the operator of golf entertainment complexes; and a significant investment in Blue Star Sports, a provider for youth sports management software. Shortly after the Blue Star deal, Providence used its new platform to add on Pointstreak Sports Technologies and Goalline, two more providers of sports-related software.
The Providence portfolio still includes a pair of companies acquired in 2007 mega-deals, just before the bottom fell out of the buyout market. The firm joined a consortium of other PE buyers to pay $12.3 billion for Spanish-language broadcaster Univision in March of that year, and in July teamed with the likes of Madison Dearborn Partners and Welsh, Carson, Anderson & Stowe on a $4.1 billion buyout of Asurion, an insurer of wireless devices. Among the other big-ticket companies owned by Providence are Blackboard (acquired for $1.64 billion in 2011) and Canadian data-host Q9 Networks (purchased alongside other investors for C$1.1 billion in 2012).
Key Exits
Two major divestments stand above the rest in Providence's recent track record, both involving companies the firm initially backed in 2005. The first is financial software provider SunGard Data Systems, which the firm exited (along with other sellers) last August in a deal valued at more than $9 billion. And the second is Grupo Corporativo Ono, a cable broadband service provider in Spain, which Providence sold to Vodafone (NASDAQ: VOD) alongside other PE investors in 2014 for a total consideration of €7.2 billion.
The firm has been plenty busy completing other outsized exits, too. Last August, it sold the organizer of the Ironman triathlon series to Dalian Wanda Group for a reported $650 million plus debt. In May 2015, Providence and its co-investors received $500 million for Virtual Radiologic. And in early 2014, it sold a 25% stake in AutoTrader Group for $1.8 billion, earning a 3x return on an investment from 2010.
Until 2016, with the firm having just three exits to its name, Providence had picked up its exit activity significantly this decade after an extended lull. With 12 deals in 2015, 14 in 2014, 11 in 2013 and 17 in 2012, the past four years have brought the firm's four highest exit counts of the millennium—perhaps a sign of making up for lost time after the market uproar of the financial crisis and the chaos that came with it.
If that is the case, it's an apt synecdoche for Providence Equity Partners as a whole, a firm eager to move forward into what it hopes is a brighter future.
We love data, and we have a lot of it. Want to see investment/exit activity, fund performance and the top dealmakers of any other firm?
Contact us today
to check out the PitchBook Platform.
Join the more than 1.5 million industry professionals who get our daily newsletter!