There are many themes in the US PE middle market worth discussing, but one trend we can't ignore is its consistent strength over the years. On cue, 2018 is on pace for yet another record year for both deal counts and transaction value, coming on the heels of a blockbuster 2017. Both figures were ahead of those in 1H 2017—the 1,358 deals worth a combined $178.5 billion from 1H 2018 were 16% and 5% increases, respectively, over the same period last year, per our
recent US PE Middle Market Report
.
US PE middle market deal flow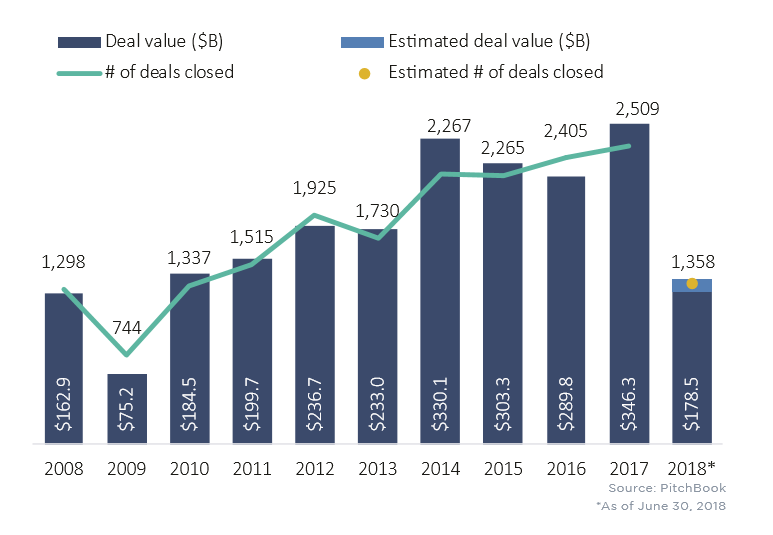 If past is precedent, the back half of 2018 will be stronger than the first half, as several past years saved their best quarters for last. Going back from 2017 to 2010, fourth quarters posted the highest quarterly value totals six out of eight times, and one of those exceptions (2014) saw its best quarter in 3Q. Moreover, there's little reason to expect a change of pace in the near-term when taking recent fundraising numbers into account.
Since the start of 2010, only four quarters have seen at least $40 billion raised for middle-market-focused buyout funds in the US. Three of those four quarters have been recent (4Q 2016, 1Q 2017 and 4Q 2017), so the next two to six quarters should see high levels of investment activity as those new pools are deployed.
The middle market has accounted for nearly 70% of all PE capital invested year-to-date. We don't expect the percentage to stay that high through the end of the year, as several announced multibillion-dollar deals have yet to close. That said, with more attention and LP capital heading to the middle market, we expect to see at least half, if not more, of all 2018 PE activity to reside in the $100 million to $1 billion range.
Two macro developments should also be considered going forward: the ongoing tariff situation that will affect broad swaths of the middle market, and the steady increase in interest rates coming from the Fed. Interest rates in particular are worth noting, as higher interest payments can have an outsized impact on cashflows over time. Cashflows are an important component when valuing portfolio companies, and if interest payments siphon off enough cashflows under ownership, sponsors run the risk of exiting at a lower valuation than anticipated. Operational improvements will be more important than ever in the years ahead.
This column originally appeared in The Lead Left.
Read more in our 2Q 2018 US PE Middle Market Report.