January averaged $6.1B in M&A deals per day
February 1, 2017
Just how big was January for global M&A? In short, "yuge." The deals announced last month represent $189.22 billion in total value, some $33.92 billion more than January 2016 and roughly double that of January 2010, according to data from the PitchBook Platform. It's easy to see a big step up and lose track of the real story: There's no doubt that global M&A is booming, but it's not exactly bumping. Last year saw deal volume contract and still account for a near-record total transaction value of $2.7 trillion. As consolidation and market uncertainty persist, that trend should hold through this year.
Indeed, it's already taking shape. January clocked 22 deals worth at least $1 billion and averaged $6.1 billion in total announced transaction value per day.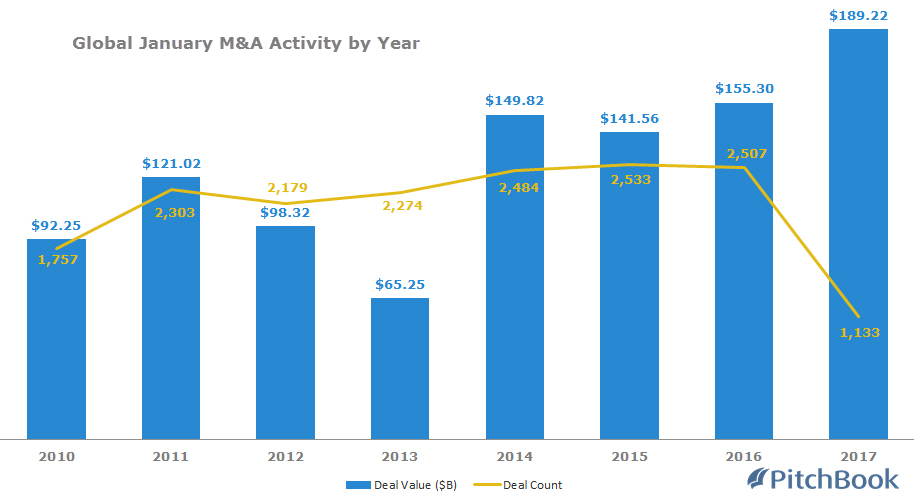 How far apart have deal counts and transaction values grown in the last year? January 2016 accounted for 2,507 announced deals compared to last month's 1,133. What's more, the 2,533 announced deals of January 2015, the most of any January this decade, still accounted for just $141.56 billion—$47.66 billion less than this January—even as 2015 would go down as the biggest year since 2007 for total global M&A transaction value (over $3 trillion).
For corporate acquirers, the need to realize a return on excess cash has driven deal sizes up recently. But consolidation has also resulted in fewer standout targets across sectors. In this way, the trends in global M&A resemble a high-stakes poker tournament, with fewer players accounting for bigger pots as the competition progresses. And this year will likely be no different, especially as the Fed's decision to keep US interest rates fixed at near-historic lows for the foreseeable future will also keep debt financing cheap.
The rocky markets of 2016, made all the rockier by Brexit and the US election, have yet to settle in 2017, but they've already drawn out those who sat on the sidelines last year as they considered what geopolitical dust these events would kick into the global economic gears before making their next move.