Johnson & Johnson has completed its acquisition of Swiss pharmaceuticals company Actelion for around $30 billion. The all-cash deal, announced in January, values the company at $280 per share and is expected to add $1.3 billion to J&J's sales for 2017.
As part of the transaction, Actelion has spun off its drug discovery and early-stage clinical development units into a new company, named Idorsia, which has been listed on the SIX Swiss Exchange. The American business will hold a 9.9% stake in the new company, as well as an option on one of its resistant hypertension drugs in development. Idorsia will be headed up by Jean-Paul Clozel, the former CEO and co-founder of Actelion.
The top 5 completed European M&A deals by value (€) in 2017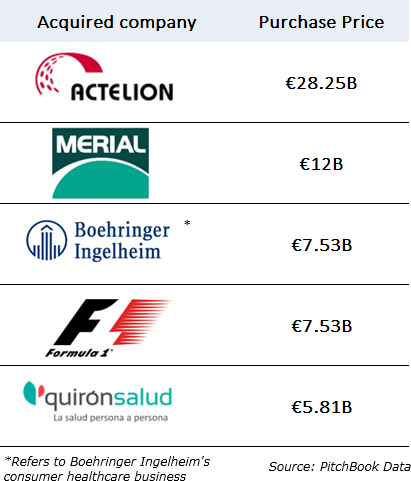 The megadeal rockets to
the top of Europe's M&A charts
so far this year in terms of value, per the PitchBook Platform, its closest contender being the merger exchange of Sanofi's animal health unit, Merial, to German pharmaceutical giant Boehringer Ingelheim. The other half of that deal, the swap of Boehringer's consumer healthcare business, is joint-third on that list valued at €7.5 billion.
Globally, the Actelion deal would be
the first European transaction
to crack the top 10 this year, netting fourth spot. Only Enbridge's $28 billion acquisition of Spectra, BAT's $49.4 billion takeover of Reynolds American, and the huge $186 billion mega-merger between First Gulf Bank and the National Bank of Abu Dhabi sit above it. US dominance on the list could soon come to an end though, with four announced deals in Europe
with values above €40 billion
waiting to be completed.