After speculation about a possible deal emerged earlier this month, the Koch brothers will become the latest billionaires to invest in a media conglomerate. And they're using the private equity division of their empire to do it.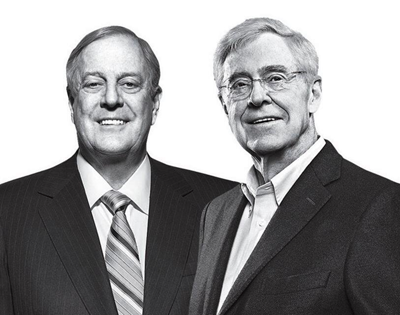 Koch Equity Development has agreed to invest $650 million to back Meredith's $2.8 billion deal to buy Time Inc., the publisher of Sports Illustrated, People, Time Magazine and Fortune. Long known for supporting conservative political causes, neither David Koch nor Charles Koch (pictured left to right) will have a seat on Meredith's board or a say over the company's editorial or management decisions, per a Meredith statement.
As part of the agreement, Meredith will tender $18.50 per share to buy Time, representing an 85% premium to when the stock bottomed out at $10 per share on November 10. In addition, the publisher has secured a combined $3.55 billion in debt financing to help pay for the transaction and Time's existing debt. The deal comes after Time twice rejected an $18-per-share offer from an investor group led by Edgar Bronfman that valued the company at $1.8 billion,
per reports.
The Koch Brothers certainly aren't the first billionaires to invest in the media business. Amazon founder Jeff Bezos bought The Washington Post for $250 million in 2013. Warren Buffet has scooped up a number of local newspapers, only to later announce that they're probably destined to fail because of declining print advertising revenues. Alice Rogoff, the wife of Carlyle Group founder David Rubenstein, bought the Alaska Dispatch News (fka Anchorage Daily News) for $34 million in 2014, only to see it file for bankruptcy in September while reportedly losing $125,000 per week.
Meredith, which owns publications Better Homes & Gardens, Family Circle and more, remains bullish about their business prospects. With Time in tow, Meredith has $4.8 billion in combined revenue, $2 billion of which came from print advertising revenue, and $800 million in adjusted EBITDA based on 2016 figures. The combined company is expected to generate between $400 million and $500 million in cost synergies during its first two years in operation.
Meredith, which also owns 17 television stations in 12 markets, projects it will pull in 170 million unique monthly visitors in the US, more than 10 billion video views and almost $700 million in digital advertising revenue across its brands.
Check out PitchBook's previous coverage of investments in media companies.