Last month, when
Revolution Bars Group
announced discussions with Stonegate Pub Company, the TDR Capital-founded pub chain, one could be forgiven for thinking this would inevitably add another notch to the belt of the acquisition-hungry bar manager. However, it looks like Deltic Group is trying to crash the party.
The nightclub operator has offered to merge with the business behind the Revolution and Revolución de Cuba bar brands, calling Stonegate's 200p per share bid opportunistic. Revolution has since rebuffed the bid and remains on track to find a new home in the Stonegate portfolio.
Private equity has long dominated the restaurant & bar industry. Last year, PE deals in the sector
hit a high of 189
— with investments increasing markedly between 2014 and 2016—while
M&A deals slumped to 75
, per the PitchBook Platform. However, PE deals for 2017 are on pace for their worst outing in three years.
Completed deals in the restaurant & bar sector by type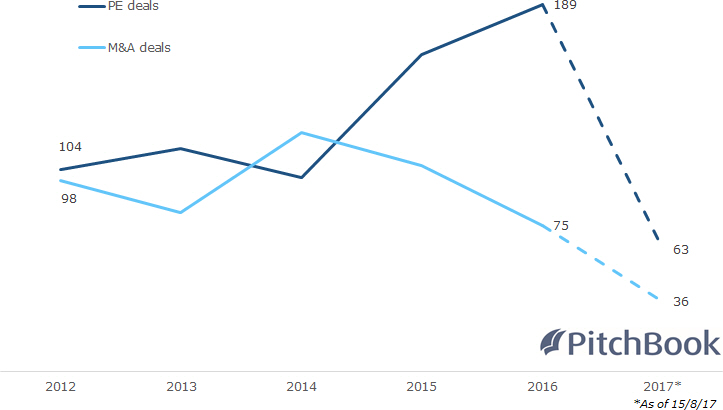 That huge increase in PE deals came as restaurateurs and bar owners were still adapting to the post-crisis norm of increased competition, tightened consumer spending and increased upkeep costs. Indeed, according to IBISWorld research, annual growth in the UK pubs & bars industry is expected to measure around -0.8% between 2013 and 2018.
This has led to a number of bars and restaurants running into difficulties, with PE on the hand to snap operations up at cheaper prices. Stonegate, for example, has grown through several bolt-on acquisitions—including Walkabout Bars operator Intertain—to manage around 700 pubs in the UK.
Yet, numbers so far this year suggest that PE no longer has the stomach it once did for deals. One reason could be the impact of Brexit on bar and restaurant economics, with recent reports suggesting that many chains are struggling to hire staff on the back of the vote. Elsewhere,
the increasing prominence of meal-kit companies
such as
Blue Apron
could also impact the demand for high-street eateries, making them less attractive investments.
PitchBook Platform subscribers can access the full data on PE investments in restaurants & bars