Secondary buyouts have been a contentious part of the PE industry for a long time. Limited partners are the most vocal about "pass-the-parcel" deals; in rare cases—if they're invested in both funds—they are both the buyer and seller of the same company. But even when that's not the case, studies suggest that less value is created after the company's first leveraged buyout. One conclusion that can be drawn from this is that SBOs are avoidable and
should
be avoided when possible. But that's getting harder and harder to do these days. As PE's success has attracted more capital, an increasing number of companies have come under PE ownership, reducing the number of untouched targets in the market. LPs and other critics need to remember that private equity is no longer greenfield—PE firms would prefer the old days, too, but they aren't coming back.
However, there are upsides that partially balance out the downsides of SBOs, according to our
recent analyst note
. Foremost is risk reduction—companies that have already been through PE ownership are less likely to go bankrupt under new PE ownership. While the private equity model has earned its advocates, thanks to market-beating returns, the prospect of failed investments is always there. To some degree, less reward means less risk in this case.
As illustrated by the featured chart, secondary buyouts are also more likely than primary buyouts (PBOs) to undergo some sort of recapitalization during their holding periods. It's a significant (and not surprising) value generator when those recaps take the form of dividends. More dividends (i.e., more debt obligations) offer another avenue to criticize SBOs, but LPs aren't as likely to lead the charge on that front.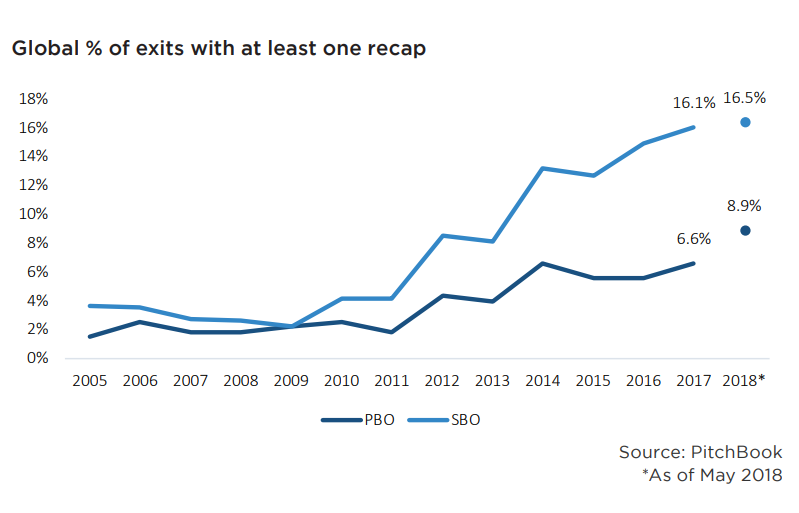 Somewhat surprisingly, we found another unexpected upside—shorter hold times compared to primary buyouts. The assumption was that subsequent owners would need more time to generate value, since most of the low-hanging gains would have been realized already. At least since 2014, however, SBO holding periods have been shorter than those for PBOs, and hold times were even less for "echo buyouts" (three or more rounds of ownership). One potential reason is the added scrutiny GPs face when considering a secondary buyout. Solidified value-creation and exit plans carry additional importance for SBOs, not only for the LPs financing them but for the GPs themselves. Buy-side SBOs present an opportunity risk for GPs, who may overlook other opportunities in favor of what's in front of them. Time is money, and a fast turnover on an SBO has a positive impact on returns and, ultimately, the fund's IRR.
This column originally appeared in The Lead Left.
Read more about secondary buyouts in our recent analyst note.