Mapping investment in female-founded companies across 10 key US metros [interactive graphic]
January 24, 2018
View comments

(7)
"When women want change, we get it."
That's what Shelly Bell, founder and CEO of Washington, DC-based Black Girl Ventures, told PitchBook when we asked her if she thinks the tech industry is poised for a massive cultural shift.
Over the course of several months, PitchBook set out to better contextualize our dataset on VC deals for US-based female-founded companies. We engaged in conversations with several women founders and VCs across the US to learn more about their experiences, both good and bad, and to hear what ideas they had for increasing the amount of capital going to women-founded companies. These conversations occurred against a backdrop of daily #MeToo stories and allegations of sexual harassment against executives in numerous industries, making for a lot of interesting conversations that we plan to publish more of over the next several weeks.
The overarching theme: Change is coming, but slowly. As Terri Brax, the founder and CEO of Women Tech Founders, put it, "The fight for equal funding is still in force."
In 2017, US-based female-founded startups raised $10.5 billion in venture capital funding, up from $6.7 billion in 2016 and $4 billion in 2012. At first glance, those numbers may seem like huge wins for women, but juxtaposed with the yearly increases in overall VC investment, there's no consistent gain YoY. Female-founded companies did pull in the largest percentage of overall VC in 2017 since the start of the decade—but only by 1%.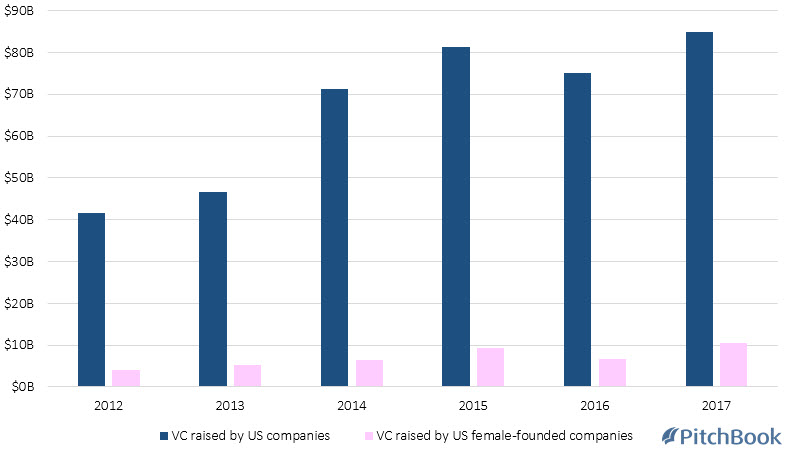 So, we broke the data down by metropolitan statistical area (MSA) to see if we'd find better ratios of capital invested in female-founded startups vs. capital invested in all startups. Dive into our map, which features the most valuable VC-backed female-founded company, top investors and remarks from leaders in 10 key US metros.
Note: In the map, we define a female-founded company as those that have at least one woman founder.

We recommend viewing this graphic on Chrome.
Related content: Do female founders get better results? Here's what happened on my quest to find out