Buyouts
Median US PE buyout multiples of 12x may be the new norm
July 19, 2019
We're two quarters into 2019, and buyout multiples in the US remain above 12x on a median basis, according to
PitchBook's US PE Breakdown Report
. Quarterly readings from 2015 to early 2016 were in the 9.3x to 10.5x range, with multiples gradually building over the past few years.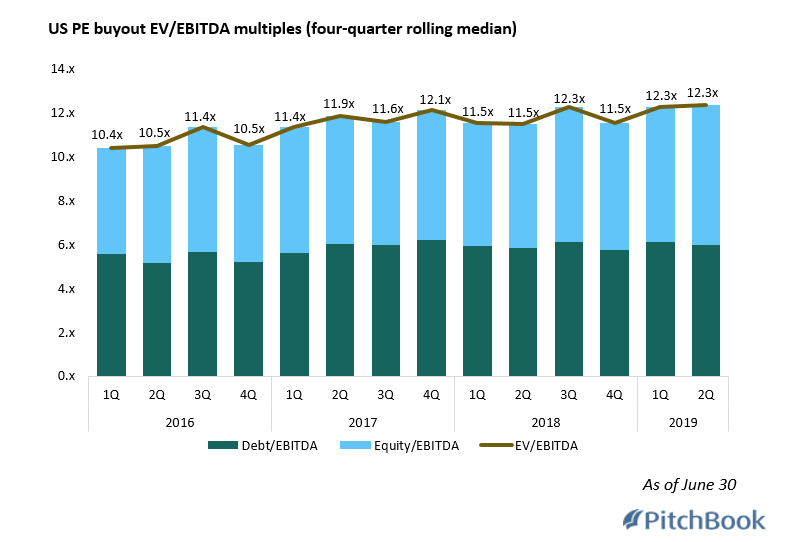 Though high, investors have gotten used to such buyout multiples. The question is whether the market will now normalize 12x medians and build its way toward normalizing 13x. There are a few reasons to think that it will.
For one, there's a fair chance the Fed will cut interest rates at some point this year, which among other things would likely boost public comps even higher. Furthermore, the public equity markets just recorded their strongest first half since 1997 and show few signs of abating. Prolonged levels of lower rates will help GPs mitigate financing costs and allow for richly-priced bids. And finally, deal sizes are up quite a bit, too—the $276 million median through 1H was 45% higher than the $190 million median seen last year.
Things are so good for GPs raising new funds that some are able to shelve them for awhile. "Some guys are basically taking down commitments, closing the fund and then putting the commitments on the shelf for six to nine months before activating it," said one LP that
spoke to PE Hub
back in May.
Back-burner fundraises and persistently high multiples can't thrill LPs, but their enthusiasm is partly responsible for some of the numbers we're seeing.
This column originally appeared in The Lead Left.



Featured image via franckreporter/iStock/Getty Images Plus
Read more about EV/EBITDA multiples in our recent US PE Breakdown Report.
Join the more than 1.5 million industry professionals who get our daily newsletter!