"On the Scene in Wisconsin" – Day 1: Brad Feld, CEOs and Investors
November 5, 2013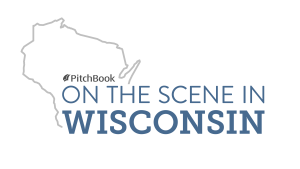 MADISON, Wis. — A keynote from Brad Feld, several CEO interviews and discussions with local institutional investors and limited partners highlighted PitchBook's first day in Madison, Wis., for our "On the Scene in Wisconsin" series.
Cristine Carlton, PitchBook's broadcast and multimedia marketing associate, and I were in Madison at the invitation of the Wisconsin Economic Development Corporation to check out the burgeoning venture capital ecosystem in the Badger State.
To start the day out, PitchBook caught a keynote address by Foundry Group founder Brad Feld who spoke to Wisconsin Early Stage Symposium startups and investors via telepresence from his home in Boulder, Colo. Feld touched on whether accelerators are useful for hardware companies, how to create a local startup ecosystem and the role of universities in creating that environment.
"Universities should focus on students, focus on research, and not so much on top-down technology transfer," Feld said. "But the incentives are polarized. If you want to start a company [as faculty] you lose your tenured track."
Universities weren't just on Feld's mind on Tuesday. One common theme of the day's events was the role of the University of Wisconsin-Madison in influencing the local startup community with research, technology and talent.
Several CEOs, such as Liz Eversoll of Solomo Technology and Toni Sikes of The Art Commission, noted the benefits of having a major research institution in their backyard. Quinn Bottum, CEO of local search startup Swoop Search, is a 2013 graduate of the UW and represents a new breed of company founders coming from the university: a young, talented student more interested in how to make improvements in technology and software than in what the university is traditionally known for—life sciences.
These life sciences and medicine startups were created largely as a result of research from federal grants, and making the transition to mobile and software has been a growing focus in Madison and Milwaukee. One local venture fund that hopes to bridge the gap for promising tech startups with seed or Series A funding is 4490 Ventures, a joint fund created by the State of Wisconsin Investment Board (SWIB) and the Wisconsin Alumni Research Foundation. The pension fund and endowment joined forces for this $30 million fund, which seeks to start investing in early 2014 after hiring a GP by the end of the year.
Chris Prestigiacomo, portfolio manager of private markets at SWIB, said that because life sciences is already a strong focus in Wisconsin, it's important to branch out in mobile and technology in an effort to keep talent in-state and grow the local startup scene.
Look out for more "On the Scene in Wisconsin." PitchBook will be publishing additional written and video content from this tour over the next several days and weeks.
Join the more than 1.5 million industry professionals who get our daily newsletter!