PE-backed companies are catching up to their public counterparts
February 8, 2019
For investors who dabble in both the private and public markets, there's a baked-in assumption of a private market discount, since money tied up in buyout funds is illiquid and partially justified by cheaper entry prices and higher returns. That rule of thumb has eroded in recent years as PE dry powder levels have swelled, hiking up buyout multiples at a quick pace compared to public equity prices. An accompanying trend is showing up in the broader M&A numbers, which indicate more North American and European acquisitions being sourced by private market sellers compared to public market divestors, per our
2018 Annual M&A Report
.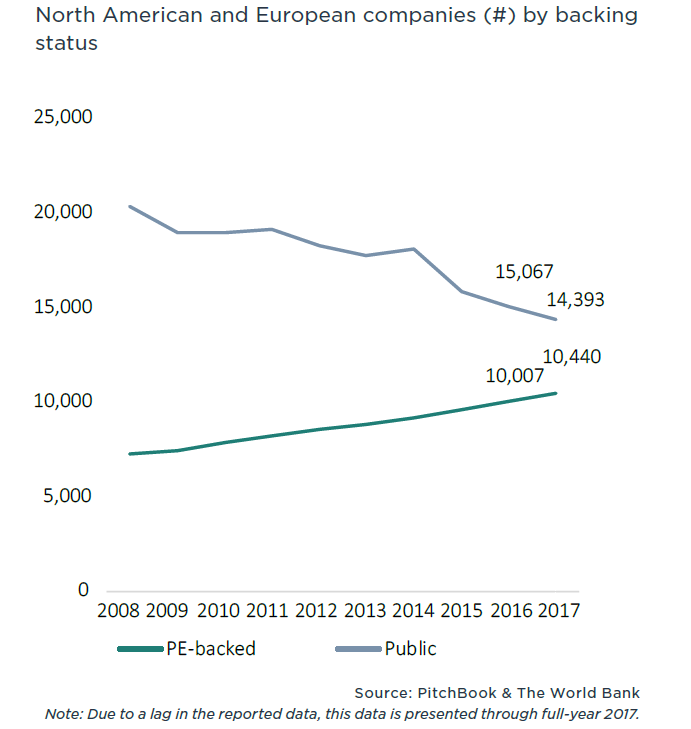 Does it matter who owns a company before it's acquired? At the 30,000-foot level, not really. Headline M&A numbers are usually dictated by broader economic conditions. Buy-side activity often flares up depending where we are in the business cycle, and it's ditto for divestments. Deals happen when times are good and dealmakers are optimistic, which is why we continue to see near-record activity. That often translates to fewer publicly sourced divestments during boom times—even though boom times might be a good time to sell business lines, when prices are highest. But we don't make the rules.
On another level, however, "who owns what" can shed light on what's happening in the public and private markets. The number of PE-backed companies continues to grow, and will continue to grow given all the capital on hand to buy more and more companies. That has already led to a larger share of M&A being sourced by both PE buyers and sellers.
One consequence of that is stronger pricing. PE firms are obligated to generate the best returns possible, and exit pricing is a big part of that. Financial sellers are sophisticated when it comes to exit negotiations, which is why secondary buyouts, somewhat contradictorily, transact at higher multiples compared to other buyouts. A sell-side PEG knows how to negotiate with a buy-side PEG—cold, hard numbers are what matter most. That leads to higher multiples for SBOs and fractionally higher buyout multiples overall. But the trend of stronger pricing from institutional sellers isn't restricted to sponsor-to-sponsor deals.
As sell-side M&A becomes increasingly institutionalized, we can expect stronger M&A pricing across the board as a result—potentially visible at the 30,000-foot level, if things continue at this pace.
This column originally appeared in The Lead Left.
Read more in our 2018 Annual M&A Report.