PE firms, strategics cross negotiation table to team up on larger deals
By Joanna Nolasco
April 20, 2016
Private equity firms often go head to head against corporate acquirers to bid for the same target. But sometimes, the best bet is actually to partner up to win the deal.
Take the potential offers for Yahoo (NASDAQ: YHOO), for example. It's still unclear which among the dozens of interested buyers will ultimately acquire the ailing internet giant, but it seems there's no shortage of headlines on corporate acquirers and PE investors eyeing each other for a joint bid. The Daily Mail, Microsoft (NASDAQ: MSFT) and Time (NYSE: TIME) have all been rumored to be weighing PE partnerships for the multibillion-dollar acquisition of Yahoo's assets.
This strategy worked in the bidding war for Asciano. The Australian rail and cargo ports operator was slated to be acquired by a Brookfield Infrastructure-led consortium in an agreement last year until Asciano's competitor Qube (ASX: QUB) led a separate group, which included PE firms, to submit a rival offer in January. About a month later, the opposing bidders announced a joint deal to buy (and split) Asciano for roughly A$9 billion. All told, eight corporations and institutional investors have teamed up to take Asciano private.
The Yahoo and Asciano bids demonstrate a popular approach: PE firms and corporate acquirers partnering on expensive deals. According to PitchBook data, PE-corporate joint buyouts have consistently amounted to around 3% to 4% of all global buyouts each year since 2011. Meanwhile, the capital share of these transactions has jumped from 8.2% of overall buyout value in 2014 to 15.4% last year. So far in 2016, joint deals have garnered 23.3% of capital invested, bolstered by the roughly $14 billion acquisition of Keurig Green Mountain by a group including JAB, BDT Capital Partners and Mondelez International.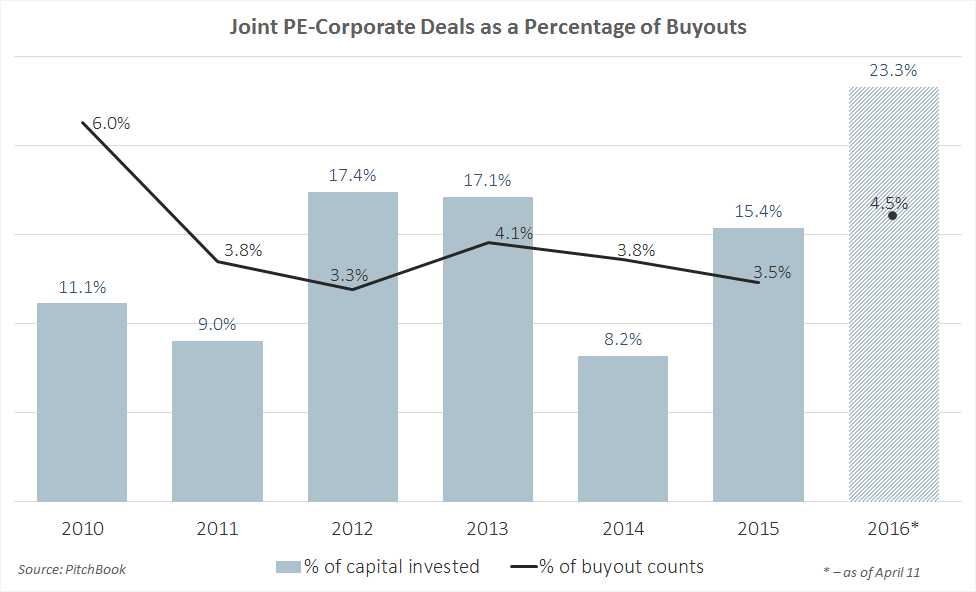 The deal share plateau coupled with rising capital proportion indicates these buyers are partnering in deals with increasing purchase prices, which makes sense considering some of the benefits of teaming up: PE investors and strategics are able to split both the risk from and capital required for larger deals. And in this challenging credit environment, joint deals may enable PE firms to tap into higher-valued companies as well-rated strategic buyers can qualify for more favorable debt packages.
Interestingly, PE-corporate joint buyouts worth $1 billion+ amounted to 13.5% of joint transactions closed in 2015, the highest proportion this decade. That figure is also a notable jump from the roughly 7% of joint deals the previous two years.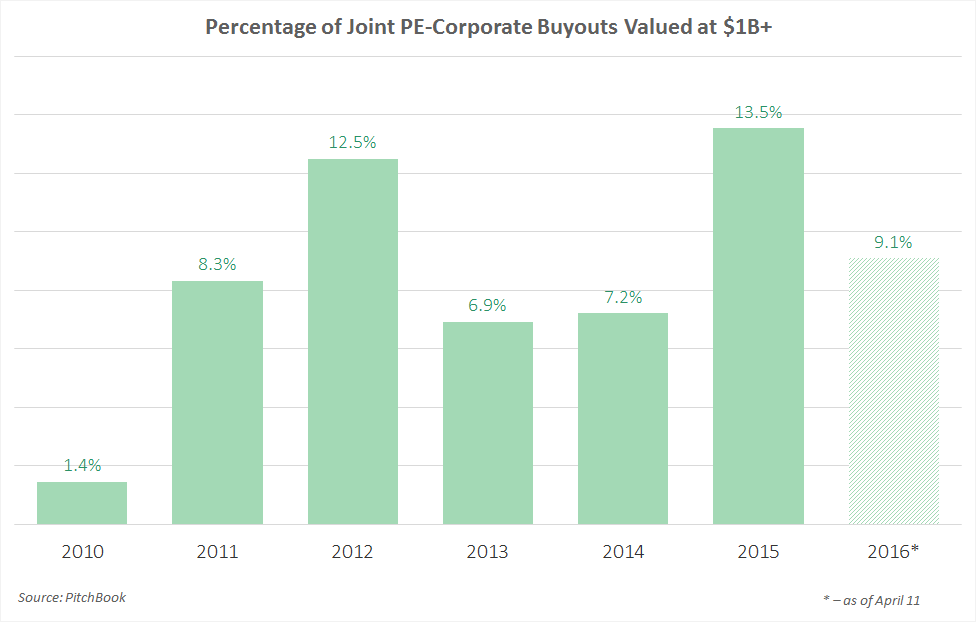 Here are some notable PE-corporate joint buyouts since 2015: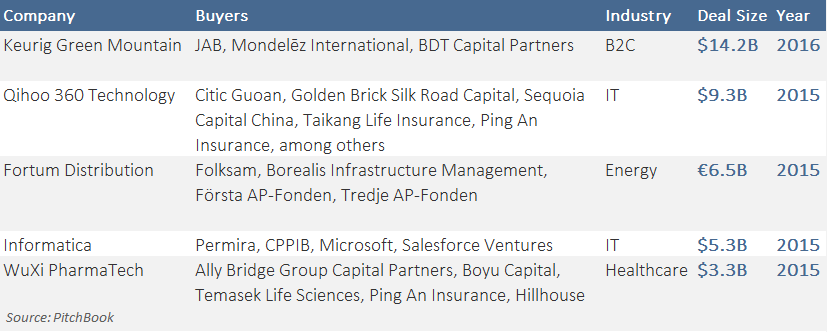 The PitchBook Platform offers many ways for you to analyze data to stay up to date on the latest industry trends. Contact us today to learn more about how we can help you stay in the know.