PE in 2014: Top 5 Deals, Funds and Exits
By Allen Wagner
December 29, 2014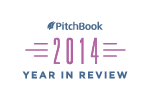 It was a busy year for dealmakers and limited partners, with several major acquisitions and fund closes making the headlines. Continuing our "2014 in Review" series, today we take a brief look at the top PE deals, funds and exits to close in 2014.
For more 2014 in Review content, click here.
Deals
While the $9.4 billion Safeway deal and $8.7 billion PetSmart buyout have yet to close, plenty of action was completed on the high end of the private equity market in 2014. Here are a few of the largest deals of the year:
1. Gates – $5.4 billion – SBO

Acquired: July
Headquarters: Denver, CO
Acquirer: The Blackstone Group
This manufacturer of power transmissions and fluid transfer products for the automotive, oil & gas and mining industries was acquired from the Canada Pension Plan Investment Board and Onex.
2. Acosta – $5 billion – SBO

Acquired: July
Headquarters: Jacksonville, FL
Acquirer: The Carlyle Group
Acosta, a sales and marketing agency, was acquired from Thomas H. Lee Partners, which originally acquired the company in 2011 for $2 billion.
3. MultiPlan – $4.4 billion – SBO

Acquired: March
Headquarters: New York, NY
Acquirers: Starr Investment and Partners Group
The PPO network healthcare provider was acquired from BC Partners, Quilvest Private Equity and Silver Lake, all of which originally acquired the company for $3.1 billion in 2010.
4. Tibco Software – $4.3 billion – Public to Private

Acquired: December
Headquarters: Palo Alto, CA
Acquirer: Vista Equity Partners
Tibco Software is the largest acquisition of what was a huge year for the tech-focused Vista Equity Partners. The company, which provides software for use in service-oriented architecture and business optimization, first went public in 1999 during the dot-com era after receiving venture financing from Cisco and Mayfield Fund.
5. Ortho-Clinical Diagnostics – $4.15 billion – Carveout

Acquired: June
Headquarters: Rochester, NY
Acquirer: The Carlyle Group
This former Johnson & Johnson unit that provides transfusion medicines and laboratories services was Carlyle's second-largest buyout of the year.
Fundraising
On the fundraising front, private equity firms had plenty to be happy about. It's expected that 2014 will be another stellar year for fundraising totals, with numerous mega-fund closes part of the reason why. Here are the five largest PE funds to close in 2014.
1. Hellman & Friedman Capital Partners VIII – $10.9 billion
Final Close: November
Type: Buyout
Region: United States
This is Hellman & Friedman's first fund since its $8.9 billion seventh fund closed in 2009. The firm has yet to decrease its flagship fund size, possibly due to continued strong performance—its Funds II through V all have IRRs of greater than 23%.
2. Lone Star Fund IX – $7.4 billion
Final Close: August
Type: Restructuring – Distressed Debt
Region: United States
One of the best-known distressed debt and assets investors, Lone Star Funds, closed its ninth flagship fund just one year and five months after closing its eighth. Lone Star is also now firmly in the real estate space, having closed its third real estate fund in 2013 and a "residential mortgage fund" currently fundraising.
3. Permira Europe V – €5.3 billion
Final Close: April
Type: Buyout
Region: Europe
Permira's fifth flagship fund is roughly €4.3 billion less than its fourth fund, which closed in 2006. That translates into an eight-year gap in fundraising for one Europe's best-known PE firms. The European fundraising environment has been rough over the past few years, and Permira has been unable to escape this fact, having taken nearly three years since the fund opened for commitments in mid-2011 to reach its target.
4. Bain Capital Fund XI – $7.3 billion
Final Close: April
Type: Buyout
Region: United States
Bain had a busy year. Not only did it close this whopper of a fund, but it also closed a €3.5 billion Europe fund and a $650 million venture vehicle, making it one of the more active U.S.-based PE fundraisers this year.
5. Clayton, Dubilier & Rice Fund IX – $6.43 billion
Final Close: May
Type: Buyout
Region: United States
Clayton, Dubilier & Rice's ninth flagship fund closed larger than its 2009 Fund VIII, which received $5 billion in capital commitments. While it took four years before its next fund, the increase in the firm's target was probably helped in part because of Fund VIII's strong performance over the last couple of years—its IRR has remained over 25% since 2013.
Exits
2014 was a historic year for PE sellers, providing them with lucrative opportunities across all three traditional exit routes: IPOs, corporate acquisitions and secondary buyouts. Below you'll find the top five exits in each category completed by PE firms in 2014:
IPOs
1. Alibaba – September, $25 billion
2. Ally Financial – April, $2.4 billion
3. Automobile Association – June, £1.39 billion
4. Healthscope – July, A$2.25 billion
5. WH Group – August, HK$15.9 billion
Corporate Acquisitions
1. Grupo Corporativo – July, €7.2 billion
2. Nuveen Investments – October, $6.25 billion
3. GeoSouthern Energy's Eagle Ford Assets – February, $6 billion
4. Access Midstream Partners – July, $6 billion
5. Athlon Energy – November, $5.93 billion
Secondary Buyouts
1. Gates – July, $5.4 billion
2. Acosta – July, $5 billion
3. MultiPlan – March, $4.4 billion
4. Lindorff Group – July, €2.1 billion
5. Catalina Marketing – April, $2.5 billion
To see the complete list for any of these categories, contact us here.