PitchBook's Friday 5: How to Get Started in Private Equity
By Tessa Griffin
November 15, 2013
Last month we took a look at some of the ways you can learn more about the venture capital industry. So I thought it'd be good to do the same for private equity; and it's only natural that I follow a similar format to the previous venture capital basics article with a similar roundup of private equity resources.
Given PitchBook Data's history, it's actually surprising that I didn't first write up a post on how to get started in private equity. It was the foundation of our research endeavors, and continues to be a key focus even as we constantly expand our database's coverage. Our founder and CEO, John Gabbert, founded has been a thought leader for more than 15 years in the push for private investment transparency.
Many actually consider venture capital to be a subset of private equity, and while there are some similarities, I think we can come to a consensus that venture capital is broadly considered much more "sexy" than private equity. But in terms of scope and size, PE is a much more important industry to understand. Private equity firms acquire thousands of companies and invest hundreds of billions of dollars every year, touching nearly every sector and some of the world's most iconic brands in the process. Hopefully these five items will help you better understand the PE industry, which has an effect on daily life not often realized .
1. A day in the life with private equity
A fun way to gain an initial understanding of the all-encompassing nature of private equity is this brilliant editorial quest by The Wall Street Journal's Becky Pritchard to try out a week of living "private equity free," which meant avoiding any item or environment that could be traced to ownership by a private equity firm. In her own words:
"Private equity is not just about high finance. It's about businesses, employment and stuff that people use everyday."
It sounded like a highly sacrificial week, with no mascara, favorite clothing brands or even going into the office (Blackstone, one of the largest PE and real estate firms in the world, partially owns the building Pritchard works in). Make sure to check out Becky's full adventure on the WSJ's MoneyBeat blog.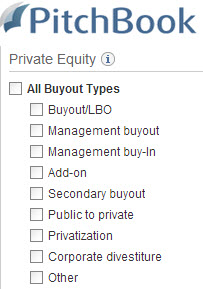 2. Private equity terminology
Private equity deal-making can be dissected into granular types (a few are shown to the left in a snapshot of the PitchBook Platform search tool), and the industry includes an entire ecosystem of firms whose relationships are important to understand. Even fund types such as mezzanine debt and oil, gas and energy are often considered to be under the umbrella of private equity investment in a limited partner's portfolio, although many LPs are now targeting ideal levels of allocation for each of those focuses individually.
The lingo of private equity is also important. "General partners," "enterprise value," "carried interest" and "contributions and distributions," all need to become a natural part of your financial vocabulary.
3. Private equity peeps
Private equity firms haven't quite caught Twitter fever yet, but there are a couple big names out there, like The Carlyle Group @OneCarlyle and The Blackstone Group @Blackstone.
The more worthwhile follows are private equity reporters, who are dedicated and resourceful industry bloodhounds.
Some of my favorites: @DevinBanerjee of Bloomberg, @DavidMToll of Reuters Buyouts, @sovereignfund of Institutional Investor, @DanPrimack of Fortune (#repeat, Primack was also featured in our previous post on how to get started in venture capital) and @biz_reporter at Pensions & Investments.
Sumeet Shah, @PE_Feeds, is the reigning king of private equity on Twitter, even though he has fairly recently hopped into the VC world with Gist Digital. Sumeet has also compiled a quality feed of private equity influencers that should be bookmarked and referenced frequently. If you pay close attention you will catch some @PitchBook-ers' handles!
4. Private equity bookmarks
Unfortunately, to my knowledge, there aren't a ton of private equity managing partners dishing out deep industry perspective or advice à la Mark Suster on the VC side. There are some great resources to bookmark, but understanding some of these experts may at first require some referencing of your PE 101 cheat sheet.
To get you started:
NYTimes DealBook – Frequent, comprehensive private equity coverage.
PitchBook's PE Newsletter – Daily PE news and analysis delivered to your inbox every day.
More in depth:
Privcap Videos – Industry professionals weigh in on the big issues in PE, from the true importance of "top quartile" to evaluating valuation methodology.
Carlyle Podcasts – Private equity giant The Carlyle Group produces podcasts every month to discuss the global investment climate, industry happenings and timely topics on the firm's radar.
5. Private equity analysis
Got the basics down? Take a stab at reading one of PitchBook's quarterly private equity reports, which are not only packed full of graphics and analysis, but are also written in an insightful, straightforward manner that allows even a PE novice to walk away with some takeaways. A big thank you to James Gelfer, who writes a majority of our reports and offers additional PE analysis on the PitchBook Blog.
This article is meant as a starting point for you to learn more about the fast-paced private equity industry. Explore the PitchBook Blog for more articles and resources.