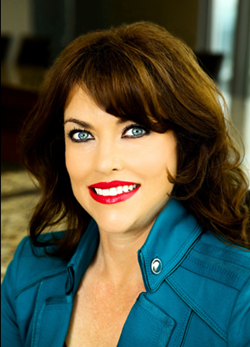 As chair of the healthcare practice group at Nashville-based law firm
Bass, Berry & Sims
, attorney
Angela Humphreys
has advised private equity firms and their portfolio companies on numerous transactions in the healthcare industry.
That industry appears to be in flux after President Donald Trump and a group of GOP members in the US Senate saw their efforts to repeal Obamacare break down this week after a handful of Republican senators publicly opposed multiple measures brought forth by Kentucky Senator Mitch McConnell. Indeed, even as Trump lobbied the GOP Wednesday at a White House luncheon, the future of the industry remained in question.
Meanwhile, private equity investments in the US healthcare space remain undeterred, largely unaffected so far by political turbulence. Through the first half of 2017, the combined value of PE-backed healthcare deals in the US ($41.7 billion) was on pace to surpass last year's $78 billion, according to PitchBook data.
For more perspective, we recently caught up with Humphreys for a wide-ranging Q&A about why healthcare remains such an attractive industry for investors, what a Medicaid reduction could mean for PE firms and which healthcare subsectors are generating the most interest.
The Senate GOP has pledged to cut Medicaid spending in their proposed legislation. How are private equity investors dealing with the uncertainty over Medicaid cuts? In broad terms, how has that changed their investment strategy?
"The uncertainty around Medicaid likely will result in PE firms taking a harder look at sectors that are more heavily dependent on Medicaid—for example, hospitals and skilled nursing—and factoring that into their deal multiples. However, a lot of dollars are currently being deployed in outpatient services in sectors that are not materially dependent on Medicaid—for example, dermatology."
Why have healthcare investments from PE firms been somewhat immune to economic or political turbulence?
"With healthcare as a necessity and such a large part of the GDP, there continues to be opportunity despite uncertainty in the economic and political climates, particularly with companies that can demonstrate cost reductions and enhanced value in terms of quality, outcomes and patient satisfaction."
Do you see the current high levels of dealmaking continuing? What will it take for it to taper off?
"I see the current trend continuing in the short term, at least for the next 12 months. One factor that could impact this trend would be significant changes in the credit markets, thereby reducing the leverage that can be achieved in transactions."
A closer look at PE-backed healthcare deals in the US since 2010: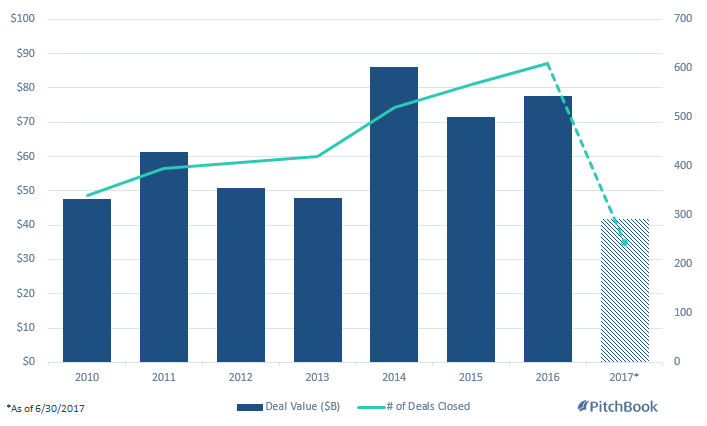 While it's probably too early to tell what the GOP healthcare bill's failure will mean for the industry, what's been the immediate reaction among investors that you've been in contact with?
"I think most people are still taking a wait-and-see approach. And there is still a lot of opportunity in the healthcare industry that is somewhat insulated from what may or may not happen with healthcare reform, particularly with companies that can reduce costs, provide transparency, improve quality and outcomes and enhance patient satisfaction."
With Trump's rhetoric about deregulation, do you think that's made PE firms more aggressive? Or does that not apply to the healthcare space?
"Well, I would tell you that while Trump had a message of deregulation, that in practice does not appear to have extended to the healthcare industry when it comes to enforcement activity around healthcare fraud and abuse, so we continue to see a number of government investigations in the healthcare industry around false claims acts violations. That was all ramping up under the Obama administration. Based on what we've seen and know so far, we don't expect that enforcement activity to drop off dramatically under the Trump administration. All of the enforcement activity in the healthcare space was around fraud and abuse and bad-actor-type issues."
The average time for PE firms to hold an investment has risen over the past few years. Have you noticed PE firms holding companies for longer in the healthcare industry?
"You know they used to say three to five years was the hold period, but I do think that that has extended. I have a number of clients where the equity investments have been five to seven years, and in some cases longer. I think that's a trend that we are seeing in healthcare."
PE firms are sitting on record amounts of dry powder, but deal counts aren't necessarily going up. Is the dealmaking environment in healthcare as challenging as it is everywhere else?
"The deal environment is challenging in that it is very competitive. But in addition, healthcare is one of the most highly regulated industries that we have. So I have seen issues come up in transactions around compliance, in particular, that at the end of the day will kill the deal. Because the private equity firm isn't willing to take the risk. I think the level of regulation in the healthcare industry makes healthcare deals more challenging generally. I will say that in the recent months, probably within the last 18 to 24 months, there's been a lot of activity that have tried to mitigate certain risks with representation and warranty insurance. And that's being used on a wide scale in other industries."
What do you think healthcare dealmaking will look like going forward?
"When you look back on this year I don't think that this will be the year of the blockbuster transaction that we've seen in past years. I think if you look at Q1, the value of M&A activity dropped but the number of transactions rose. I think this may be the year where you're going to see more transactions but at the end of the day less dollars. There are a number of reasons why that may be, but I don't think this year you're going to see the large mega-deals you've seen in past years."
"Does that have anything to do with the turmoil with the healthcare legislation?
"I think there's been a shift in the past few years in the types of transactions that we're seeing. Private equity is heavily focused on outpatient services, they're heavily focused on areas that are largely unconsolidated and they're also focused not so much on the provider services side. Maybe, maybe not. They're focused on areas where you can drive a value proposition and where you can drive cost efficiency. So just by definition if you're looking at outpatient services and looking at areas that are unconsolidated, business transactions are going to be small transactions compared to hospital and health system transactions."
Do you expect the dealmaking rate to continue in these hot areas?
"We do. The hot areas that we are seeing are outpatient services, including physician practice management, specialty pharmacy and any sort of transaction that has as part of its platform technology that drives transparency, quality of outcome and cost efficiency. Those are the sort of the two buckets where we're seeing the most activity."
Interested in learning more about about PE investments in the healthcare space? Try out a free trial of the PitchBook Platform.