PB Q&A
Q&A: Why life insurance and lawsuits might be the next big things for PE
February 26, 2019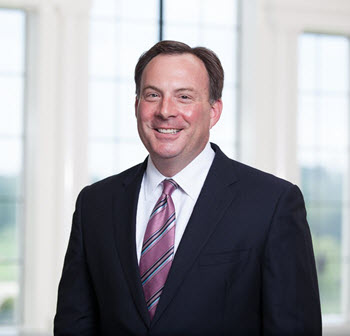 Peter Martenson is partner and head of global distribution at Eaton Partners, one of the oldest placement agents in the market. Eaton Partners, a Stifel Company, advises on fundraises across several asset classes, including private equity, credit, real assets and hedge funds, among others.

We spoke to Peter about two relatively new asset classes that are gaining traction in today's PE market: life settlements and litigation finance. Life settlement investments involve buying life insurance policies from their owners in exchange for lump-sum payments; litigation finance allows third-party investors to financially support lawsuit plaintiffs in exchange for a portion of any monetary awards handed down by the court. Both categories are growing in popularity among LPs.
PitchBook: As niche asset classes, both litigation finance and life settlements seem to benefit from focused expertise at the investment team level. How does private equity compete against—or benefit from—boutique firms that focus solely on either strategy?
Peter Martenson: Life settlements and litigation finance are two areas where private equity and private credit investors now see opportunities with the potential for outsized returns. Investors looking at both of these asset classes can benefit from PE's operational expertise, especially in areas where competition hasn't compressed returns. In many cases there's a real need for capital, making it a prime opportunity for PE investment capital and skill sets to be put to good use. We are continuously looking for these types of opportunities.
We find the other motivation for PE investors to jump into these spaces is that their limited partners have either asked them to get into these markets, or they've expressed interest in investing in general partners that are in the space. It certainly helps that these markets are uncorrelated to general equities, so LPs aren't doubling or tripling down in markets where they already have sufficient exposure. Life settlements and litigation finance are both complementary to an LP's private equity exposure, which makes them positive, accretive additions to a broader portfolio.
You mentioned LPs are expressing interest in these spaces without having to be sold on them. Can you expand on that?
It's a relationship-based exercise, so these conversations have a give-and-take aspect to them. But in many cases, LPs will read a story about the market around litigation finance, perhaps what's happening in the UK or Australia where litigation finance really began, in The Wall Street Journal or Financial Times. And they'll call up their GPs and ask if they're in the space at all, if they've considered it and what they think of it. GPs that are familiar with the market will both get their LPs up to speed on it and determine if they have any appetite for committing capital. That's how those give-and-take conversations get started. LPs also engage with us in a similar manner viewing us as a trusted third-party advisor on these emerging market spaces and investment managers.
LPs are interested, and it helps that both spaces are complementary to their existing PE exposure. They also like the fact that neither market is particularly crowded, and outsized returns are possible after factoring in the perceived risks. As with any new ecosystem, the first movers tend to prove out their initial theses around a new asset class or a new instrument, which brings new investors in and creates momentum. On top of that, any early issues that crop up in a new space are often dealt with by those pioneers, so by the time later investors come in, some of those issues have been refined. One of the first issues in life settlements was that returns weren't as strong as modeled. The "problem" was that people were living longer than what the actuaries said they would. The market learned early on that it needed to take another look at its underlying assumptions and make adjustments to support the targeted return profile of the investment.
Have there been more generalists getting in?
Yes, and certainly more specialists are popping up. If there's anything LPs have asked for in the last cycle since the crisis, it's specialization. They want operators who know spaces. There are generalists that have tried to get that vertical covered since the proof of concept in life settlements was borne out. And the Trump administration's recent changes to the tax code have boosted deal flow in the life settlements space because high net worth individuals may no longer need to have life insurance in excess anymore for estate planning. It's also become more acceptable and isn't viewed as being predatory. The capital that is paid to people who sell their policies is going toward housing and medical care, and investors are providing a solution that addresses their needs.
LPs have shown sensitivity to potentially controversial investments. Have you noticed any hesitation in backing either strategy, particularly from endowments or public pension funds?
The good thing about these investment vehicles being proven out is that it allows LPs to impose their desire for them to be socially responsible. That's what has happened in both of these spaces.
When you look at the fund offerings coming from GPs, they're taking a "white hat" approach. Meaning the GPs—with their LPs' support—are coming in and giving capital to those in need. In litigation finance, for example, you'll see financings for smaller companies that don't have the balance sheets or the wherewithal to finance litigation against a larger company that may have lifted intellectual property. Many of these cases center on the small versus big, and without third-party litigation capital, the big guys might get away with whatever they're doing. It's a similar story in life settlements. Again, today's mandates are more tightly focused by the LPs, and the capital moving around is helping people who have life insurance policies and want to sell them at a reasonable price—they're not trying to gouge anybody. That allows the policyholders to pay for what they need at that time.
Some LPs are sensitive to these spaces—certainly some pension plans and their consultants. One area where they are gaining steam is in family offices. They want good returns, of course, but they're equally interested in maintaining their reputations and their families' good names. Family offices were some of the earliest adopters in the space. Likewise, we look for compelling investment opportunities that are also socially and environmentally responsible, as that is just good business.
There seems to be a consensus that both strategies are gaining popularity because they offer uncorrelated returns in a yield-starved market. Does that mean that either strategy's popularity in PE circles is temporary, or do you believe either—or both—strategies are here to stay as PE categories?
They're here to stay. Litigation finance and life settlements often provide a yield, but we don't find investors pursuing them primarily for yield. It's a "nice to have," but the "need to have" is that they're uncorrelated. On top of that, both complement a portfolio. Private markets continue to get allocation boosts from nearly all LPs. It started with private equity and branched out to real assets, private credit, etc. But LPs still need uncorrelated returns—they're not going to double down on equities. They want something that's going to be counter-cyclical and fits into an optimization model.
It seems like both these asset classes have ceilings though, in terms of market size. There isn't an infinite number of policies to buy or lawsuits to finance.
That's a key point. Neither space will be a core portfolio application—they'll always be complementary. However, when more capital is appropriately applied to a space, there's usually a virtuous cycle that creates more investment opportunity. We saw that in the buyout market, where the size of the pie grew bigger as the industry matured.
Litigation finance is a good example. In 2013, only 7% of law firms offered litigation finance. Now that the concept has been proven and complements how law firms protect their clients, about 35% of law firms use litigation finance. The market is roughly $200 billion, and there's still an opportunity to grow within that market considering that it was near zero about a decade ago.
Same thing again with life settlements. The more it becomes a virtuous cycle, the more expansion you'll see in the number of opportunities to invest. The number I've seen is $185 billion—the expected size of the market as time goes on. A couple of years ago it was about $30 billion.
For life settlement investors, are they focusing their resources to really understand the inner workings of the market? Are they hiring actuaries, for example?
You're spot on. If anything, fund managers understand patterns, and one pattern that emerges in private equity is operational expertise in an industry. You can source better and add value better. When you look at specialists within life settlements, they're almost going to look like an insurance company as they are hiring actuaries. With the private equity angle, they can source insurance policies better, rather than going through a broker who would charge $5,000 to $10,000 per policy. This gives more time for specialist investors to underwrite them, because not every person and life insurance policy is created equal.
What kills private equity firms is volatility in outcomes. Hiring actuaries helps reduce the volatility in outcomes while capturing the upside.
And it's not as straightforward as we would like to think. For example, say you just bought an insurance policy from Peter Martenson. The fund manager has to interact with the insurance company to pay the premiums until he passes away. You will need an expert who knows the language of insurance companies. You will need to understand the parlance of the industry and verify that all the requirements have been met, that it's a valid policy to buy and hold, and that you can claim the benefit. Insurance companies are appropriately staffed with lawyers, and you need experts who can navigate those situations.
Does the life settlements asset class have a future as a middle-market strategy, or is it more likely to remain one category among many within large "one-stop shops" like Apollo and Blackstone?
It's appropriate for the middle market, yes. It's interesting, though. There hasn't been a middle-market surge where investors are doing it directly. What we have seen is a pronounced increase in financing teams that buy insurance policies through a portfolio company they created themselves. So a lot of fund managers aren't creating teams and strategies per se—they're creating portfolio companies that can provide exposure in a roundabout way.
Are PEGs primarily buying GP stakes in boutique litigation finance funds? Do PEGs ever directly finance litigation, or do they defer to boutique investors who are more comfortable with that risk/return model?
Just like life settlements, there are specialty firms out there that focus on litigation finance. As the space has developed, we've seen fund-less sponsors who have taken deals and created portfolios within private equity funds. Hedge funds have also been active in the space.
Much more broadly, you can decide what kind of portfolio you want to build. You can pick and choose what kind of litigation you want to finance, which will affect your risk/return profile. Some will come into litigation earlier, so the potential outcome is broader on a normal curve. Some will come in much later—maybe a litigant has won the lawsuit, and they're waiting to get paid. For those investments, the returns will be much lower because there is much more certainty. Some investors focus on pharma cases; some focus on real estate; some focus on tax cases. The specialists can build portfolios that cater to LPs' levels of risk tolerance.
So it's not a coin flip, in other words.
Right. It's almost like venture investing. Like VC, your potential outcomes do not always include a return of capital. You're assuming some sort of loss ratio, and the question is how much is acceptable. Now, the one group that really doesn't like losing money is the LPs. They hate losing money a lot more than they like making money. That's one of the limitations baked into the model; because of the nature of the lawsuits, there is a binomial outcome depending on when the investor backs the lawsuit. You may win at 2-4x, or you can make nothing. And that's hard to explain. Even with an agreed-upon loss ratio going into every financing, LPs are naturally going to ask what happened in the loss scenarios. There are plenty of investors, like VC investors, who are willing to accept those losses and are comfortable with those assumptions.
GPs are adjusting in another way. If an LP doesn't want a high loss ratio, GPs can put together portfolios where they come in later in the lawsuit, where there's a surety of capital return. There are lower returns involved, but it's just a matter of collecting the money from the lawsuit, which can take some time. So we're seeing a couple types of risk/reward approaches, one that mimics the VC model and one that looks more like synthetic credit investments.
Large PEGs have shown a willingness to develop new strategies or acquire firms that focus on them. Do you anticipate private equity firms developing in-house litigation finance teams as a way to diversify their offerings to LPs?
Great question. We've seen the large generalist shops, very strong platforms, wanting to cater to their LP investor base who have either gone after specialists, or they're asking questions and those GPs are trying to form solutions. How are they doing that? We've seen GPs who hire experts to explore the space and then build a team based on what they find.
The evolution of litigation finance is probably three to five years behind life settlements. We anticipate some of the smaller specialty shops will be purchased by some of the larger shops in the not-too-distant future.
Like we said at the onset, these are two areas that investors and fund managers have focused on. Private markets mature and become a larger part of institutional investors' allocations. Private equity investors scour the market to look for returns. Litigation finance and life settlements present opportunities for returns. PE investors have branched out in the past with areas like pharmaceutical royalties and shipping, and are now looking to litigation finance and life settlements. Private equity is solving problems on both sides, and both litigation finance and life settlements are socially responsible markets. At first blush, it may not be as obvious in something like litigation, but litigation can be good and keep a level playing field.