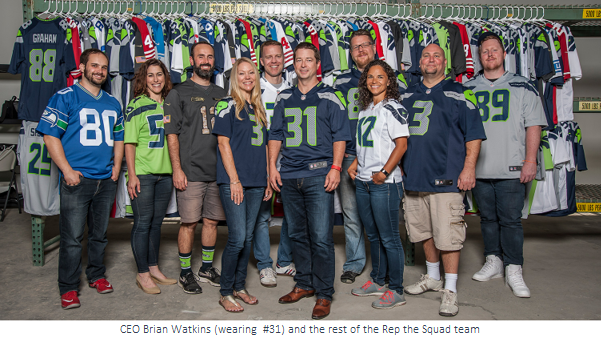 As a former executive at a handful of ecommerce companies, Brian Watkins has seen consumers gravitate toward apparel sharing startups like Le Tote.
Also a longtime sports fan, Watkins, like many others, had grown weary of authentic game jerseys that could run fans more than $200 and be rendered outdated when a player gets traded, released or retires.
"I'm that guy who was with my son last year, and I'm like, OK, I'm buying him a jersey—whichever one you want," Watkins told PitchBook. "But then I looked at the price tag. And I'm like, 'How's that hat over there? Do you want the hat?'"
Count sky-high prices among the reasons Watkins and his former Blue Nile co-worker Alex Berg launched Rep The Squad, a subscription-based service that allows fans to rent game jerseys for a monthly fee of $19.95 ($16.95 for kids). Headquartered just north of Seattle's Georgetown neighborhood, the 10-person company went live at the end of August and announced it had raised $1.5 million in venture funding from Madrona Venture Group, Maveron and Aspect Ventures.
The basic premise: Fans order a jersey online. It arrives within three days. They can then wear it as much as they want before sending it back in exchange for another one. And if a member loves a jersey so much they want to keep it, they can purchase it at a discounted price.
So far, Rep The Squad has both modern and throwback offerings for the Seattle Seahawks, San Francisco 49ers and Detroit Lions.
Call it
Rent the Runway
for football fans.
"We've moved from this model of access (over) ownership," said Watkins, who serves as CEO. "I think this is just a natural extension of how we deal with passionate sports fans and give them access to what they really want."
Attracting NFL talent
Born out of Seattle-based incubator Madrona Venture Labs, the company has also received investments from Seahawks receiver Doug Baldwin, Lions wideout Golden Tate, Chargers left tackle Russell Okung and Mariners legend Edgar Martinez. Seahawks cornerback Richard Sherman will serve as brand ambassador.
How did Watkins, who founded online jewelry company Ritani in 2011, connect with some of the NFL's elite?
"Let's be clear—they weren't my next-door neighbors," Watkins joked. "I know Golden Tate's wife, Elise Tate, because she used to work in Seattle for a long time. And so when we started thinking about this idea I actually reached out to her for advice. … Would players be on board with this? And she just said, 'This is incredible.' And listed out 10 different reasons why players, fans and families would want to have it."
"Rep The Squad is truly unique and the concept immediately resonated with me," Sherman said in a press release. "As players, we also like wearing different jerseys from various sports when we're off the field. That's the flexibility Rep The Squad brings to the table."
Watkins said the plan is to expand into other markets and launch an NBA line in the next few months. If that requires more funding, he's picked an opportune time: VC firms have invested
about $165 million in US clothing companies so far this year
, according to the PitchBook Platform. At the current pace, that would finish just behind the $254.2 million VCs devoted to the space in 2016, the highest amount in the past 10 years.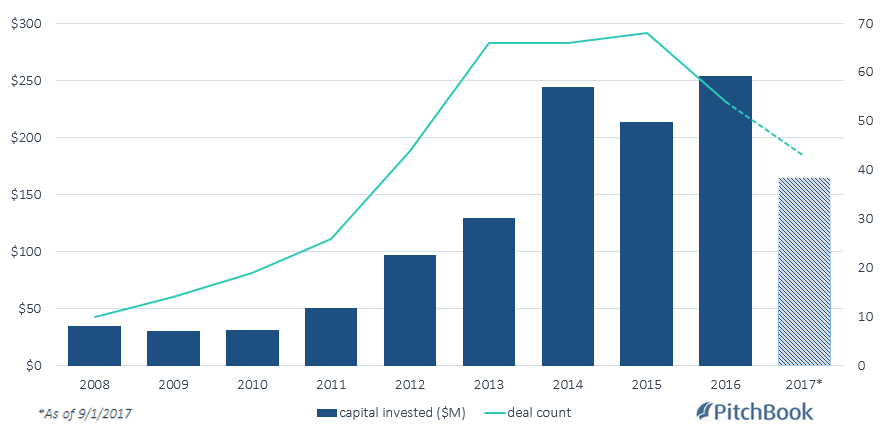 "It's one of those things with startups where you turn it on, you kind of wait, you kind of get nervous and want to see what's happening," Watkins said. "I think our timing is just right."
Watkins declined to project when the company will be profitable.
"From prior startup experience, we really looked to have a three-year cycle," Watkins said. "I'm not held to that by any means. … I think it's premature to really state a timeline, but we know that this core business can be really profitable in a timeframe that our investors like."
Watkins said the biggest challenge has been debunking a perception that a subscription service would only appeal to fair-weather football fans who wouldn't want to own a jersey outright.
"We resonate highly with people that already own jerseys," he said. "What they're looking for is to really extend their fandom. So I never want to be considered kind of a Blockbuster rental company. We want to really be seen as a source for people to increase their pride, increase their team following."
Initial feedback from launch day was overwhelmingly positive.
Added Watkins: "If it continues to go the way it does, we're going to be a 365-day-a-year sports destination for fans."
Interested in learning more about VC investments in ecommerce? Check out our previous coverage.