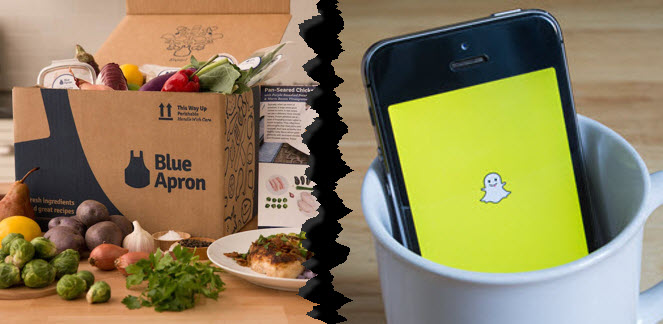 The carnage following some of this year's high-profile IPOs continued Tuesday as Snap and Blue Apron both posted significant post-earnings declines, prompting investors to balk at tepid results and question the strategic direction of the two companies.
Snap fell more than 17% in extended trading after reporting a loss of $0.14 cents per share (matching estimates) on weaker-than-expected revenue of $208 million. Moreover, a $40 million charge related to bloated inventory of Spectacles wearable cameras was a sign that the company's effort to pivot away from ephemeral chats into tech hardware has lost momentum. That brings the total decline from its post-IPO high of $29.44 per share to nearly 57%.
But it wasn't all bad.
Daily active users increased 17% YoY and 3% QoQ to 178 million. And average revenue per user increased 39% YoY to $1.17. The price of that growth remains worrisome, though: Quarterly cash burn totaled $220 million amid an adjusted operating loss of nearly $179 million, versus $109 million in the year-ago period. And the daily average user count missed estimates of a rise to 180.5 million.
At its current cash burn rate, the company will have to look at raising additional capital in less than a year's time. Especially if it engages in any additional dealmaking to spur growth: It recently bought Metamarkets, founded in 2010, which allows marketers to measure the performance of ad campaigns.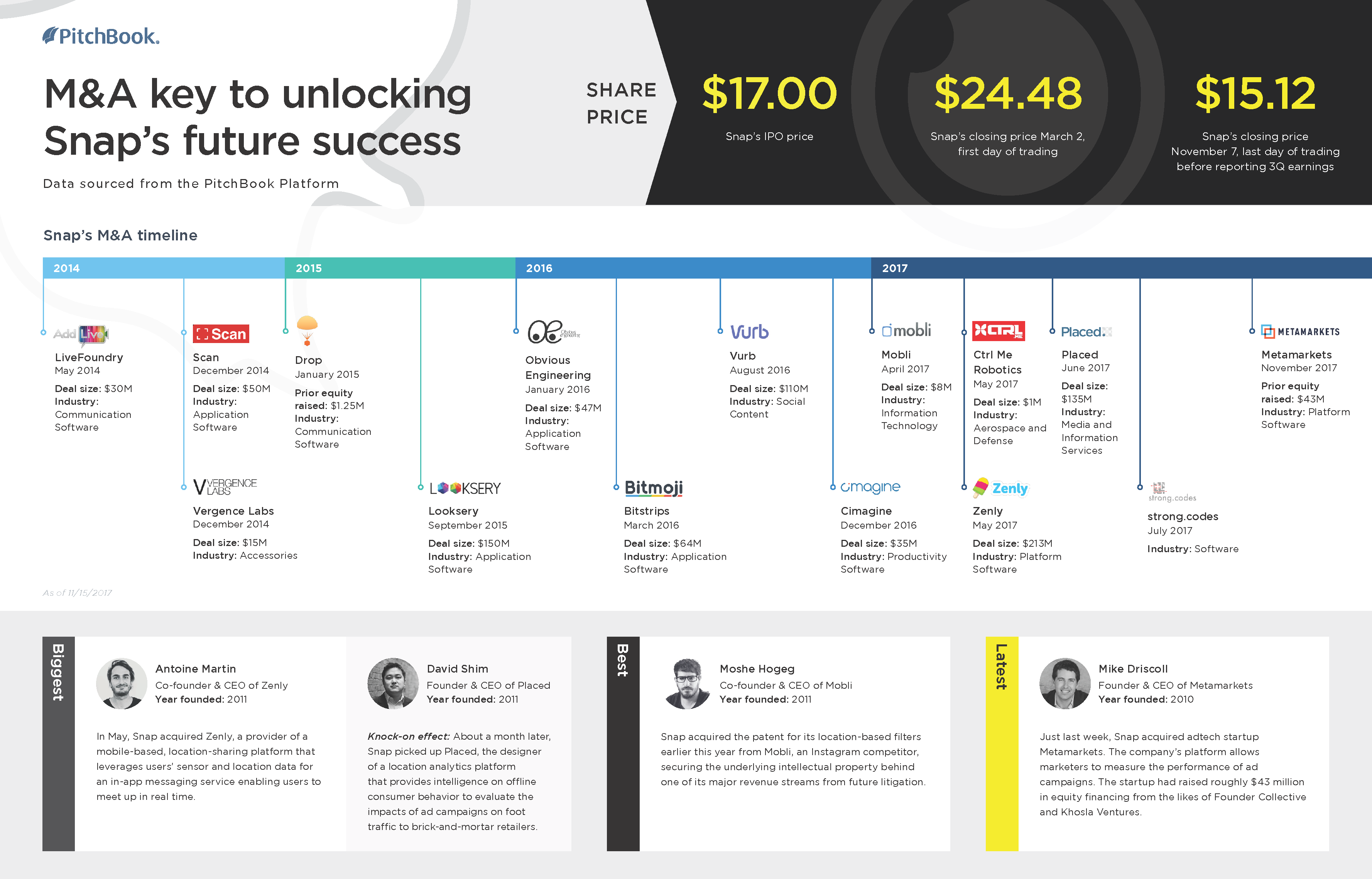 Overall, Snap's massive after-hours slide puts the company's market capitalization at around $15 billion, compared to the $20 billion valuation generated by its $1.8 billion Series F last year. In a statement, CEO Evan Spiegel said the company is currently redesigning the app, which has a "strong likelihood" of disrupting short-term user growth and will have an uncertain impact on the behavior of the current user community.
Blue Apron misses the mark
Blue Apron also tumbled on Tuesday, with shares falling more than 21% to new record lows, capping a 40% decline from its late October levels and a 73% decline from its post-IPO high of $11. This marks an accelerating selloff after the company reported weak results on November 2, with a loss of $0.47 per share (missing estimates by $0.04) despite a 2.5% rise in revenues YoY.
Customer count declined by 6% YoY and 9% QoQ, reflecting a drop in marketing spend. This follows a "realignment" in October featuring a
6% drop in employee headcount
. Quarterly cash burn totaled $78 million.
The share price decline takes the company's market capitalization down to $580 million, compared to the $2 billion valuation reached in 2015 with a $135 million Series D.
Not a subscriber to our daily M&A newsletter? Sign up today.