A $2 billion valuation is plenty newsworthy on its own, but
Uptake's $40 million financing last week
caught our eye for a couple of reasons:
The Chicago-based company, which provides a predictive analysis SaaS platform for an array of industries, hit that post val in an amazingly short amount of time and having raised a relatively small amount of venture capital—about $90 million in total since its July 2014 founding.
For this post, we focused on the time element and pulled data on the fastest US startups to reach a $2 billion post-money valuation with a private financing: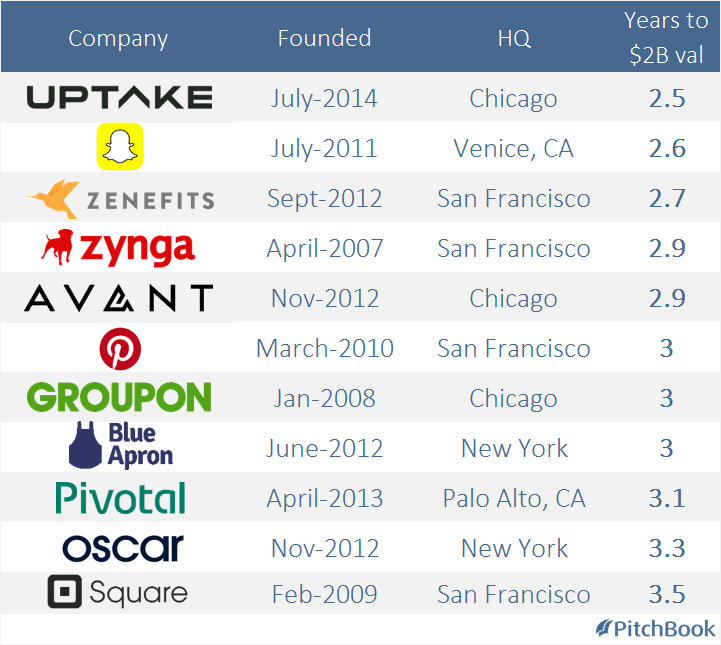 Some notable takeaways:
Interesting to see Chicago land three of the top seven startups on the list. This isn't the only time we've seen the Windy City rank highly on a venture-related post. Check out our popular piece from last year on the US cities that generate the best VC returns.
It's a pretty diverse set of companies serving a number of different markets: enterprise, consumer, software, fintech, social, food delivery, insurance, etc.
Uptake founders Brad Keywell and Eric Lefkofsky were also the founding team behind Groupon.
Methodology: The dataset includes US-based companies founded in 2005 or later. The timeframe spans from a company's disclosed founding date, or when the business was incorporated, to the close date of the private financing that generated a post-money valuation of at least $2 billion.