The 7 most active corporate acquirers of SaaS companies
April 11, 2017

Microsoft (NASDAQ: MSFT) has agreed to acquire Deis, a company that provides Kubernetes container management technologies to help organizations more easily build, deploy and move applications to and from the cloud. The software giant plans to plug the Deis tech into the containerized workloads deployment on Azure. Upon completion, the deal would mark Microsoft's 24th acquisition of a SaaS company since 2010, according to the PitchBook Platform.
Overall, corporate M&A activity in the global SaaS space has cooled recently after a period of frenetic activity that ramped up in 2014. Since the start of 2010, 3,442 corporate acquirers have stumped for a SaaS company, completing 5,198 deals in that time, per PitchBook data. Though after a peak of 1,268 deals in 2015, activity dropped nearly 30% to 903 acquisitions last year.
As the world of corporate investment continues to evolve, however, it's interesting to note that about one-third of the 10 busiest venture investors in SaaS are corporate VC arms of larger companies.
So who are the most active corporate acquirers in SaaS? And where do Microsoft's deals fit in the mix?
Here are the top seven since the start of 2010, along with completed deal counts (excluding minority stakes):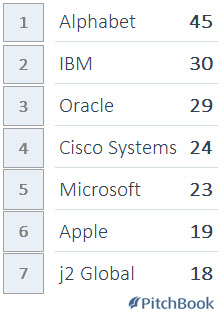 PitchBook Platform users can check out the full data on corporate M&A activity in the SaaS industry. Not a subscriber? Contact us today to set up a demo.