The Flowing of the Green: Dublin's VC Scene
By Garrett Black
October 3, 2014
For many, the thought of Dublin sparks images of vibrant Irish culture mixed with thriving business activity. A key component of that activity is Dublin's startup scene, which has hummed steadily with VC investment the past few years, much as we did that one late-night singalong of "Whiskey, You're the Devil" at Temple Bar. According to the PitchBook Platform, 140 VC financings of Dublin-headquartered companies have occurred since 2011's start, with 26 in 2014 thus far. The usual suspects—healthcare and software—account for most of the deal activity in the region; what's more interesting is the substantial support given to startups by government agencies such as Enterprise Ireland, which has been crucial in attracting international attention to the area. Low corporate tax rates also attract multinational corporations, which Dublin's newest startup commissioner, Niamh Bushnell, points to as potentially fruitful partners in developing new companies.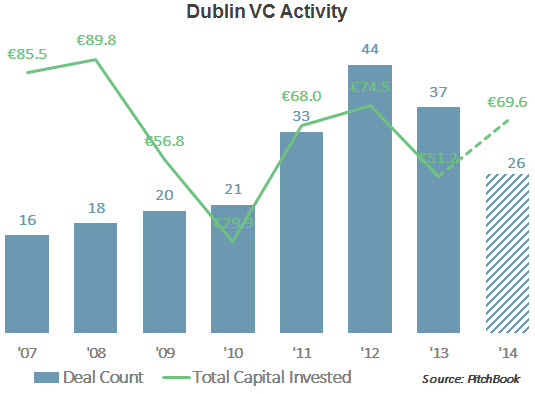 With Enterprise Ireland's primary role as most active investor in the Dublin scene, we reached out to Garrett Murray, manager of government relations in Enterprise Ireland's Investment Services and Policy Division, with a few questions.
Q: What would you say are the key characteristics of Dublin's startup scene, from a venture capitalist's perspective?
In the Start in Ireland brochure we highlight many of the characteristics this innovative, connected and startup friendly ecosystem displays. International VCs always highlight the fact that there is considerable Irish and international talent, access to seed funding and syndicate partners, access to global and particularly European markets, an increasing number of successful accelerators (and initiatives like Dogpatch), repeat entrepreneurs and a business-friendly legal environment.
Q: Historical data from our platform and your report show that industry-wise, a majority of VC investments in Dublin have focused on software, with various healthcare niches coming in second. Do you see these industry trends continuing, or do you see any possible shifts?
This has been relatively consistent overtime and is unlikely to change. These are sectors that are attractive to limited partners and are the main focuses of VC investment internationally. Entrepreneurs operating in these sectors are also likely to find Dublin an attractive location to start their business due to the proximity of many MNC (multinational corporation) players in these sectors to the Dublin market.
Q: Regarding Enterprise Ireland's role in the Dublin VC scene, what does your current investing landscape look like, and what does the future hold?
Enterprise Ireland is a national organization that does not prioritize one region over another. Under the Seed and Venture Capital Scheme the agency will continue to make commitments to VCs following competitive evaluation processes. The role of government in leveraging private sector funding in the VC sector remains important in a small, innovative and open economy like Ireland.
Enterprise Ireland has invested with all the funds listed herewith under the Seed and Venture Capital Schemes and the Innovation Fund Ireland Scheme. A vibrant ecosystem needs a strong domestic VC market that has the capability of investing and attracting international VCs as syndicate partners. Ireland now has that. It has been terrific to see new managers like Frontline Ventures and SOS Ventures raising new funds and international players like Polaris, Highland Capital and Lightstone opening offices in the Irish market headquartered in Dublin. Business Angels continue to be central to the ecosystem and one would hope they will continue to increase the level of their investment activity.
Q: University College Dublin (UCD) was featured in our recent report on top universities producing VC-backed entrepreneurs. What is Enterprise's working relationship with university and entrepreneurship programs?
Enterprise Ireland has a very close relationship with all the universities and institutes of technology across the state as the agency has the government mandate to support the commercialization of university research. Enterprise Ireland supports the Incubation Centers and Technology Transfer Offices in these institutions (including UCD) and on an individual level we work with and invest in the vast majority of the companies emanating from the Education/Research sector.
Q: What are some of the most interesting Dublin-based startup investments or early stage deals you've completed recently?
Boxfish, CurrencyFair and Digit, among others.
[Select other Dublin companies and their most recent financing sizes are shown below]
As PitchBook's ranking of VC-backed entrepreneurs above shows, UCD has produced quite a few startup founders. NovaUCD, the Centre for New Ventures and Entrepreneurs at UCD (which was founded in 2003), recently produced its own report covering its first decade of existence. One sample case study that illustrates Dublin's healthcare startup environment well is ResMed Sensor Technologies, which began as sleep-monitor maker BiancaMed at UCD in 2003; ResMed (NYSE: RMD) bought the company in 2011.
BiancaMed's example also brings together quite a few of the elements that could help Dublin's VC activity flourish even more. Startups can take advantage of Enterprise Ireland and other VC funding, draw on talent from the local universities, establish relationships with the local branches of multinationals and then either partner with multinationals or seek to be acquired and enveloped into their existing operations. It could be a win-win scenario, which, with the fabled luck of the Irish, looks quite likely.
If you're thirsting for more granular insights and info, feel free to request a demo of the PitchBook Platform.