The numbers behind the PE fundraising boom
September 25, 2017
According to our latest
PE & VC Fund Performance Report
, net cashflows (the difference between LP contributions and GP distributions) to private equity investors stayed in positive territory in 2016. On the other hand, those cashflows are on a downward trend overall, and while they may stay positive for another year, they are likely destined to turn negative as the new buyout cycle gains steam.
Something worth noting in the accompanying chart is the sheer size of aggregate GP distributions following the financial crisis. For example, 2014 and 2015 were both strong years for distributions, totaling $360 billion and $356 billion, respectively, on a global basis. LP contributions bottomed out in 2013 at $188 billion before PE deal activity picked up in earnest the following year, with US capital invested alone popping 29% YoY in 2014.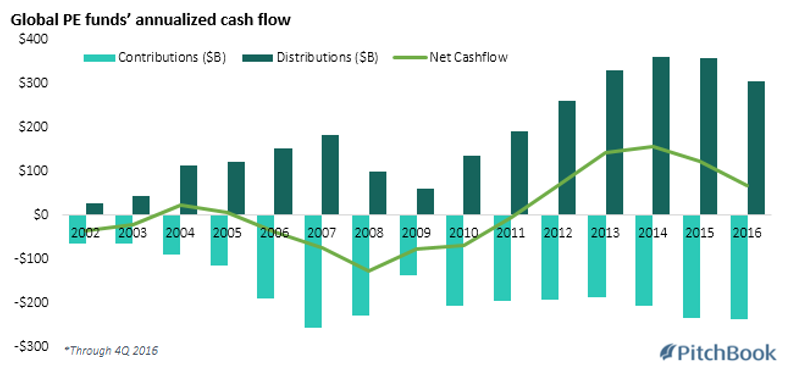 Global PE fundraising has largely mirrored the surge in distributions. GPs distributed about $331 billion back to investors in 2013, a 27% jump over 2012 totals. That helped propel an 84% increase in global PE fundraising that year and marked the beginning of a four-year stretch (2013-2016) that had a combined $1.1 trillion in PE commitments.
With 2017 on pace for another near-record year, we're likely seeing an anomalous five-year boom in PE fundraising that may not be repeated anytime soon; record PE distribution levels neatly coincided with yield-starved bond and equity markets and a hedge fund industry that has disesteemed itself recently through poor performance. Whether PE can pull off an encore performance during the next fundraising cycle largely depends on how effectively it manages its new $1 trillion-plus coffer. If we've learned anything from the hedge fund industry, it's that allocations from institutional investors aren't set in stone.
Note: This column originally appeared in The Lead Left.
Read our 2017 VC & PE Fund Performance Report here.
Join the more than 1.5 million industry professionals who get our daily newsletter!