Check out the charts below from our
3Q European PE Breakdown
to see the latest trends in fundraising, buyouts, exits and much more.
Activity sliding
Although deal activity increased quarter-on-quarter by 4% in 3Q, PE deals in Europe are down by more than a fifth on a yearly basis. The largest drops were seen in the Central/Eastern Europe and France/Benelux regions, which saw downturns of 39% and 36%, respectively.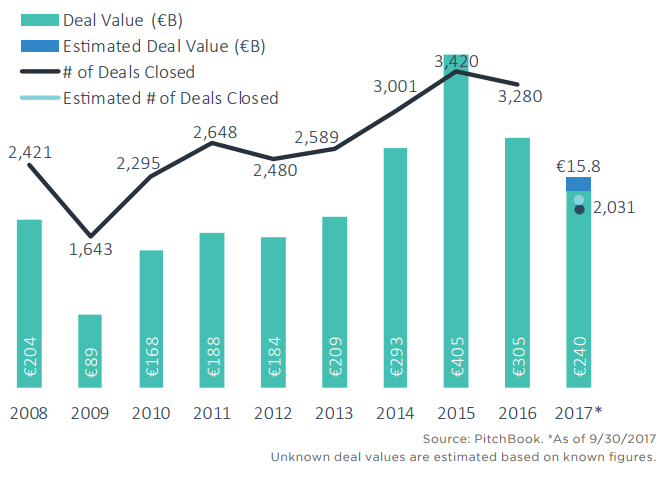 Median deal size creeps up (€M)
While volume is trending down, the median deal size has so far increased by 11% to €25.7 million. This is good enough for the second-highest yearly size since the financial crisis—however, it is still way down from the €41.8 million recorded in 2006.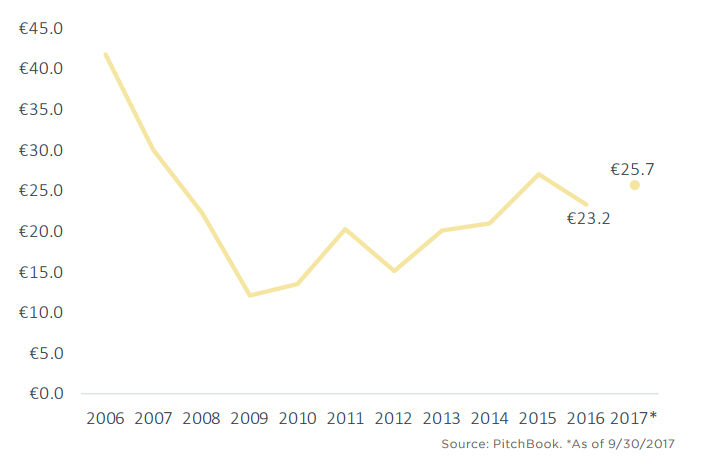 Lower end and middle market drive volume...
Deals worth under €25 million have accounted for the majority of PE transactions in Europe this year. The next most-common segment is the €100 million to €500 million range.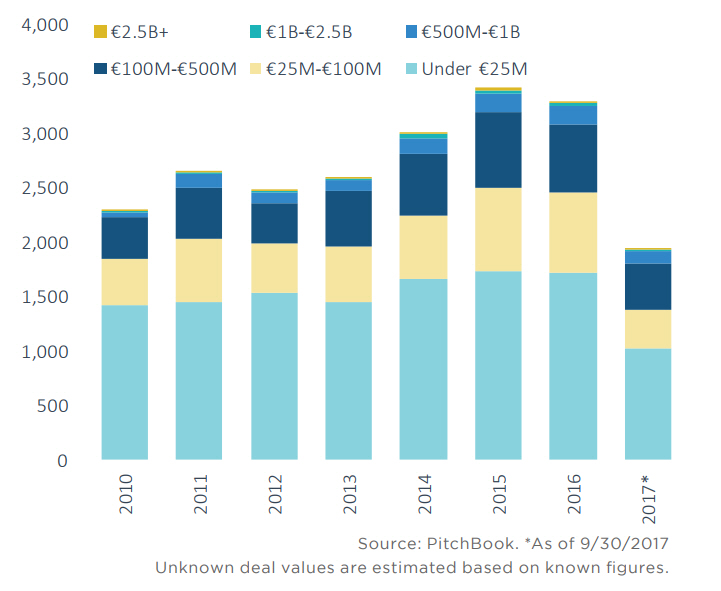 ...but falling mega-deals still prop up value (€B)
Despite a fall in the number of deals worth more than €2.5 billion, the greater ticket sizes are bolstering 2017's overall PE deal value. Total value has fallen across all other categories this year.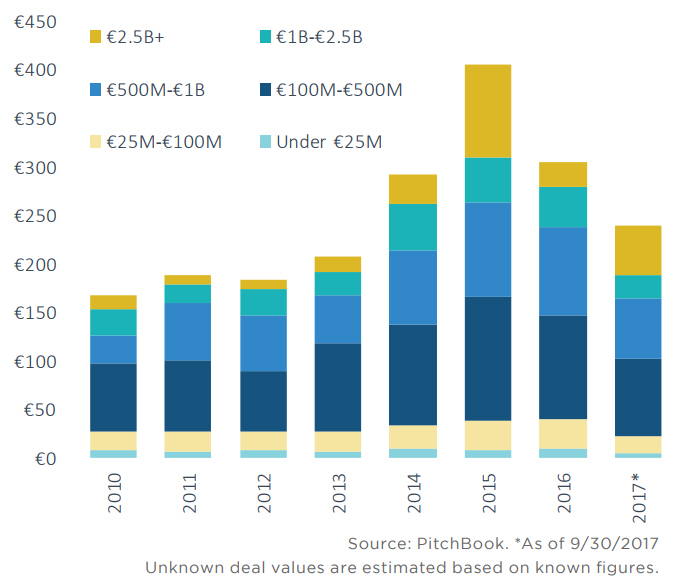 Bolt-ons stay strong
Bolt-on activity has remained steady in Europe for the last few years, registering around 50% of all buyouts. This puts it still well below the US, where bolt-on deals have made up 64% of buyout activity this so far this year.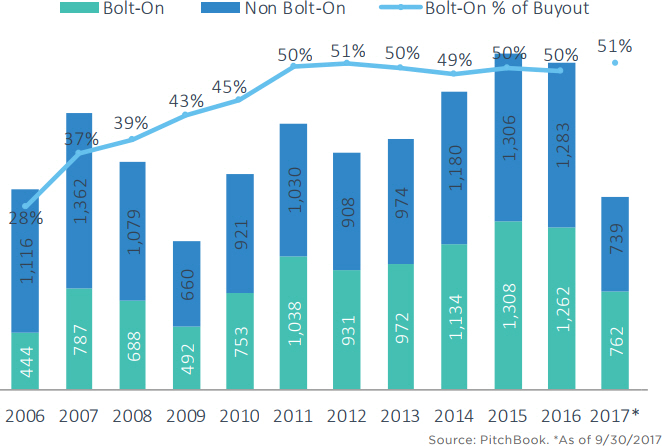 The multiples gap is narrowing
The median EV/EBITDA multiple for European private companies acquired this year by PE is 7.5x, compared with 8.4x for those that are publicly traded. This is a much narrower gap than last year. The fall could be indicative of investor uncertainty regarding the stability of the European Union.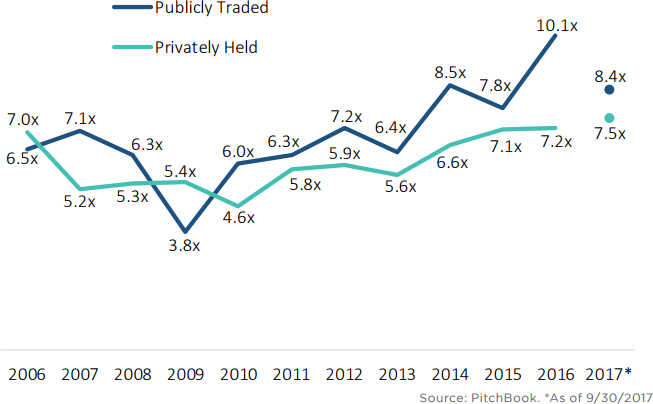 Sector shortfalls
PE deal volumes look set to come up short compared with last year, although the IT sector is showing resilience in spite of this downward trend.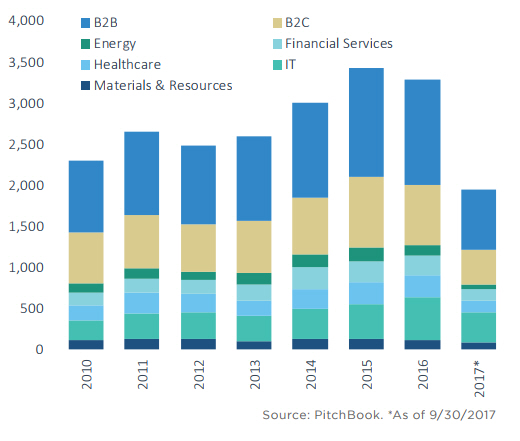 The trouble with letting go
PE exits in Europe totalled 733 in the first three quarters of the year, a 20% decrease on last year's activity. Although unlikely to reach the record-breaking numbers of the past three years, 2017's exit march is still on track to be higher than any year from 2008 to 2012.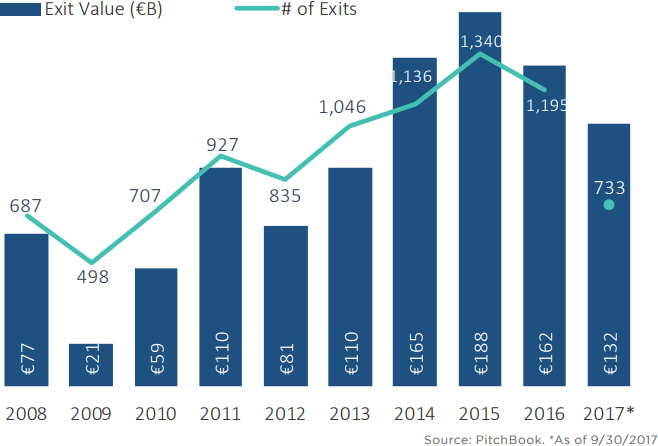 M&A exits fall flat
A big part of the drop in exits has been a marked decline in corporate acquisition activity, which is on pace to drop nearly a fifth this year. Given 2015 and 2016 were phenomenal years for M&A, this indicates that companies are keen to integrate newly bought businesses this year rather than continue spending, among other factors.
Fundraising hits frenetic pace
While dealmaking has subsided, capital commitments have increased 40% in the first three quarters of 2017 year over year to €60 billion. This puts 2017 on pace to break 2007 record of €77.2 billion.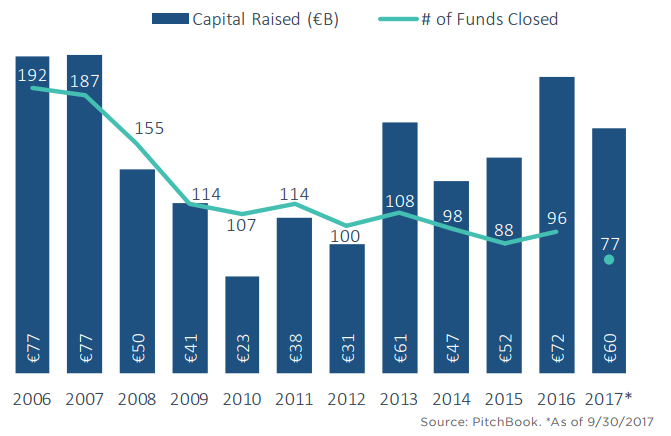 Energy commitments blast off
One of the many fundraising bright spots this year has been the resurgence in energy, with commitments to sector-focused vehicles hitting €5 billion already this year compared to €1.8 billion for the whole of last year. With deals in the industry at a low due to energy price uncertainty, a jolt in activity should now be expected with these new funds ready to be spent.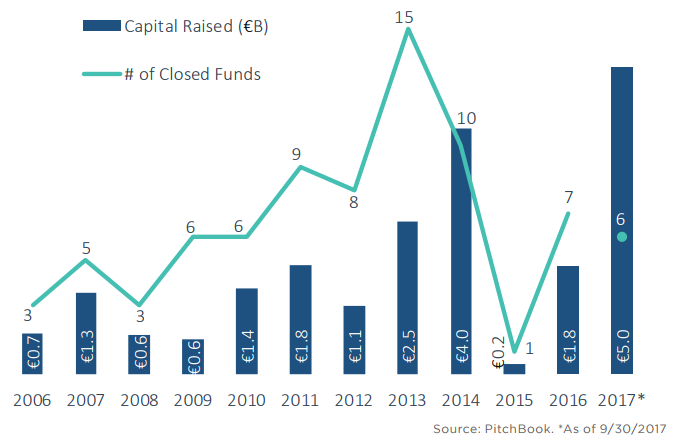 Download the full 3Q report by clicking here.