The state of U.S. venture capital fundraising
By PitchBook
August 14, 2015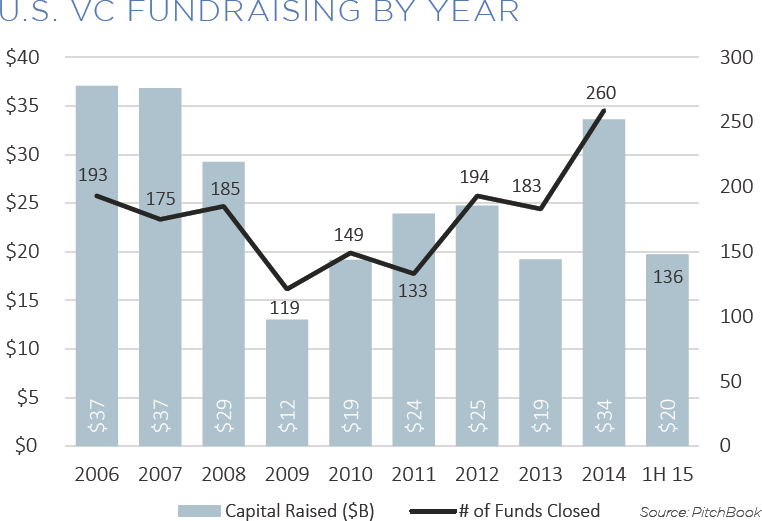 In anticipation of our upcoming Fundraising & Capital Overhang Report, we take a look at U.S. venture capital fundraising activity throughout the first half of the year, comparing it to yearly breakdowns of median and average fund sizes, average time between funds, and more.
Through 1H 2015, a total of $20 billion was collected by U.S. VC firms on the fundraising trail, already outstripping 2013 and more in line with the numbers seen before the financial crisis. As fundraising numbers have ramped up, the lowest and highest ends of the market in particular seem quite healthy. Over the past few years, $1 billion+ funds have appeared more frequently, while the proportion of micro-VC funds—those under $50 million in size—has slowly increased to account for over half the market in number. In fact, one of the more interesting trends in recent years has been that emergence of micro-vehicles; 149 such funds were closed in 2014, the most in a decade, while the first half of 2015 recorded 73.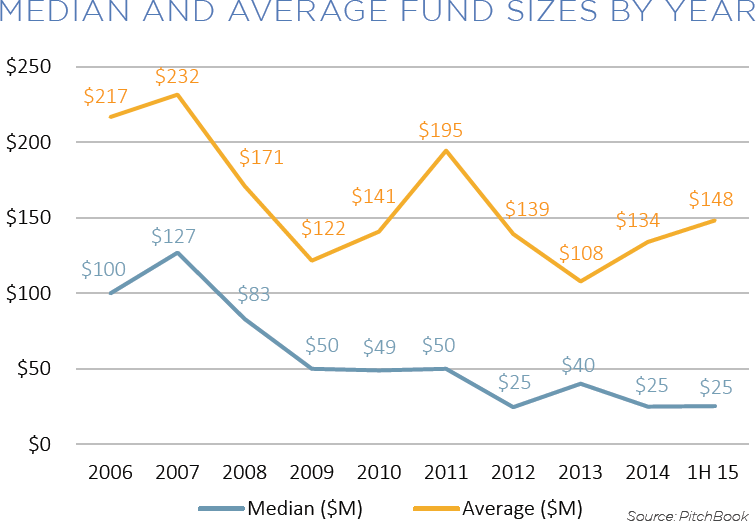 The proliferation of small funds has most likely also contributed to the decline in median closing time. 2013 saw a median of about 15 months, 2014 a little over 13 and the first half of 2015 a slim 9.8. That median may begin to rise, but for now it illustrates LP confidence in the asset class. In fact, looking at the number of funds that are hitting their targets suggests that LPs have rarely been this optimistic about venture capital. Last year saw an impressive 86% of VC funds hit or beat their targets, but 1H beat even that lofty percentage, hitting 92%. Furthermore, 1H recorded a median step-up of 1.2x in fund size, in line with prior medians. In other words, for VC firms looking to add to their reserves of capital, now is the time to do so.
To download your free copy of the 3Q 2015 U.S. Venture Industry Report, click here.