There was $27.9 billion worth of venture capital invested throughout the US during 3Q 2018, pushing year-to-date deal value to more than $84 billion. That's already a decade-high record, and there's a quarter remaining. One major reason for the bounty of capital is the rise of big deals: Rounds totaling more than $50 million are becoming increasingly prevalent.

The 3Q 2018 PitchBook-NVCA Venture Monitor, created in partnership with Silicon Valley Bank, Perkins Coie and Solium, provides a look at the current VC landscape by examining data on fundraising, exits, corporate venture capital and more. We've created an overview of the report with a collection of charts:
2018 deal value has already reached a decade high
The amount of VC invested in the US is on pace to top $100 billion this year and set a record. Regarding deal count, the story is slightly different, though: There was a double-digit decline in early-stage transactions in the third quarter and an even bigger decline for angel and seed-stage deals. The year's deal count is set to be just about the same as 2017.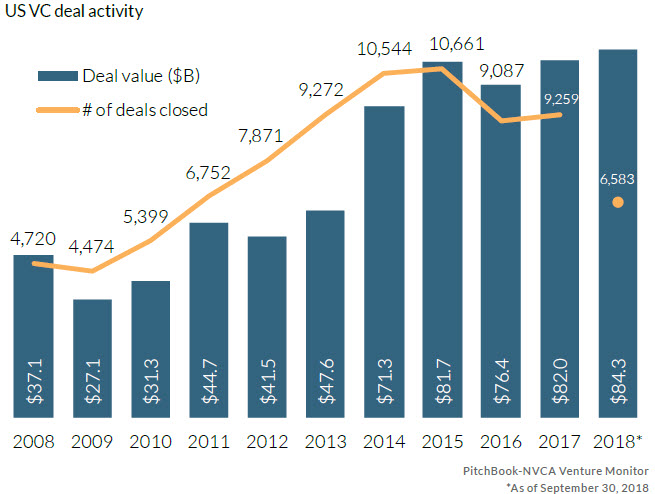 Deal value remains elevated
As of the end of the third quarter, median VC deal sizes had experienced significant percentage growth over 2017. The value of early-stage deals has risen YoY, as have median pre-money valuations across stages.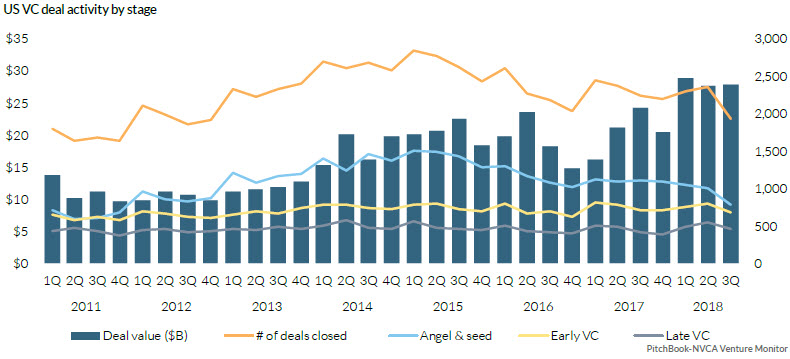 Unicorns raise record capital in 2018
One reason for the record amount of venture capital invested this year is the rise of unicorns. As of the end of the quarter, companies with valuations of $1 billion or more had closed 39 transactions for a total of $7.96 billion. That's on pace for a new high in terms of both deal value and count.



Majority of capital flowing into $50M+ deals
This year is experiencing a record percentage of venture capital rounds totaling more than $50 million. In fact, more than half of all VC so far this year has gone to rounds of that size.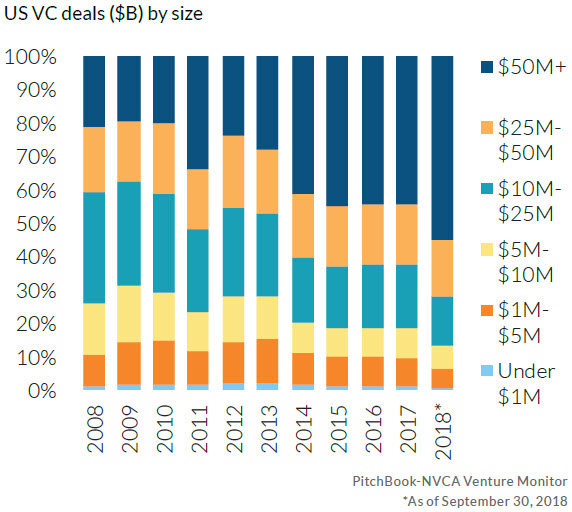 Buyouts are becoming an increasingly popular exit route
VC-backed companies are taking a relatively long time to exit, but the number of exits in 2018 is on pace to meet or exceed 2017 totals. And as for the amount of capital exited, it's set to easily surpass 2017 by the end of the year. The rise in capital exited is due in part to larger exit size: So far in 2018, more than 20% of exits were worth at least $100 million, versus about 16% of companies in 2017. That could be due in part to an elevated amount of buyouts.



Angel & seed deal value slips in a trend reversal
The quarterly deal value for angel and seed rounds slipped slightly in the third quarter. And deal count, which was already on a slow descent, tumbled from 1,005 deals closed in 2Q to just 785 in 3Q. Despite the dip in capital invested over the last quarter, 2018 remains on pace to match or exceed angel and seed activity in 2017.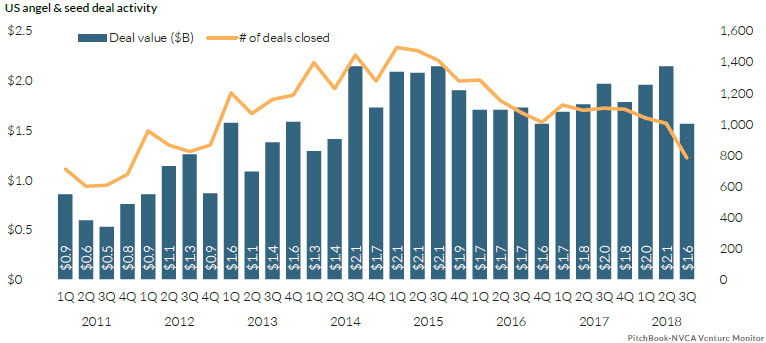 This year pacing for all-time high in capital raised for first financings
Total deal value for companies receiving their first rounds of VC funding is set to reach record highs.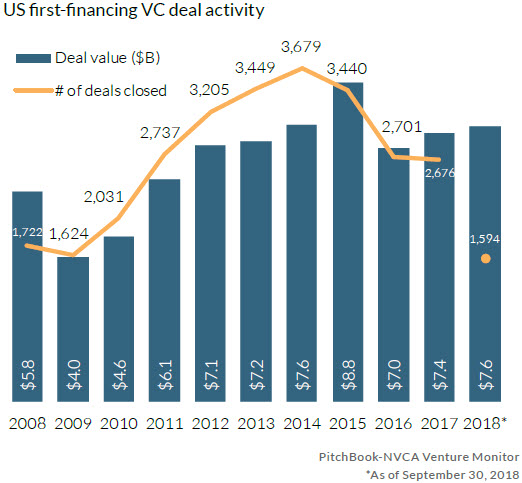 Early-stage investment dips slightly in 3Q
After three quarters that set records, 3Q 2018 experienced curtailed deal value for early-stage transactions. There was $8.9 billion invested into early-stage companies, with median deal size swelling 25% to a record $7 million.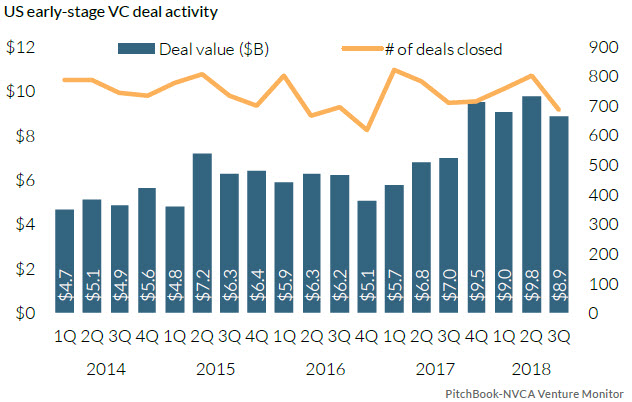 Dealmaking remains elevated in 3Q
Late-stage VC financings experienced a third consecutive quarter of double-digit, billion-dollar deal value. Late-stage deals made up nearly 24% of VC deal count during the quarter, the highest proportion since 2011. The overall increase in late-stage activity has been a boon for mega-deals. Businesses closed 51 deals totaling more than $100 million in the third quarter, representing nearly 64% of total late-stage capital invested.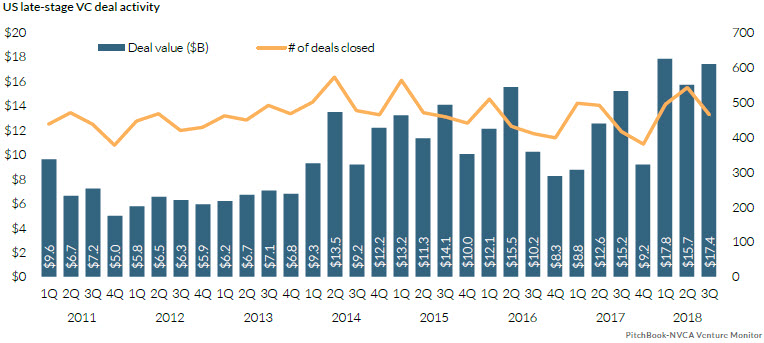 Traditional hubs still account for preponderance of activity
The West Coast continues to be a hotbed of venture capital activity. It was home to nearly 55% of deal value and about 38% of all transactions in the third quarter.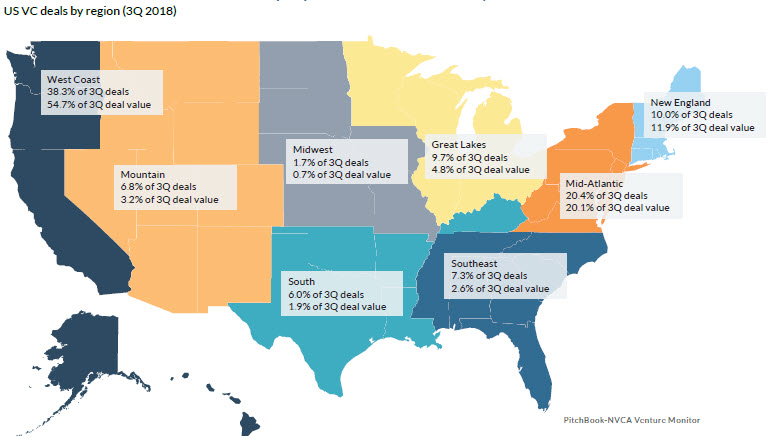 2018 CVC participation surpasses last year's total
Corporate venture capital participation in venture deals has already surpassed last year's annual totals, with CVCs participating in $39.3 billion worth of venture financing rounds. And over the last five years, corporate investment has more than doubled.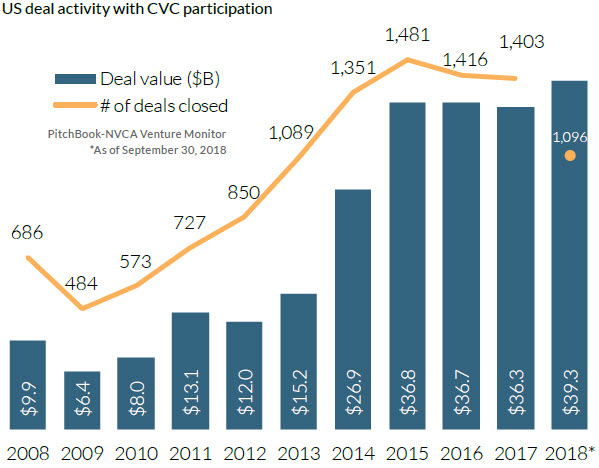 Growth deal value pushes to new high
For growth equity transactions, deal value continues to climb, following the VC market's general trend toward large investments. In the third quarter, growth investors participated in 207 deals worth $15.6 billion total.



2018 on pace for robust exit activity
The exit environment continues to show signs of strength, with 2018 on pace to surpass 2017 totals in terms of total exit value. The amount of capital exited in 3Q was supported by a few large deals, including the $2 billion acquisition of AppNexus.




Venture funds secure $32.4 billion in commitments through 3Q
VC fundraising in 2018 is on track for another healthy showing. The year is pacing to reach more than $30 billion in commitments for the fifth consecutive year. One reason for the trend is the increased focus on raising larger VC vehicles.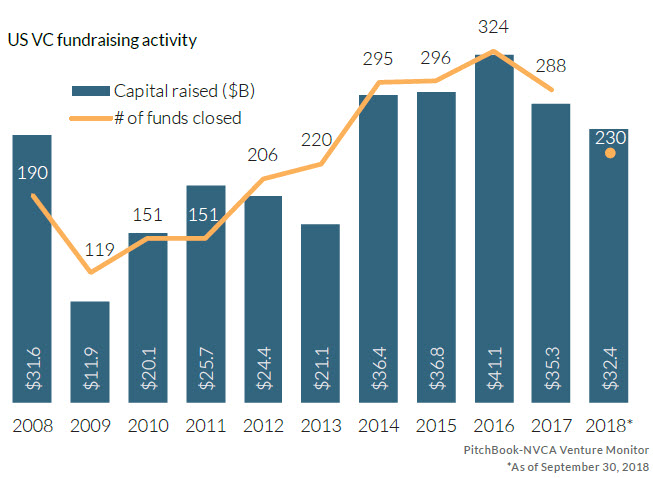 Investors deploying capital at a rapid clip
Through the end of the third quarter, VCs had raised a total of $32.4 billion and invested a total of $83.3 billion. That continues a trend of deploying large amounts of capital quickly.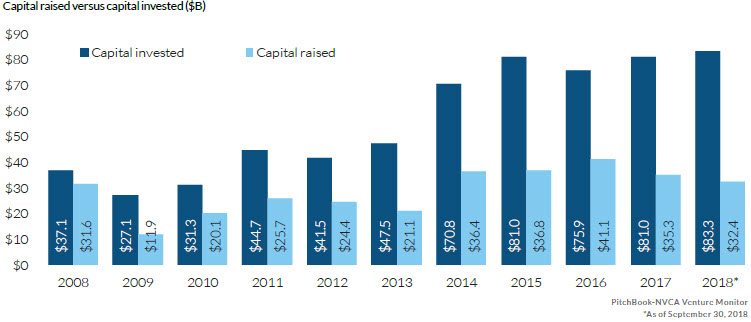 Download the full report for free.