These 8 startups have raised $500M+ rounds this year
October 13, 2017
This year is on pace to hit a record high for total US venture capital invested in the past decade—but deal count is set to decline sharply for the second year in a row, according to data from the most recent
PitchBook-NVCA Venture Monitor
.
Here's a closer look at capital invested and deal activity in US venture rounds over the last 10 years: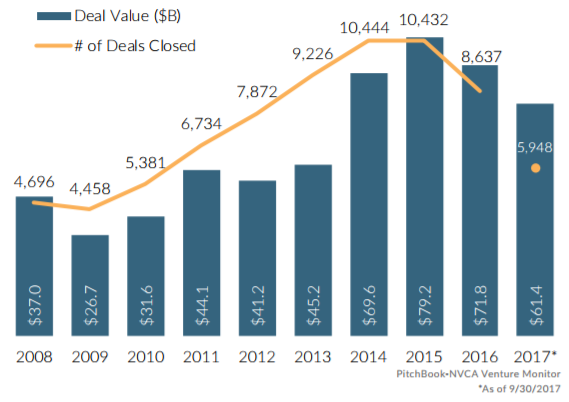 The overall trend is a product of more capital being invested into fewer deals. Massive VC financings at high valuations have become the new normal: According to the report, deals with a valuation of $1 billion or more represent less than 1% of the deal count—but they're nearly 22% of the aggregate value so far this year.
There may not be as many transactions this year as there were in 2014, when that number was at a record high, but eight companies in the US have raised VC rounds that total at least $500 million in the first three quarters of 2017: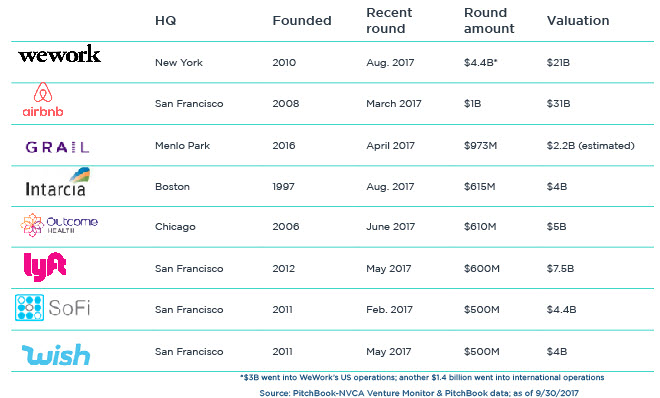 The chart above was updated 10/19/2017 to reflect SoFi's $500 million fundraise.
For much more venture capital data and analysis, check out the 3Q 2017 edition of the PitchBook-NVCA Venture Monitor.
Join the more than 1.5 million industry professionals who get our daily newsletter!