The possible flotation of PE-backed Austrian bank BAWAG appears to be edging forward. Following a reported strategic review to evaluate options earlier this year, Cerberus Capital Management has appointed Morgan Stanley as global coordinator for the proposed offering, according to Reuters. Cerberus, which invested in the lender in 2007 currently owns 52% of the company.
If the flotation materializes, it would give a noticeable thrust to a European PE exit market which has stagnated recently. After a steady period of exit activity during the last two years,
deal numbers have fallen
to below 300 for the last three quarters, per the PitchBook Platform. The last time even one quarter had such a low number was 3Q 2014.
Completed PE exits of European companies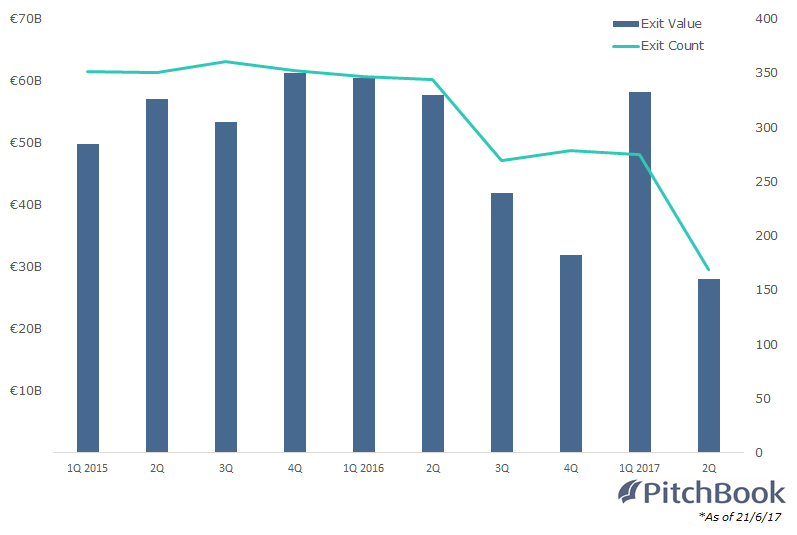 IPOs themselves, although
living in hope of a comeback
, still make up only a small proportion of PE exits. Instead, the trend is an increase in the proportion of secondary buyouts. Selling on to other financial investors
has made up nearly half of the market
so far in 2017, per PitchBook data, compared with 41% last year, and has overtaken trade sales as the most popular exit route. Major SBOs so far this year include GIC's €2.4 billion acquisition of P3 Logistics Parks, as well as the €2.2 billion sale of Xella Group by PAI Partners and Goldman Sachs to Lone Star.
Percentage of completed European exits by type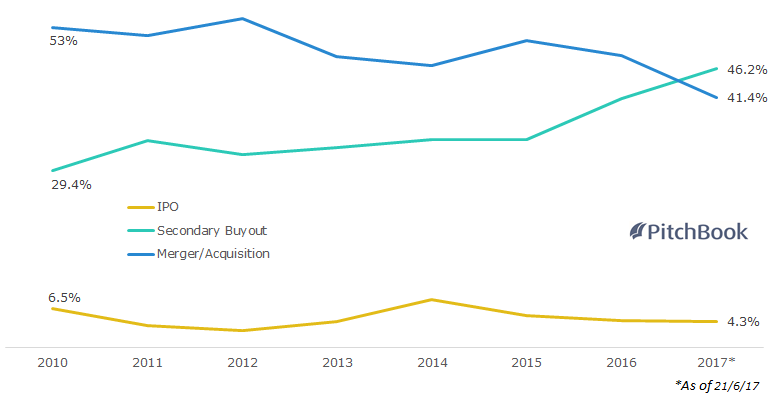 The return of European SBOs is indicative of a testing time for European PE. With public and strategic sales retrenching, PE investors are finding it more difficult to realise true value from their investments, leading to assets being recycled within the community. For the minute, uncertainty in Europe is curtailing IPO possibilities, while many corporates are instead focusing on consolidation rather than expansion. Private equity will be hoping this environment changes soon for the health of its investment lifecycle.
Want to know more about European private equity? Check out our 1Q 2017 European PE Breakdown.