A visual look at the performance of 2016's U.S. VC-backed IPOs
June 1, 2016
2016 finally had its first U.S. VC-backed tech company register for an IPO when Twilio filed its S-1 with the SEC last Thursday. The company, which provides APIs to businesses for building communication apps, is also in line to be the first U.S.-based billion-dollar startup to test the markets since Square (NYSE: SQ) completed its offering in November.
What's been the hold up?
Well, at the risk of oversimplication, the public markets hit a rocky phase last summer, when plummeting oil prices, the Greek debt crisis and China's volatile markets were among the factors spurring investor uneasiness. Those feelings only exacerbated concerns over the rise of private valuations, as the number of global unicorns grew to well over 100.
So while this may be just one filing, Twilio provides at least a glimmer of hope that the equity locked up in those companies may finally become liquid sooner rather than later.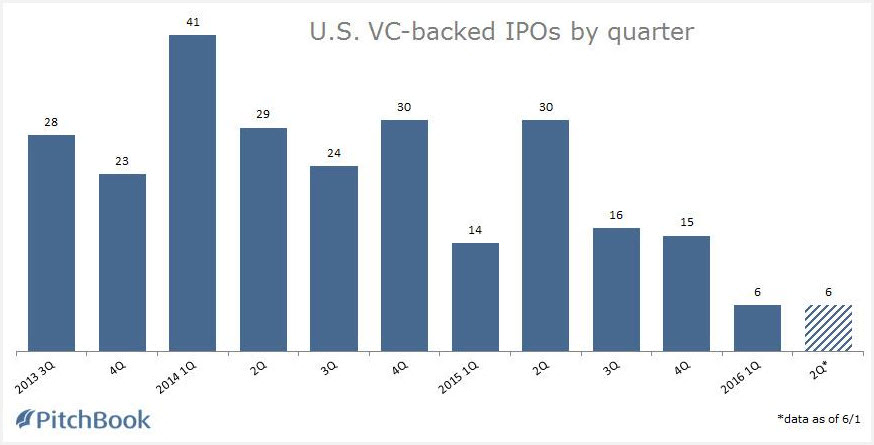 VC-backed IPOs for the year to date have been almost nonexistent. January saw zero U.S. companies complete their registration, and only 12 VC-backed companies (11 of which are healthcare-related) have listed in 2016 so far. By this time last year, 30 U.S. VC-backed companies had completed offerings, raising a total of $2.2 billion—Etsy and Box held the two largest, grabbing $267 million and $175 million, respectively.
This year has also seen just two companies raised over $100 million in their IPO—Intellia Therapeutics ($108M) and Acacia Communications ($103.5M)—though Twilio is almost sure to make that total three; the company, which received a valuation of $1.03 billion with a $130 million Series E last July, could easily raise up to $200 million or more.

The graph below shows the closing stock price for the 11 U.S. VC-backed companies that completed IPOs on either the NYSE or Nasdaq this year:
Now could be a great time for Twilio to make its debut. U.S. markets have generally stabilized since the early year sell-off—rising gradually back to late-2015 numbers—and startups that have completed their IPO in the U.S have seen relatively positive results. Though not an indicator of a bull-market resurgence, the trend could be seen as a sign that investors are willing to invest, given the right opportunity. Twilio has seen both its base revenue and active customer accounts grow steadily over the past couple years, both numbers that could help attract interest.
And while one IPO isn't necessarily going to reverse the year's course, a successful (and lucrative) IPO for Twilio could persuade other unicorns to at least move toward an IPO of their own. With hundreds of billions of value currently tied up in private unicorns, the opening of an IPO window would be a more-than-welcome sight for many investors.
Join the more than 1.5 million industry professionals who get our daily newsletter!