Kraft Heinz drops Unilever pursuit after $143B offer declined
February 17, 2017
View comment

(1)

Just two days after consumer goods giant Unilever (LON: ULVR) rejected its staggering $143 billion overture, Kraft Heinz (NASDAQ: KHC) has withdrawn rather than upped its $50-per-share, cash-and-stock bid. At that price, the offer from Kraft Heinz represented an 18% premium to Unilever's close before the announcement came and a 14% premium to Morningstar's $44 fair value estimate.

Even with the modest premium offered, the bid had already represented the largest ever for a consumer goods company. And now it would appear that, despite potential strategic appeals for both sides, Kraft Heinz's need to raise more capital to secure a deal and overcome cultural differences between the companies has scuppered it.

Kraft Heinz likely required too much leverage to secure a higher premium for Unilever's shareholders. But the company's credit profile was already elevated around 4x and, according to Morningstar analyst Erin Lash, Kraft Heinz would likely have needed to offer between $165 billion and $175 billion to find a more willing partner in Unilever. Even so, to sweeten the deal with a higher price alone may have failed without an increased cash-to-stock ratio. Kraft Heinz offered $30.23 per share in cash and 0.222 new enlarged entity shares per existing Unilever shares.

Under UK law, Kraft Heinz had until March 17 to announce a firm intention to make an offer. And it originally planned to do just that, suggesting that Friday's was just the opening in what could have proved a protracted bidding process. It turns out that Unilever's assertion that it "does not see the basis for any further discussions" proved only too true.

In a joint statement, the two companies assured investors that Kraft Heinz "amicably agreed to withdraw its proposal" and that it "has the utmost respect for the culture, strategy and leadership of Unilever." That culture, led by Unilever's Dutch CEO Paul Polman, wants "to make sustainable living commonplace."

By contrast, Kraft Heinz is controlled by Warren Buffett's Berkshire Hathaway and Brazil's 3G Capital, the aggressive, cost-cutting firm behind the takeovers of fast-food chains Burger King and Tim Hortons that created Restaurant Brands International. So, even though merging the makers of Heinz ketchup and Hellmann's mayonnaise may have made a natural fit in some ways, it could hardly have made a great fit culturally, and the likely consequences of that, according to Bloomberg, pushed Buffett and 3G to let the matter rest instead of pursuing a hostile takeover.

Corporate M&A in consumer nondurables since 2010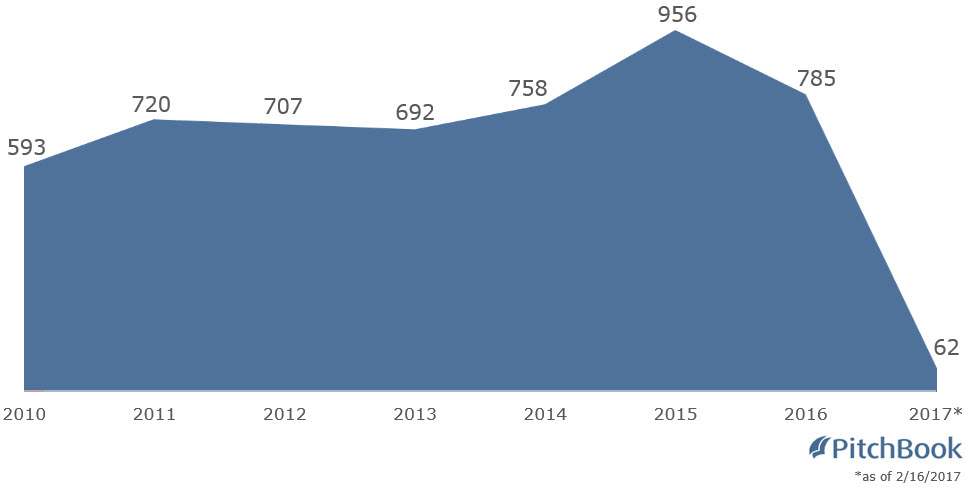 Taking a wider look, consolidation in the consumer nondurables space crested like a wave in 2015, leaving fewer desirable targets behind.

From 2010 through 2014, corporate M&A dealmaking in consumer nondurables worldwide hummed along at a pretty even clip, with completed transactions hovering in the range of around 600 to 750 per year, according to the PitchBook Platform. But deal flow peaked in 2015 with a staggering 956 deals led by Reynolds American's $27.4 billion acquisition of Lorillard. Deal flow last year, however, ebbed to the range that characterized the previous period, with 785 transactions completed.

With 62 deals already closed this year and another 25 in the works, further consolidation among consumer nondurables companies looks inevitable.

PitchBook is a Morningstar company. Not a subscriber? Contact us today to set up a free demo.