Buyouts
US buyout multiples: Steady as they go?
April 18, 2019
Despite nine interest rate hikes since December 2015, US PE EV/EBITDA buyout multiples have remained remarkably steady. The four-quarter rolling median, which helps smooth out that trend over time, has increased by a single turn since early 2016, when the first rate increases were taking effect. Each increase was capped at 0.25%, resulting in a steady rise in the discount rate from 0.75% to 3.00%, where it stands today.
From PE's standpoint, the concern was whether the inevitable increases would be done too quickly or unpredictably. The opposite happened, with nary a blip in multiples as a result. The change was most felt in equity contributions, which increased from 4.8x to 5.7x and have accounted for the overall increase. Debt contributions have barely budged, oscillating around the mid-5x range. Investors had to cut bigger checks in the end, but they have more than enough capital at the moment to handle that.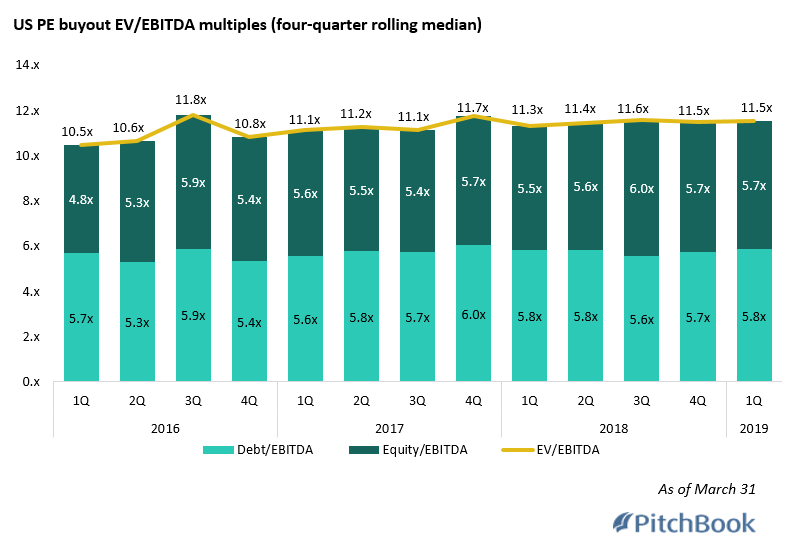 Higher prices, however minimal, bring higher risks. To mitigate those risks, GPs have focused on downside protections in recent years. Dividends remain popular, especially with accommodative lending terms and lots and lots of debt floating around.
Another recent method has been the use of sale-leasebacks. Because land and buildings tend to sell at higher valuations than the companies themselves, PE firms have taken to selling those assets and leasing them back, capturing a sort of multiple arbitrage and blending down the overall purchase price multiple. That creates early liquidity for LPs and a boost in IRRs—especially for firms active in the industrial space, where that dynamic is most common.
With interest rates continuing to climb and record amounts of dry powder sitting around, expect investors to keep thinking of creative solutions to ease the pressures of this expensive market.
Featured image via Mienny/iStock/Getty Images Plus.
This column originally appeared in The Lead Left.
Read more about PE buyouts in our 1Q 2019 US PE Middle Market Report.