US venture capital activity so far this year in 15 charts
July 18, 2018
There's been more venture capital invested through the first six months of 2018 in the US than any six-month period in recent history, which highlights the new normal in the industry: more capital concentrated into fewer, larger deals. On the exit end of the spectrum, there's been improved access to the IPO market, particularly for enterprise tech companies.

The 2Q 2018 PitchBook-NVCA Venture Monitor, created in partnership with Silicon Valley Bank, Perkins Coie and Solium, provides a snapshot of the VC landscape by delving deep into data on fundraising, exits, valuation trends and more. For a summary, we've put together a collection of charts from the report, which is available to download for free.
Deal value is on pace to reach decade-high record
Through the end of 2Q 2018, $57.5 billion has been invested in US VC-backed companies, a number that exceeds the full-year total for six of the past 10 years. During the first half of the year, 94 financings have totaled more than $100 million and 42 have been at unicorn valuations.
A look at the last two quarters
There was more venture capital invested during 1Q 2018 than any quarter since at least the beginning of the decade, and it's followed closely by 2Q 2018.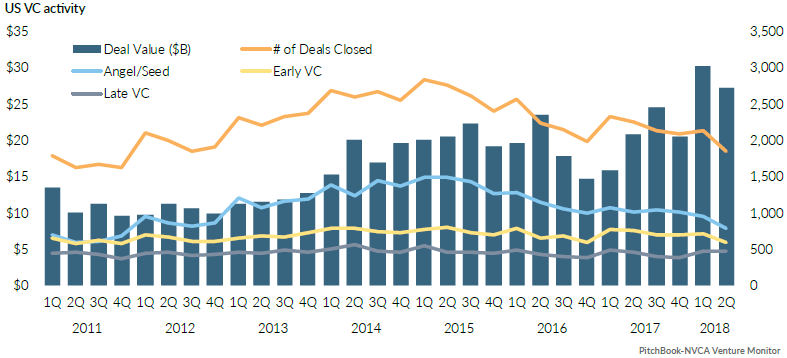 PE investors continue to join large rounds
This year is on pace to be the fifth consecutive year that more than 1,500 deals are completed with participation from nontraditional investors, including private equity firms. PE firms alone have been involved in 368 VC deals so far this year.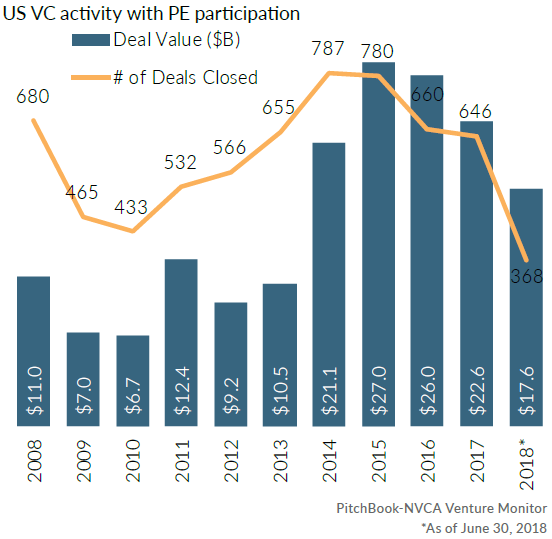 Exits are slightly quicker than last year
For VC-backed companies, time to exit reached a decade high in 2017. Time to exit is still relatively high, but it has dropped a bit since last year.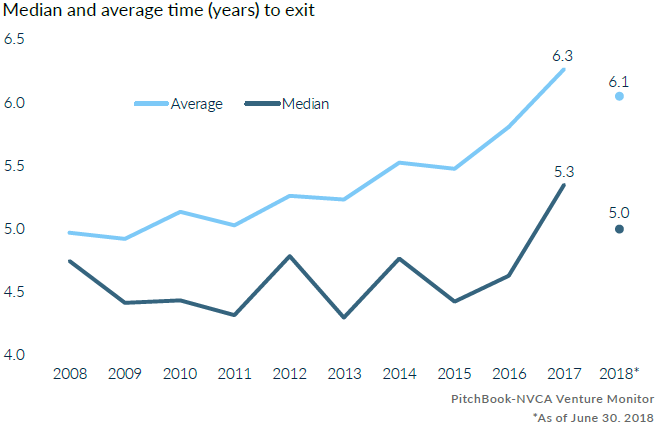 Angel & seed deal value has slowly crept back toward 2015 highs
Despite predictions of a continuing decline, the angel and seed market has remained steady during the first half of 2018. While still on a downward trajectory, deal counts are falling at a slower rate than they were in 2015 and 2016.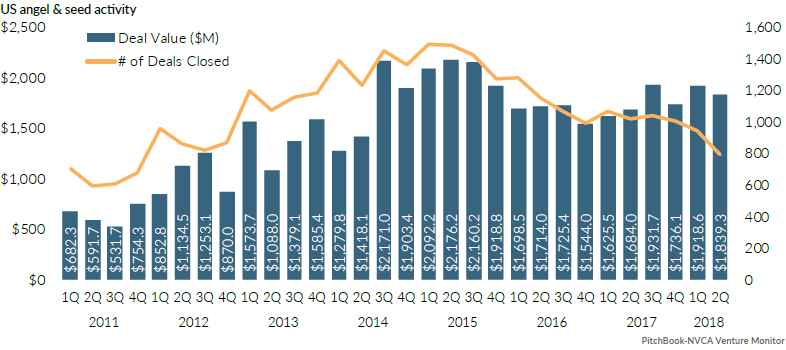 First financings pacing for new record
This year is on pace for a decade-high record in terms of total deal value for first financings.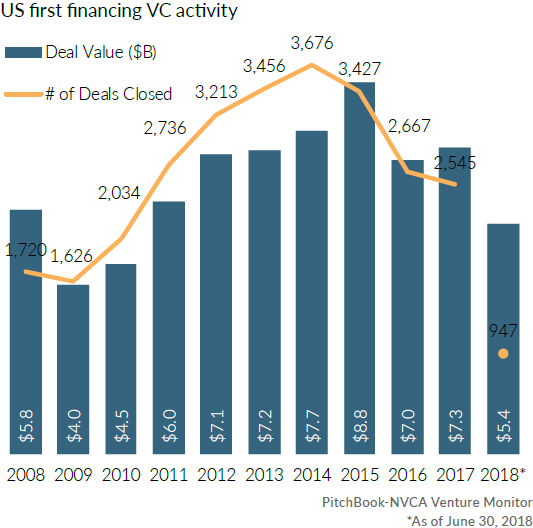 Early-stage capital is on the rise
Early-stage VC investing continues to climb higher, recording a seventh straight quarterly increase in capital invested. In the second quarter, $11.5 billion worth of venture capital was invested into early-stage companies, with the average deal size increasing to a decade high of $18 million.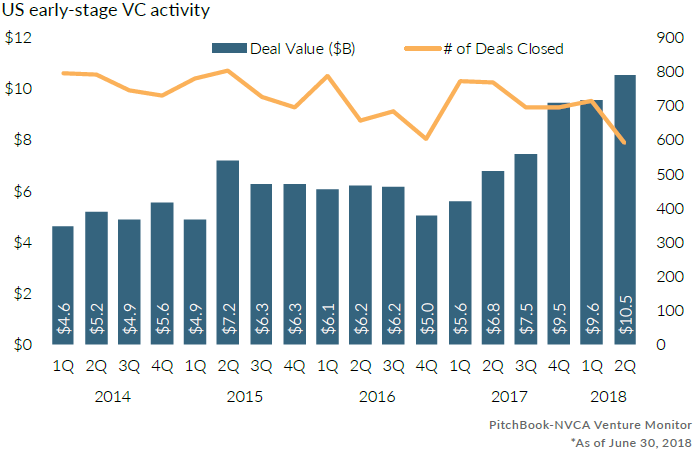 Quarterly late-stage deal value remains high
Investment at late stages is continuing at a strong clip as the definition of what constitutes "late stage" is stretched by a steady stream of new and aging unicorns. There was essentially no change in deal count from 1Q 2018 to 2Q 2018 as investors sustain their appetite for developed businesses in the private markets.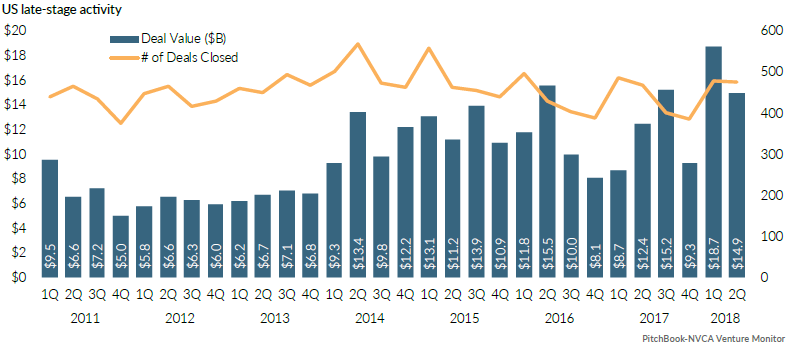 Deal value remains concentrated on coasts
During the second quarter of 2018, the majority of total deal value was confined to the West Coast—but the East Coast, specifically New York, is seeing a growing number of deals.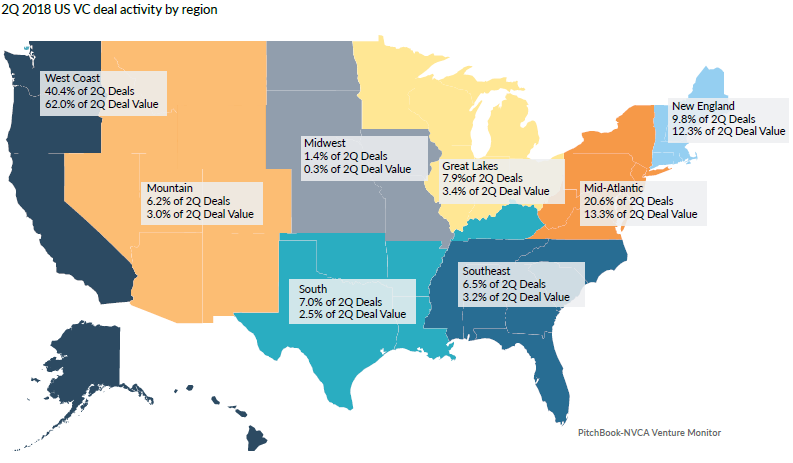 CVC is on pace for a record year
Corporate venture capital participation in venture deals has continued at a brisk pace in 2Q 2018, with total deal value topping $13.5 billion, just a slight drop from the 1Q 2018 number. CVC activity is in line with the broader trend of large amounts of capital spread across fewer deals.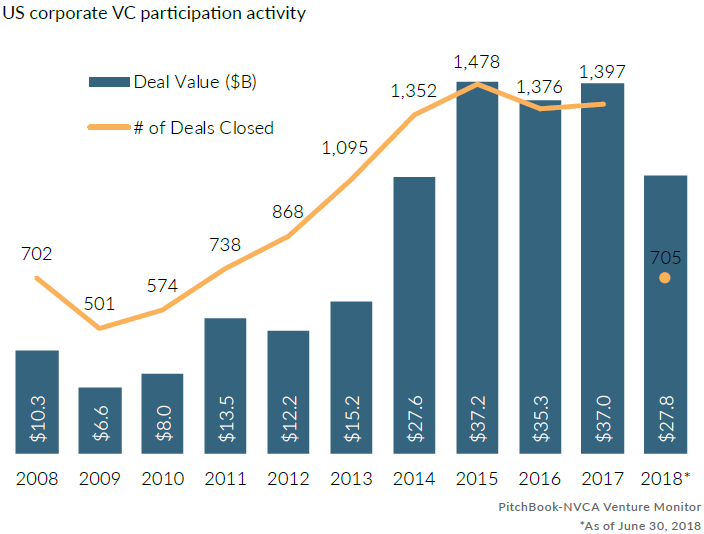 Exit timelines remain lengthened
The average number of years for all exit types—acquisition, IPO and buyout—remains relatively high. However, it has dropped slightly from last year.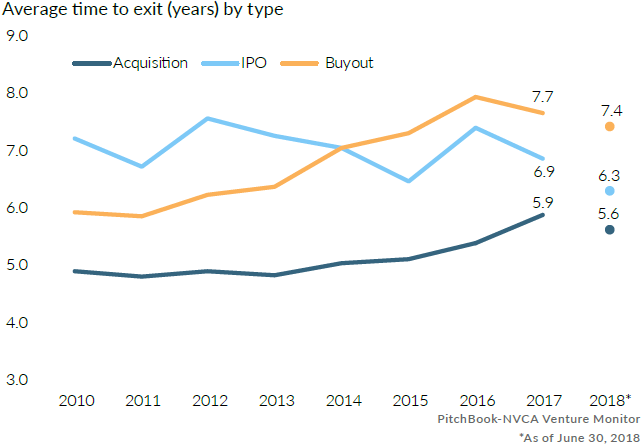 Growing amount of capital available to companies at the latest stages
Growth equity, an interesting hybrid of PE and VC, has become a much more crowded space. With a steady stream of more mature companies flowing through the private markets, non-VCs like corporations, PE firms and other institutional investors are seeking to access their growth potential.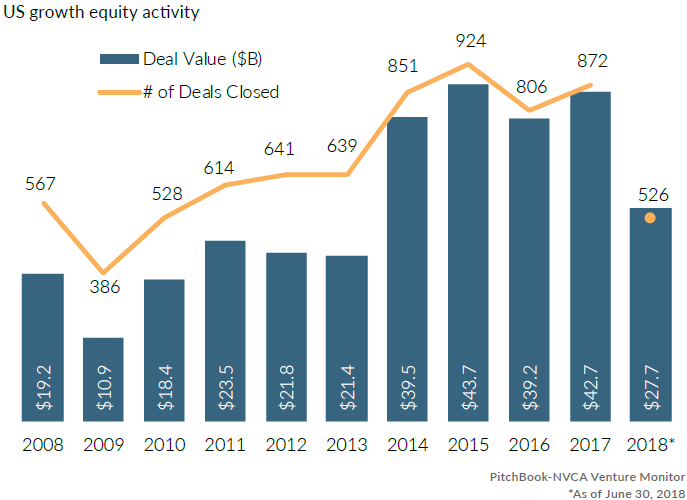 Exit value strong as activity stabilizes
So far this year, there's been $28.7 billion worth of exit value. That means 2018 is pacing to top $50 billion for the fifth straight year.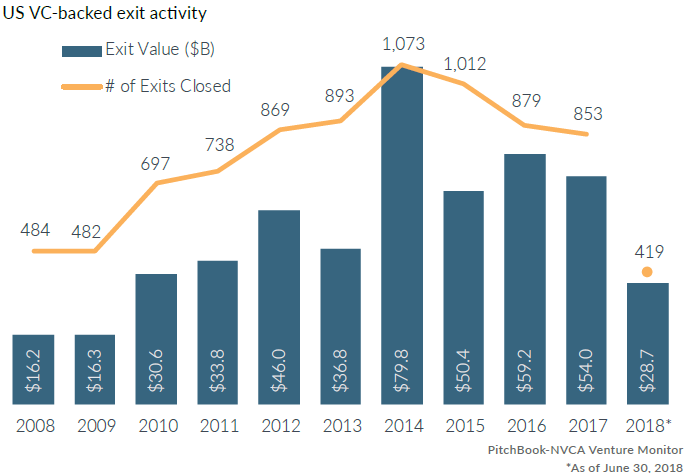 Exit size is growing
For acquisitions, IPOs and buyouts, exit sizes are on the rise. So far in 2018, the median exit sizes for all types are significantly higher than they were last year.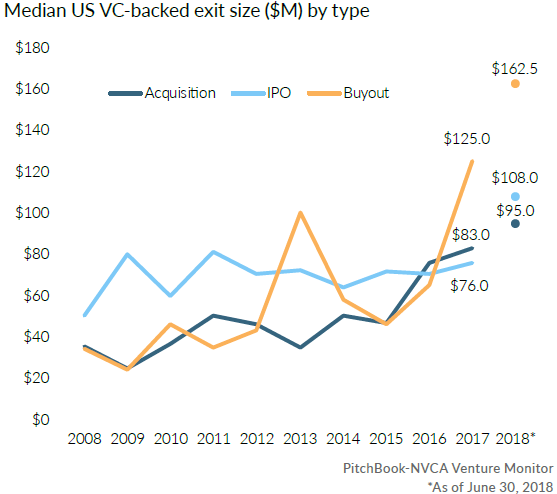 Fundraising shows no sign of slowing
After a slow start to fundraising in 2018, the second quarter experienced an uptick in activity, with VCs closing 72 funds with a total of $10.8 billion raised during the quarter. That brings both fund count and capital raised so far this year on pace to surpass 2017's totals.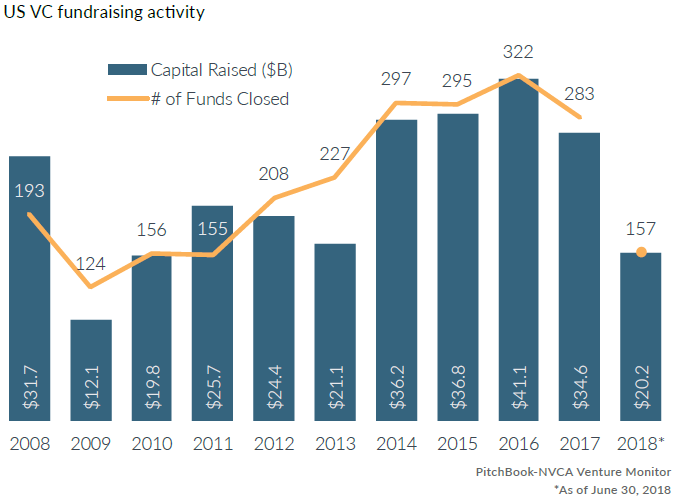 Check out the full report right here.