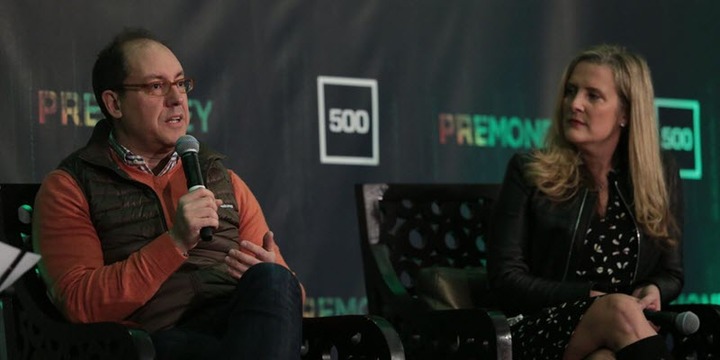 SAN FRANCISCO—Somewhere amid discussions of diversity, startup founder grit and massive failures—like passing on Airbnb or Uber—things got a little heated when two Midas List investors debated the plausibility of increased venture capital investment in mental health startups.
Asked Tuesday at 500 Startups' PreMoney conference for his bold predictions for 2018, Felicis Ventures founder and managing partner Aydin Senkut said he would make only one: "I expect health to become a lot more important."
"People forget that a lot of us, even though we like to see a lot of progress, we are still fighting cancer, HIV and other things," Senkut said. "There are things like mental health that affects 80% of us. ... People have schizophrenia, depression. We are really excited about mental health; we already made our first investment."
Canvas Ventures co-founder and partner Rebecca Lynn fired back. She noted she's been investing in healthcare since 2009, and while she would love for healthcare, specifically mental health, to see an increase in VC interest in the upcoming year, she isn't optimistic.
"I disagree 100% about health," Lynn said. "We've done a number of deals in healthcare. ... The healthcare deals have done well, but it's longer, it's harder, we haven't seen those big exits. ... There has been a cooling as people figure out what's next and who's gonna pay for it. ... Unless you figure out who pays for it, it's really hard—mental health especially."
Still, Senkut, whose venture firm touts a number of unicorns in its portfolio including Warby Parker and Wish, said he is willing to go on the record with his prediction: "It might take five years, it might take 10. ... But for us to be successful in health, all it takes is one or two companies, and I'm pretty sure we are going to get that."
Inclusive investing
A panel of three women: Risa Stack, general manager of new business creation at GE Ventures, Maryam Haque, VP of research & strategic engagement at the NVCA, and Stephanie Palmeri, a partner at Uncork Capital, discussed an issue that has dominated not only the venture capital industry in 2017, but politics, Hollywood, media and more: inclusion.
The women agreed that forming networks just for women, whether that be organizations like the new
Female Founders Office Hours
or casual dinners, is key for the success of women or minority investors.
"So much of the industry is built on networks," Haque said. "If you don't have access to that, then how will you have access to the next big thing."
Palmeri had a lot to say on the topic at large: "At the end of the day, female founders shouldn't be constrained to work with only female VCs. If we invested only in people who look like us, we'd be in trouble as an industry. That's really one of the reasons why we are in trouble as an industry. ... Women can start companies in any category and women can invest in companies in any category."
Notes
Upfront Ventures managing partner Mark Suster confirmed that seed is the new Series A: "They are not micro, these are proper venture capital funds that we used to call A rounds. ... They are muscling into proper A round deals with real-sized checks." He also provided a rundown on the VC industry, noting that there has been an increase in non-US unicorns, non-tech buyers in the M&A market and massive funds, like Softbank's Vision Fund—a vehicle that is completely transforming the VC landscape.


Founders Fund partner Cyan Banister said Silicon Valley has an ageism issue: "I am completely against the idea that a 45-year-old can't have a new and original idea. They don't lack energy. These people aren't dead."


Stop trying to fit companies into little boxes, said Blue Run Ventures partner Cheryl Cheng. "I wish that we would think of IPOs in a little bit less of a rigid way. It's not as easy to pinpoint a company into a sector anymore. ... If you are going to be penalized because you're getting a fashion multiple instead of a tech multiple, that's very discouraging for a founder."
Check out our live blog for more highlights from the conference.