US consumer electronics maker Vizio has sued Chinese tech conglomerate LeEco over the pair's failed $2 billion deal, which was called off in April. The issue in question involves the transaction's $100 million termination fee, of which LeEco has allegedly only paid $40 million.
Starting in December 2015 and continuing into July 2016, the companies had entered serious negotiations about LeEco's potential acquisition of Vizio. However, in its lawsuit filed Tuesday, Vizio asserts that LeEco misrepresented its "financial wherewithal," as LeEco's parent company and "its far-flung corporate empire had begun to collapse."
As a result, Vizio alleges, LeEco required the deal go forward anyway in order to "either obtain the instant financial stability, credibility and resources" that the deal would secure "or at least to create a widespread and dramatic public impression of their own financial health and well-being."
Vizio goes on to accuse LeEco of agreeing to the deal in order to:
(a) use a publicly announced intended merger with VIZIO to gain or try to obtain access to VIZIO's large corporate customers and key decision makers thereat for their own purposes and by means of confidential customer information that had been developed by VIZIO at substantial cost, time and expense, and (b) create a false widespread public impression of their own financial health during the Serious Negotiations Period and beyond, with Defendants making the $2BB Financial Wherewithal Representations to further that secret plan, and intending to induce Plaintiff to enter into such a merger agreement and provide LeEco with access to VIZIO's confidential customer information, including contact information, account history, purchasing needs or requirements, contract terms, and the like.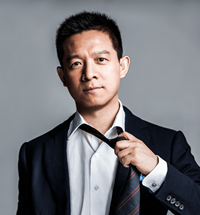 Vizio's damning allegations come just days after a Shanghai court reportedly froze ¥1.24 billion (about $182 million) in assets tied to LeEco's founder Yueting Jia (right), his wife and three LeEco affiliates. In addition, LeEco-backed Faraday Future has decided earlier this week to forgo building a $1 billion car factory in Nevada.
Finally, LeEco announced Tuesday that for the third time this year it will not be paying some of its workers in China—this time until August 10.