Cannabis
Voters' embrace of legal marijuana lifts hopes for rebound in cannabis deals
November 19, 2020
View comment

(1)
After a downturn in deal activity, the cannabis industry suddenly has high hopes that a rebound is on the horizon following a string of wins by pot-legalization campaigns.
Voters from Montana to New Jersey in the November election approved ballot measures that will legalize hemp-derived products, as the widening US movement to decriminalize drugs brought five more pot-friendly states into the nascent marijuana market.
"It was the most successful cycle yet, and by a surprising margin," said David Mack, head of regulatory affairs at Eaze, a venture-backed platform for on-demand cannabis delivery. He said the wins set the stage for
Eaze
to expand deliveries beyond California, which legalized recreational use in 2016.
Advocates for the industry say their fresh ballot victories come amid this year's surging sales, with stressed-out consumers in lockdown smoking more weed and gobbling up edibles infused with CBD-based ingredients.
Belying that popularity, however, the venture-backed cannabis market has seen markedly lower fundraising activity in 2020, a stark reversal from the dealmaking frenzy that accompanied a legalization wave that began six years ago.
Buzz kill: Venture funding of US cannabis companies, in millions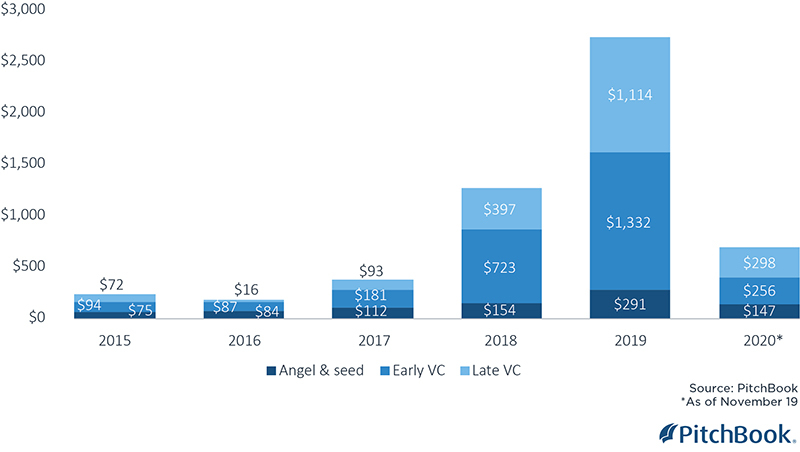 Since 2015, investors have poured more than $5.5 billion into venture-backed startups in the cannabis ecosystem, according to PitchBook data. That cadre spans the gamut of companies making up the US industry, like pot-related wellness marketplaces, CBD-infused beverage makers, back-office compliance software specialists and payments-systems providers.
While dealmaking in the overall venture market proved resilient during the pandemic, that hasn't been true for the cannabis industry. After peaking last year with more than $2.7 billion raised, pot-related deal value fell in 2020 to about $703 million through Thursday.
That drop-off suggests that the market may be correcting for having more than its fair share of "hype" the past few years, said Kyle Lui, partner with venture firm
DCM
, which holds cannabis companies in its portfolio.
With the latest batch of pro-cannabis votes, there are now three dozen states in the legal-marijuana ranks, according to
Vice Ventures
, a New York venture firm. Half of the states on the list allow only medical use while the rest have also legalized the recreational market.
In recent years, many VC firms shied away from pot-related investments, citing restrictions in their investor mandates that barred financial involvement with enterprises that violate federal drug laws.
The nation's increasingly relaxed approach has gone beyond cannabis. Voters in Oregon backed decriminalization of small amounts of cocaine, heroin, methamphetamine and other drugs in this year's election. Another Oregon measure legalized psilocybin, known as magic mushrooms, which could be used to treat anxiety and depression.
"It shows that regardless of who the president is, legalization is on its way," said Catharine Dockery, founder of Vice Ventures.
While legalization is on the march state by state, the incoming Biden administration is also expected to give a boost to efforts to overhaul national drug policy.
On the campaign trail, Joe Biden and running mate Kamala Harris pledged to decriminalize adult use of marijuana and support legalizing medical use. Mack, the policy director at Eaze, noted that congressional control may be divided between the two parties but the administration could use executive powers to take pot off the federal list of controlled substances.
Mack said that the recent legal-marijuana ballot win in New Jersey holds significant potential to spur investment in the pot ecosystem because that state's concentration of financial and media professionals has an outsize power to erase a lasting "stigma" of CBD and other pot-derived products.
Featured image of cannabis worker in Uganda via Luke Dray/Getty Images