Western Digital, KKR enter last-ditch bid for Toshiba's chips
June 27, 2017
Western Digital and KKR have resubmitted their bid for Toshiba's NAND flash memory unit just days after Bain Capital, South Korean chipmaker SK Hynix and a Japanese government-backed consortium
beat out competitors
. The auction process has made seemingly odd bedfellows of financial and strategic investors: In addition to those groups, US chipmaker Broadcom and private equity firm Silver Lake teamed up to place a bid on the unit back in March.
But just how often do corporate acquirers team up with private equity? In short, not often—though, as it currently stands, this year has booked the largest share of capital invested on non-add-on buyouts involving financial and strategic investors since 2008.
Joint corporate-PE deals as % of non-add-on
buyouts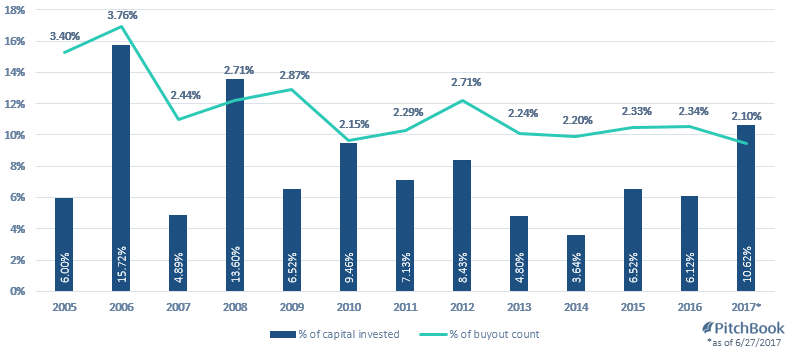 Joint acquisitions have consistently hovered between 2% and 3% of all non-add-on buyouts each year since 2007, per PitchBook data. The capital share of these transactions jumped from 3.64% in 2014 to 10.62% for this year thus far, bolstered by the roughly £11.8 billion sale of the UK's Bradford & Bingley loan portfolio to Prudential and Blackstone. That deal highlights one of the more compelling data points to consider when it comes to joint acquisitions: The massive difference at times between the US and Europe.
Joint corporate-PE deals as % of non-add-on buyouts: US vs. Europe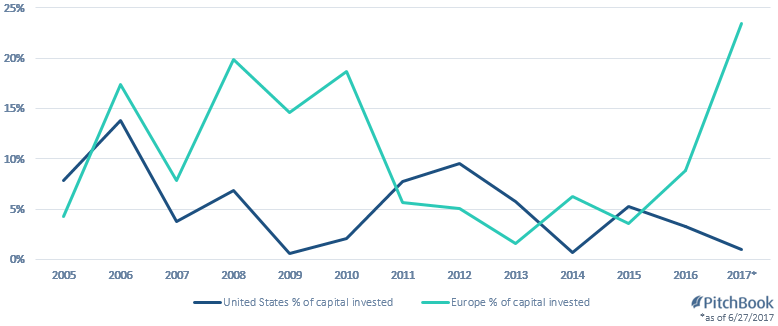 Since 2013, the percentage of capital invested on joint acquisitions in Europe has climbed to a current high of 23.49% for all completed non-add-on buyouts; meanwhile, the US has traveled in a rather different direction. Before hitting a recent peak of 5.23% in 2015, only 1.01% of capital invested in non-add-on buyouts in the US have featured a joint buy by financial and strategic acquirers thus far this year.
The bidding war for Toshiba's memory chip business illustrates the rationale behind joint acquisitions: The basic structure can overcome the increasingly massive sticker prices required to acquire public companies or their assets while divvying up the risk from and capital required for completing larger deals.