Co-working giant WeWork has once again put its pile of cash to use—this time buying a smaller social platform provider, following its
recent investment in The Wing
, an operator of social clubs and co-working spaces for women. Like The Wing, New York-based Meetup is a little different from most other online platforms in that it ultimately aims to connect people in the real world, rather than just online.
The deal emerged from Meetup's pursuit of fresh funds over the summer that instead led to acquisition offers. The fit with WeWork stems organically from its spaces fast becoming popular places for Meetup's 300,000-plus organizers to host their community events.
WeWork's move also bucks the M&A trend of declining interest in the social platform space this year, per the PitchBook Platform, following a record year in 2016 with
$36.6 billion going to 286 deals
led by Microsoft's $26.2 billion acquisition of LinkedIn. But 2017 has settled back to numbers seen in 2014 and 2015:
Global M&A activity in social platform software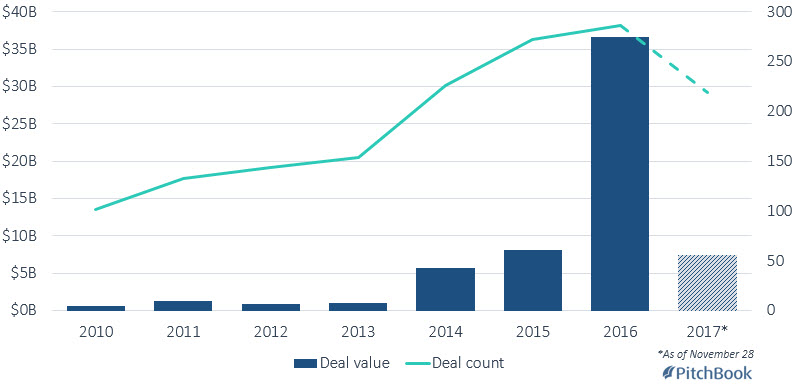 Meanwhile, VC investment activity in this space has dipped back to levels last seen in 2012, according to PitchBook data, with
capital invested at $14.3 billion
—just behind the $17.6 billion committed in 2015.
Pleased to meet you
To understand just how different Meetup is from many other startups in the social platform space, a peek at its financing history should suffice. It's been nearly a decade since the company, founded in 2002, raised any funds, dating back to a $7.5 million Series D in 2008. By that point, Meetup had raised $18.25 million in equity financing on a $74 million valuation from the likes of DFJ and Union Square Ventures.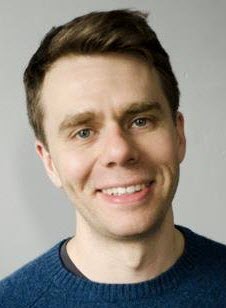 In addition to a handful of VCs, though, Meetup also raised from a select set of individuals who reportedly backed the company precisely because Meetup's CEO and co-founder Scott Heiferman (pictured) wanted to neither move fast nor break things—a deviation from many of his Silicon Valley counterparts. Indeed, Meetup has built its business on bringing things together that move slowly and could fail to materialize—namely, people organized into communities around shared hobbies and interests.
But it's that investment in community building that WeWork needs, as its business is predicated on bringing strangers into shared spaces for work. And as often as not, those folks dissipate after their workday ends at one of the company's 170 offices in 58 cities worldwide. That's left those shared spaces empty during hours that WeWork can now monetize through its services at Meetup events.
The result will be Meetup moving further into the networking and meeting space business—a peripheral offering to its many book clubs but still within its larger mission, which also includes turning side hustles into careers.
Related read: Timeline: In seven years, WeWork built a $21B co-working empire

Not a subscriber to our daily M&A newsletter? Sign up today.