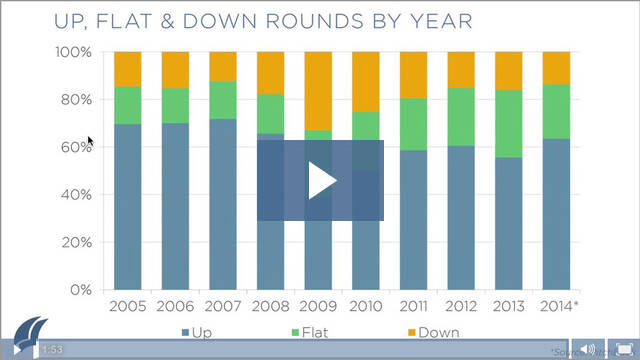 Beginning in mid-2010, more than half of all VC financings in the U.S. have been "up rounds," done at valuations higher than their previous rounds.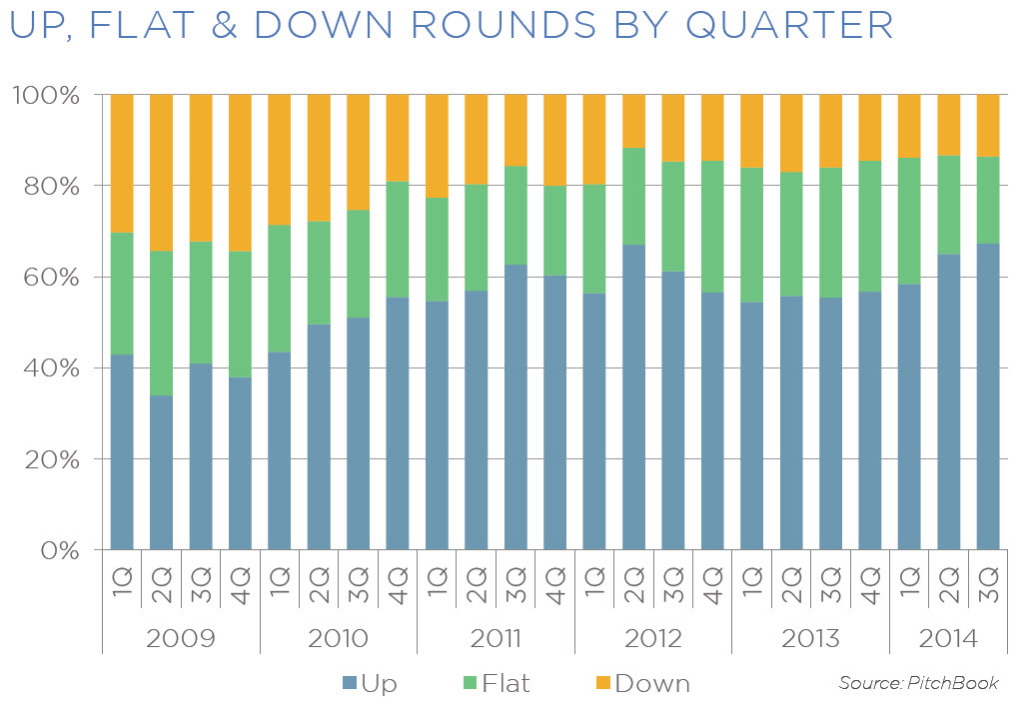 As the graph above shows, we've seen a gradually increasing trend toward more up rounds and fewer down rounds. Given the increase in valuations, that comes as no surprise, though it's worthy to note how high the percentage has jumped, with 69% of all financings in the U.S. done at higher valuations in 3Q 2014, the highest ratio since the financial crisis. Down rounds, meanwhile, continue to decline in frequency, to 13% in 3Q 2014 from 34% in 2Q 2009.
Two-thirds of VC financings done at higher valuations will only add to the concerns in the industry about "asymmetrical risk," for both investors and for founders (especially the latter). Higher valuations bring higher performance expectations, not to mention higher exit hurdles. So-called "unicorns"—VC-backed companies valued over $1 billion—often appear unstoppable, but their options for exiting at those valuations are limited. Billion-dollar companies, particularly in the tech space, only have a handful of realistic acquirers like Google, Microsoft or Intel. If they're too expensive for M&A, the IPO market has its pitfalls, as well. Valuations done in the private sphere can get quickly cut down to size in the public markets.
Founders also face higher performance hurdles with lofty valuations. Growth milestones come with more pressure, from current investors and potential future backers. Missing milestones can dent confidence, of course, but the bigger pill to swallow often comes with down rounds. Trimming valuations at the next round is considered a blemish in the industry, implying that the startup or its idea were overvalued (or overhyped) in the past. Down rounds also mean stronger negotiating positions for VCs, which can demand higher equity stakes from founders. Aside from down rounds, the other major option is selling for much lower than anticipated.
The risks aren't as severe for investors, since VCs usually take preferred shares over common shares, protecting some of their downside risks. Still, investing at a higher valuation necessitates exiting a higher valuation. If a Series B investor makes an investment at a $100 million valuation, for example, given the typical return expectations at that stage (around 5x) the investment would need to be exited in the $500 million range. If VC firms are worried about hitting those exits, they'll be more hesitant to invest in the first place. That often means potentially valuable VC partners would be priced out altogether.
Valuations don't defy gravity and can't keep inching up indefinitely. It wouldn't be surprising to see more flat and down rounds in future quarters, which could translate into more M&A activity. The fundamentals behind the current M&A boom aren't expected to change much in the near-medium term, and if startups get their wings clipped, strategics may swoop in and take advantage of valuable (but humbled) startups.
_____
Featured image courtesy of Wikimedia user padaj.sk