Which firms have sold off the most VC investments since 2005?
April 2, 2015
Using the PitchBook Platform's global VC exit data from the past decade, we broke down M&A and IPO exits by VC investors, ranking for each the top 50 firms that have realized the highest totals. In a similar list from a year ago, Intel Capital led the M&A exit count with 152 (35 more than the next closest firm); it now leads the pack with 256 M&A exits (82 more than the next closest firm). Last year's list also showed that only two firms notched at least 100 M&A exits over a 10 year period. The updated list has nine firms crossing the century barrier, with another two—Greylock Partners and Y Combinator—knocking on the door with 99 apiece.
We took an extra step in the data to show how many of each firm's IPO exits have been from healthcare companies, as healthcare IPOs have trended north, generating more than $10 billion of proceeds in 2014 alone. Nearly 46% of IPO exits by the top 25 investors were in the healthcare industry, a number that jumps to 60% when only looking at the top 10.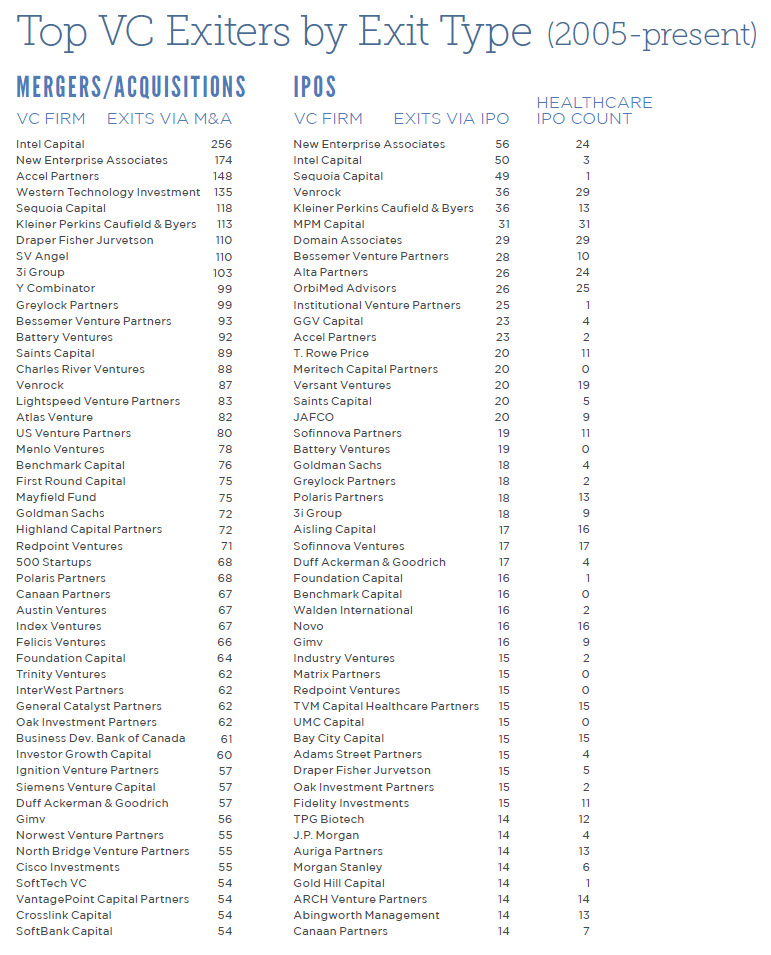 The PitchBook Platform tracks nearly 10,000 VC investors, including their investments, exits, professionals, funds and more. Get access here.