Fund Performance
Which vintages are contributing to global PE fund performance?
By Garrett Black
June 28, 2019
Private equity has had a banner decade by multiple metrics.
Cashflows are still trending positively, contributing to what will likely be another banner year for fundraising across the industry. Delving more deeply, it's interesting to see which vintages have contributed the most to performance improvements in the past year; such metrics serve as a lagging indicator of sorts that can shed light on other industry trends.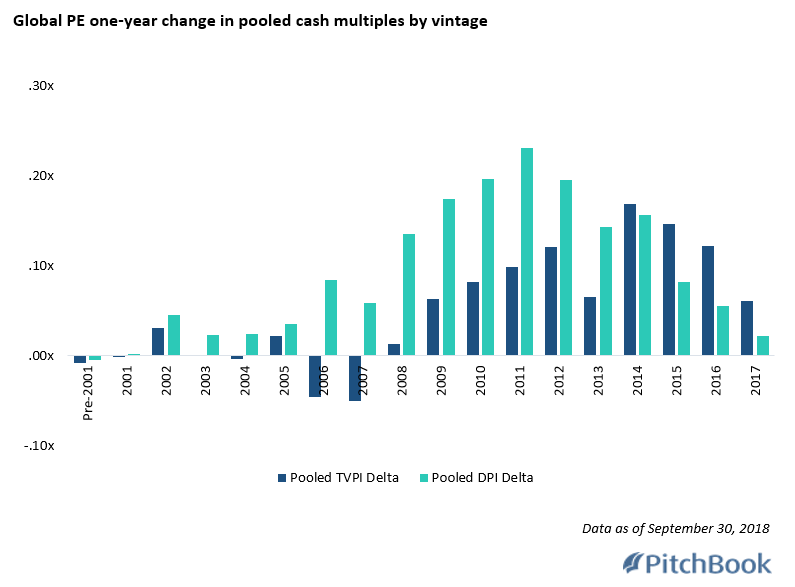 The featured chart demonstrates that the earliest vintages this decade are now cashing in on strong M&A and sponsor-to-sponsor volume, while even the remainder of 2008 and 2009 vintages are finally able to realize somewhat protracted distributions. From there, the decline in DPI delta aligns well with typical exit cycles, as more recent vintages see greater rises in TVPI as opposed to actual distributions. The magnitude of the rise in TVPI across vintages from 2014 onward is rather striking, signifying how much success PE firms worldwide have had in still finding worthwhile opportunities even in a crowded, competitive climate.
That said, more recent funds may still have a difficult time matching the types of returns recorded by PE in the past, should competition ramp up even further than current conditions.
Featured image via Boonyachoat/iStock/Getty Images Plus
This column originally appeared in The Lead Left.
Read more about fundraising in our recent Global Fund Performance Report.