As we've discussed previously on the PitchBook Blog, minority PE deals are on the rise in North America, particularly in the United States. High valuations and increased competition for buyouts in the U.S. have spurred investors to look more closely at non-control transactions. The trend is borne out in the numbers; PitchBook data show a 49% increase in U.S. deal flow for growth transactions since 2009, with a record 583 minority transactions in 2013.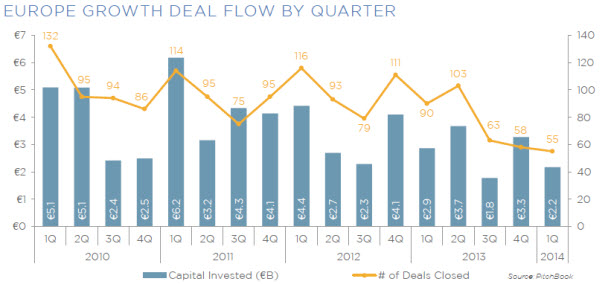 Across the pond, though, minority deals aren't nearly as popular, due to a completely different investment environment facing PE firms. For one thing, the shakier European economy hasn't translated into the kinds of valuations (or competition) for European companies that U.S. companies have experienced. Purchase price multiples commanded by sturdier U.S.-based companies, while expensive, are at least justified in many cases by steady cash flows and a recovering U.S. economy. That's often not the case in Europe. More than a few European businesses are in sub-optimal conditions, and require significant turnaround efforts by potential PE sponsors if an investment is made. As Oliver Gottschalg, a professor at HEC Paris, put it, there's a large amount of asset dislocation in Europe at the moment. In many areas on the continent, "the overall economic outlook is still shaky and asset valuations are depressed. If you know how to identify the right target, re-position it and make it attractive for the next acquirer, you'll possibly get great returns."
Growth equity doesn't make as much sense in Europe if the larger economy doesn't cooperate. To punctuate the point, PitchBook data uncover three consecutive quarters of declining deal activity for minority transactions. The overall decline goes back further (to 1Q 2012), disregarding a pair of solid one-quarter performances in 4Q 2012 and 2Q 2013. The 55 minority transactions made in 1Q 2014 was less than half the number made in 4Q 2012 (111).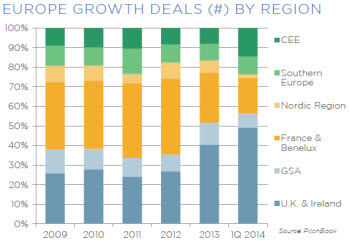 Unsurprisingly, minority deals have been made more frequently in relatively healthy corners of Europe, namely the U.K. & Ireland region. Shakier regions haven't fared as well; from 2011 to 2013, several regions have experienced dramatic drop-offs in the number of completed minority transactions, such as Southern Europe (-45%), Central & Eastern Europe (-38%) and France & Benelux (-44%). Conversely, buyouts are starting to pick up in hard-hit countries like Spain and Italy, where companies are relatively cheap and debt financing is becoming more available.
The emphasis on buyouts is evident on the fundraising front, as well. A number of large Europe-focused vehicles are being raised or have closed recently. Bain Capital is said to be raising a €3 billion fund for European investments, and Permira, a London-based firm, is reportedly on the road raising a new €5 billion fund. It may be just a coincidence of timing, but PitchBook data didn't see any Europe-focused PE growth funds close in 1Q 2014. The trend will likely continue, in other words.
Interested in more European data? Request a demo of the PitchBook Platform for the full picture.