Why private debt funds have clear advantages in the current lending market
April 13, 2018
As traditional PE strategies have become more crowded, the industry has seen a record-high expansion in private debt fundraising. Names like Thoma Bravo, BC Partners and Silver Lake have all branched out into the private debt space, following in the footsteps of larger "one-stop shops" like Blackstone and Apollo. While the public credit markets remain the cheapest and most available financing option for many borrowers, private debt funds have clear advantages. Private lenders are more comfortable offering uni-tranche facilities, and borrowers are often willing to pay for private funds' flexible terms while avoiding syndication risk from leveraged bank loans.
The returns are enticing, too. Versus the Bloomberg Barclays US Corporate High Yield Index, private debt funds outperformed their public counterparts in 10 of the 15 vintages between 2001-2015. The recent surge in debt fundraising has also brought down fees, not only due to competition but also the relative ease of managing debt funds—traditional PE funds tend to be more labor intensive; niche PE strategies even more so. Relying on interest payments instead of principal appreciation, private debt funds return capital back to LPs at a faster clip. As we explored in our recent
Private Debt Performance Analyst
Note
, DPIs for private debt funds reach 1.0x (on a median basis) by year six of the fund's life, compared to eight years for private equity.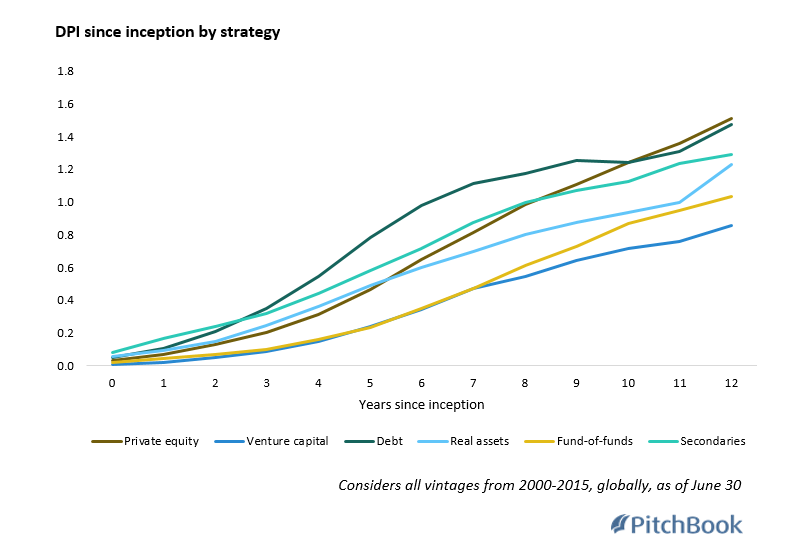 But what happens next? One asset manager told the Financial Times last year that "if you can breathe fog in a mirror," you can qualify for one of these loans. The fog and mirror idiom may or may not be a harbinger as the economy hums along, with most expecting interest rate increases to occur steadily and predictably. If they don't, however, a rise in adjustable rates could lead to an uptick in bankruptcies. Moreover, if leverage levels continue to rise as they have in recent years, private debt funds themselves will be further exposed to any hiccups in the global economy. The current business cycle will turn over eventually. When it does, GPs and LPs alike may find that today's rates won't provide adequate redress for tomorrow's risks.
This column originally appeared in The Lead Left.
Read more about private debt performance in our recent analyst note.
Join the more than 1.5 million industry professionals who get our daily newsletter!