Take-privates are cheap sometimes.
That's according to the
2019 Global Private Equity Report
from management consultant Bain & Company, which makes a salient point: "Despite the run-up in equity prices, public investors often undervalue companies they don't understand." That's true, and the point is emphasized as public and private equity market multiples continue to converge. Bain also notes that publicly traded companies in the $2 billion to $10 billion enterprise value range "could be purchased for a multiple plus take-private premium that is still below the average private market multiple."
Our numbers suggest that point is true, but on a case-by-case basis, as median EV/EBITDA buyout multiples overall are at least two turns cheaper than take-private multiples. Our recent analysis of take-private buyouts indicates a big discrepancy in deal sizes. Take-privates range from twice as large to eight times as large as bread-and-butter buyouts, depending on the year.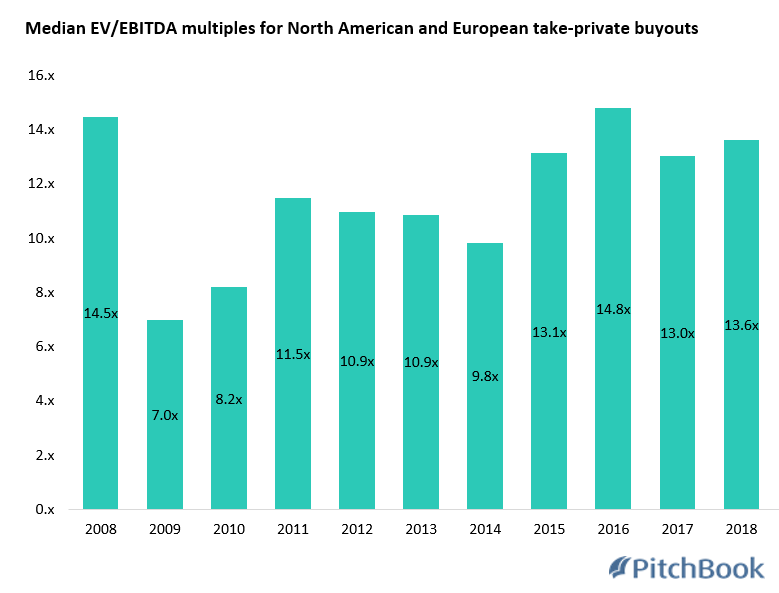 Larger funds target larger deals. And because relatively few funds can pull off those larger deals, there's less competition for them. That helps compress entry prices for take-privates, which would undoubtedly be much higher if there were hundreds of mega-funds roaming around instead of dozens. What happens when the time comes for an exit, though?
Going back to Bain's earlier point, some companies are less understood by public investors. And spending five years under private equity control won't necessarily change that fact if the PE sponsors opt to take those companies public again. That might explain why so few take-privates end up back in the public markets—the vast majority of those exits are done via acquisition or secondary buyout.
There's little reason to expect that to change as long as public and private multiples remain as close as they are. If sellers can fetch high exit multiples from private buyers, there's less justification for taking those companies public again anyway. Some arguably didn't belong there in the first place, and they wind up shedding their ticker symbols for good.
This column originally appeared in The Lead Left.