PE Exits
Will US PE exits make up for lost time in the second half of 2019?
July 12, 2019
Private equity's mid-year report card includes many of the same headwinds and tailwinds we've discussed in the past, but one big trend stands out.
According to our latest
US PE Breakdown Report
, PE-backed exits had a very slow first half of 2019. Timing often plays a role—the rush to get deals and exits done in the fourth quarter typically translates to a quiet first quarter, before things get ramped up again by the second half. The numbers for 2019 will probably follow the same trajectory, but this year's figures have a lot of catching up to do.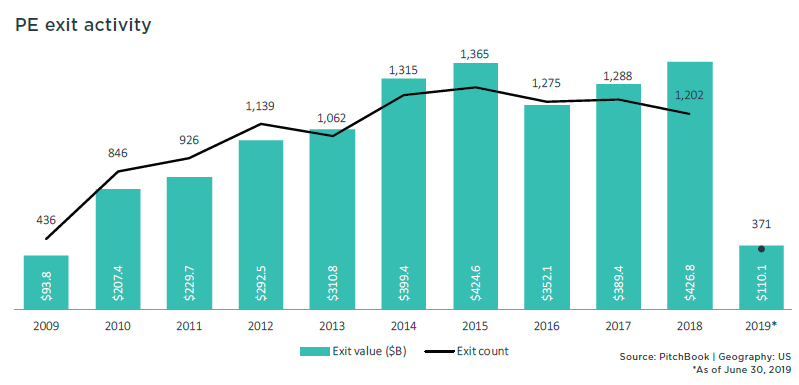 Through 2Q 2019, $110 billion worth of US PE-backed assets have been offloaded via 371 transactions. We haven't seen that lackluster of a half since 2013. Year-end 2018 numbers hit $427 billion in exit value and logged 1,202 exits, so we're probably looking at a significant down year on the sell-side.
Last year, by contrast, didn't miss a beat in the first half, logging 600-plus exits valued at a combined $202 billion. In fact, every quarter last year saw at least $100 billion worth of sales—a first for the industry. It's tough to say what specifically has changed. PE deal and exit values both hit all-time highs last year, so it isn't a case of PEGs concentrating on one at the expense of the other. Fundraising slid in 2018, but the amount of capital raised still posted the third-highest tally post-crisis. Investors walked and chewed gum throughout the year.
Down quarters are common, especially to start the year, but exits had been consistently strong going back 20 quarters or so. If once is happenstance and twice is coincidence, a third down quarter would mark a trend.
Featured image via Easyturn/iStock/Getty Images Plus
This column originally appeared in The Lead Left.
Read more about PE-backed exits in our 2Q 2019 US PE Breakdown.
Join the more than 1.5 million industry professionals who get our daily newsletter!