Chart the landscapes that matter most to you with PitchBook's Market Maps
November 11, 2019
Market landscapes shift constantly—a reality that makes it difficult for investors to track opportunities and threats. To help PitchBook customers stay on top of these changes, we created Market Maps—a powerful segmentation and data visualization tool that allows users to easily understand a target market, track their competitors and quickly create a deliverable to assist in charting their firms' next steps. With Market Maps and
Emerging Spaces
, a recently released and complementary feature, PitchBook is fueling a deeper level of discovery for customers.
Market maps are visual representations of a current market landscape. Private market professionals around the globe develop market maps as part of their daily workflows to research and track new spaces and report back to their firm about options for moving forward. But building market maps manually is an imperfect, time-consuming and cumbersome task. PitchBook's Market Maps feature was created to do that heavy lifting by helping users discover the right companies, create appropriate segments and format it all instantly.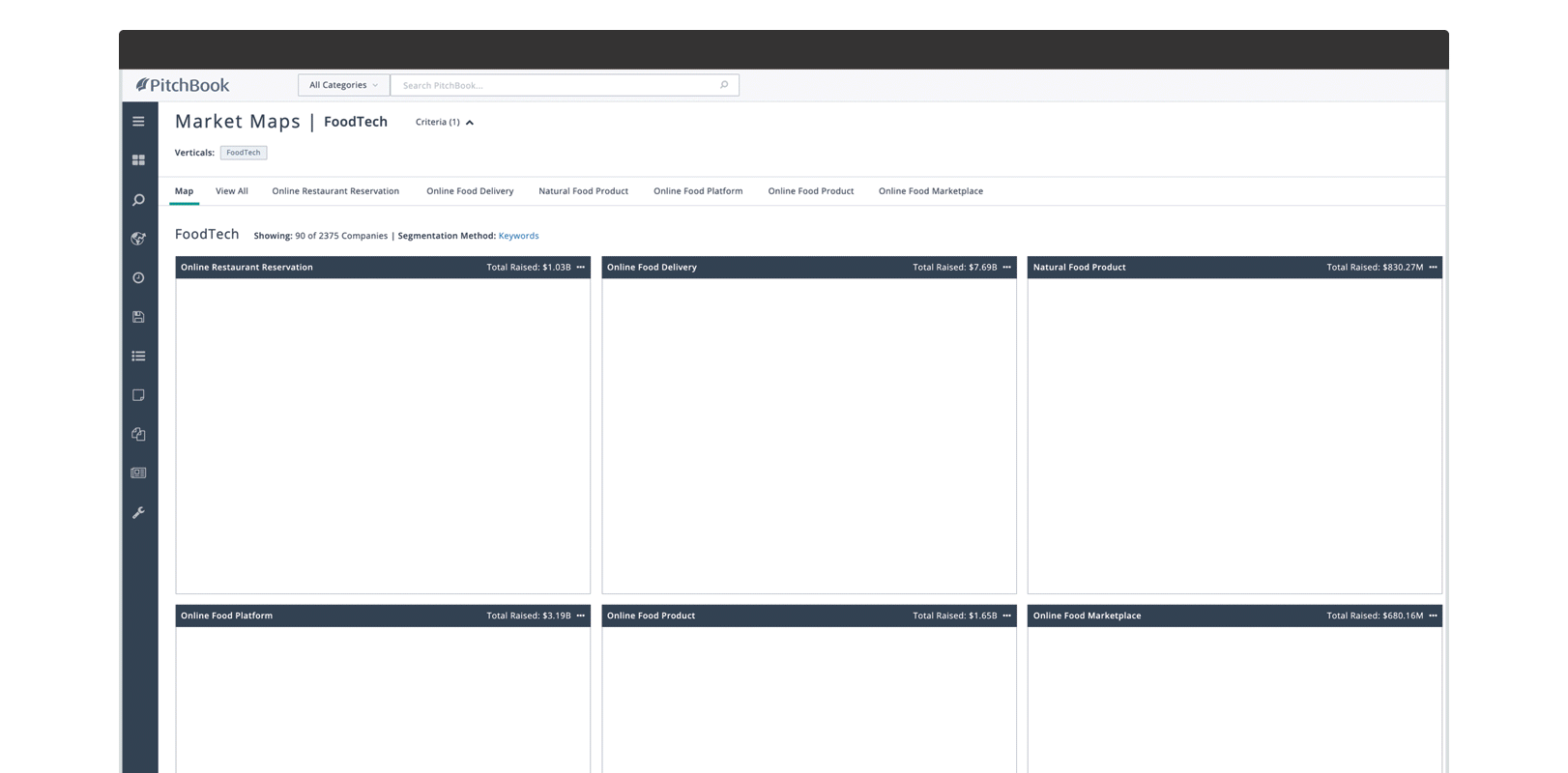 Customers can create segmented maps with the click of a button, as well as add or remove companies if they're mapping a nuanced space that defies traditional industry taxonomies. Custom segmentation through our Market Maps feature allows users to define segments how they see them. Our market maps are instantly formatted, pulling in company logos and data points from users' search results—however narrow or broad. To save additional time, visible metrics—like total capital raised and post valuation, among others—are always up to date with a simple re-download of a saved map.
Paired with Emerging Spaces, our Market Maps functionality allows customers to take the next step in turning their discovery of up-and-coming spaces into an actionable deliverable—in less time and with more control—so that they can confidently present to their teams or clients.
Ready to discover PitchBook's Market Maps?

Not a PitchBook user yet? Request a free trial.