Discover niche spaces on the rise before your competitors with PitchBook's Emerging Spaces
October 7, 2019
New spaces within the VC landscape pop up all the time, and identifying those spaces in their nascency—before your competitors key in—can be a challenge. Monitoring market trends alone won't put your firm at the forefront of these opportunities, but PitchBook's new Emerging Spaces feature can help.
With Emerging Spaces, PitchBook clients can discover niche spaces on the rise within relevant sectors and identify promising investment trends beyond what they might otherwise unearth. Leveraging the expertise of PitchBook's analysts and methodology developed by our data scientists, Emerging Spaces provides unparalleled insight into developing spaces—like carbon capture and removal, ghost kitchens, and clean meat.
These emerging spaces are constantly changing, and often are too fluid to be categorized as an established industry or vertical. When trying to identify new investment spaces, searching within a traditional industry taxonomy can be limiting. This feature promotes discovery and gives PitchBook customers an advantage by providing actionable context on accelerating spaces.
Stay on top of changes as emerging spaces shift
Once you've identified an emerging space that's relevant to your firm's strategies and goals, track it in the platform over time and stay attuned to changes, growth and new opportunities within that area and others. In addition to complete deal, company and investor information for each emerging space, the feature highlights noteworthy changes so PitchBook customers never miss an important development or feel uninformed about the underlying details of those changes.
Use insight gleaned from PitchBook's Emerging Spaces to fuel action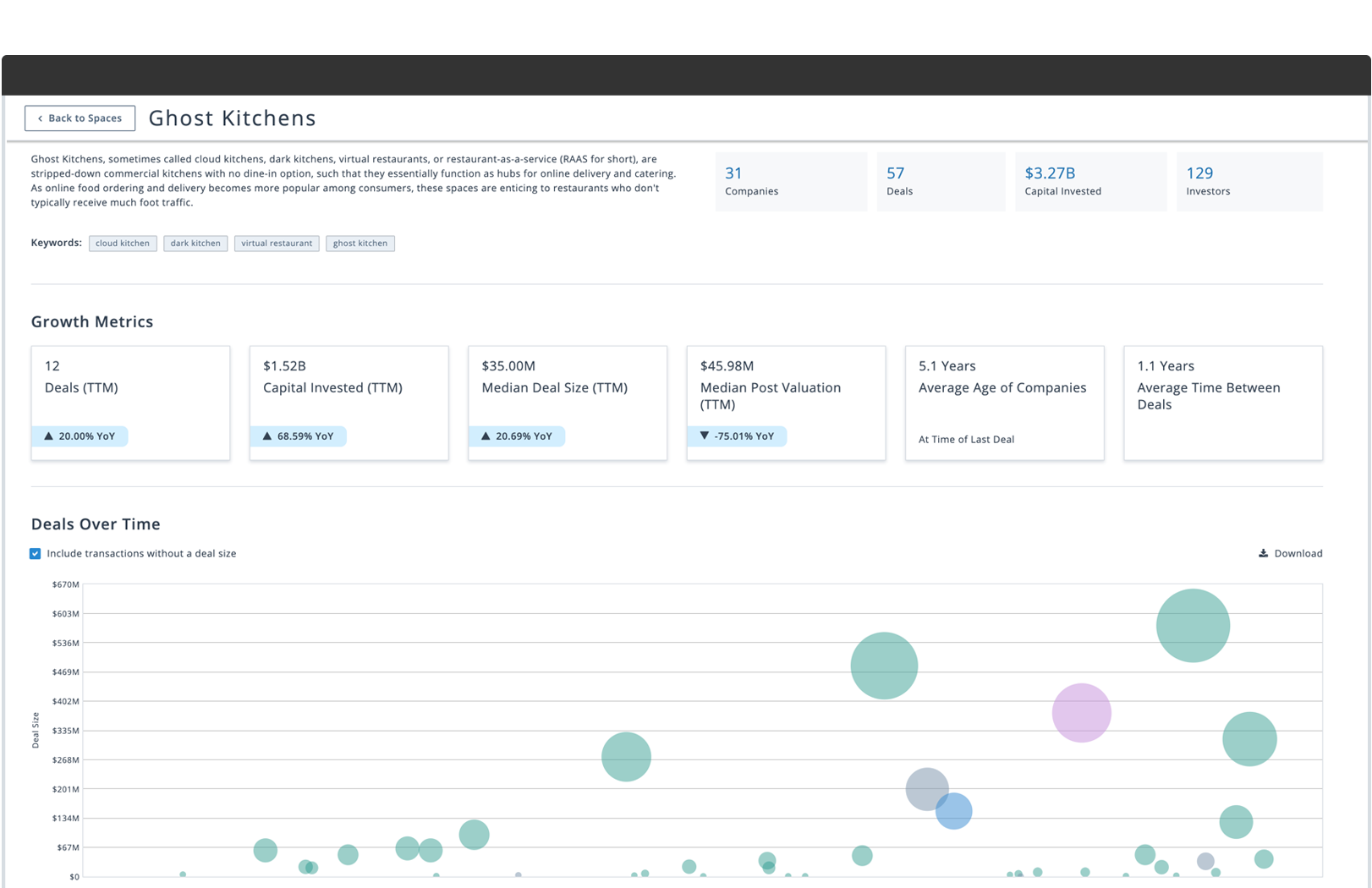 With a developing trend in sight, the analysis section of PitchBook's Emerging Spaces feature allows users to dig deeper by surfacing growth metrics, deal visualizations, timely news coverage and data supporting each trend. With access to critical insights—including the number of companies founded in a new space by year, total deals in an emerging sector over time and year-over-year context for growth metrics—PitchBook clients can be more confident in pursuing and securing opportunities in the markets' ascending areas.
Ready to discover PitchBook's Emerging Spaces?

Not a PitchBook user yet? Request a free trial.