Big Things
11 big things: One giant leap for startup-kind
March 1, 2020
Saturday was one of my favorite random days on the calendar. Well, one out of every four calendars. It was Feb. 29, the extra day gifted by our quadrennial leap year, a day to ponder the Earth's orbit, the vagaries of timekeeping, and how strange it is that a normal February is only 28 days in the first place.
So leaps were already on my mind this week. And then a high-tech hardware startup turned into a unicorn with a new nine-figure funding, representing a lofty step-up in valuation. Which got me thinking: What are some of the other largest leaps into unicorn territory in recent startup history?
Unicorns may not be able to fly, but they can leap. And that's one of 11 things you need to know from the past week: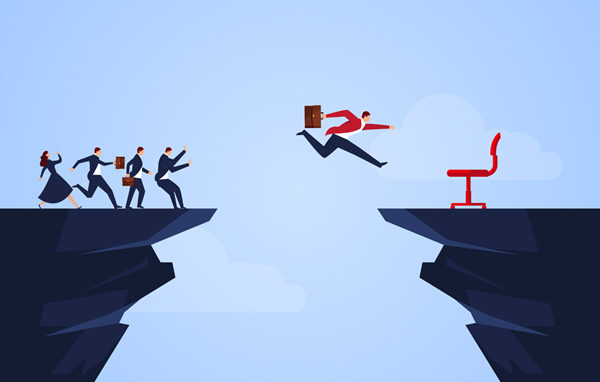 1. Stepping up
SambaNova Systems, which makes computer chips for the internet of things, just raised $250 million in Series C funding at a $2.5 billion valuation, according to regulatory filings reviewed by PitchBook. My colleague James Thorne had
the exclusive story
this week. The investment in SambaNova makes the startup a unicorn, and it represents a valuation step-up of 2.8x the amount generated by its previous round of VC.
It's an impressive multiple, one that could augur big things for SambaNova as the sorts of smart devices that comprise the IoT continue to proliferate. But it doesn't hold a candle to other recent massive valuation step-ups achieved by startups that have made their own leaps to unicorn status.
Since the start of 2010, no startup has logged a bigger step-up multiple on its first round of unicorn funding than Dropbox, according to PitchBook data. In October 2008, during the financial crisis, the file-hosting specialist raised $6 million at a $25 million post-money valuation. It waited three years to raise its next round, a stretch during which the company's user base exploded to more than 50 million, according to Forbes. In 2011, Dropbox brought in $250 million in funding at a $4 billion post-money valuation, making for a 150x leap.
(A quick note, for those of you already questioning that math: All step-ups referenced here are calculated using the post-money valuation of a company's last non-unicorn round and the pre-money valuation of its first unicorn round. All valuations and round amounts are according to PitchBook data unless otherwise specified.)
More recently, there was Bitmain, a startup that makes computer chips and other products used in bitcoin mining. The Chinese company capitalized on the crypto craze to achieve a 117x valuation step-up in 2018, when it raised cash at a reported $12 billion valuation.
Many of the decade's biggest step-ups into unicorn territory came from companies that created explosively popular apps. Almost two years before being acquired by Facebook, messaging specialist WhatsApp raised venture funding at a valuation of more than $1.6 billion, a 39x multiple on its prior round. Niantic, which is the developer of Pokémon Go, raised $200 million at a $2.9 billion valuation in 2017 to fund future augmented reality games, marking a 25.7x step-up. Bytedance, the Chinese internet colossus behind TikTok, attained a 22x step-up in 2017.
Explosive valuation growth isn't necessarily a sign of good things to come. Viddy was once a red-hot mobile video startup, posting a 30.3x valuation increase when it leaped to unicorn status in 2012. Two years later, Viddy sold for a reported $20 million, and it shut down entirely not long after that.
Some of the other biggest step-ups of the 2010s came from startups that are now powerhouses in their respective industries. Airbnb notched a 17.7x valuation increase in 2011, when it crossed the $1 billion mark for the first time. Fintech startup Plaid, which agreed in January to sell itself to Visa
for $5.3 billion
, debuted as a unicorn with a $2.65 billion valuation in 2018, a 10.7x step-up. And it is probably little surprise that Uber factors in, reaching an almost even 10x multiple on its first unicorn funding, in 2013.
While we're on the subject of leaps, there's one more name I want to mention: Magic Leap, the maker of high-powered augmented reality headsets. In February 2014, the Florida-based company raised VC at a $101.3 million valuation. Eight months later, it collected a massive $542 million round at a $1.54 billion valuation, a 9.9x step-up for its first foray into unicorn territory.
And with that, our leap year festivities come to an end. See you all in 2024.
2. Trendy PE funds
Private equity continues to embrace two types of funds—those used to acquire tech companies and those used to buy stakes in other firms—like never before. Thoma Bravo, one of PE's pioneers of tech investing, is seeking $14 billion for its next flagship fund, plus another $4 billion split across a mid-market and a small-cap fund, according to a report from Buyouts. Meanwhile, Dyal Capital Partners, one of the dominant names in the growing field of GP stakes investing, is targeting at least $9 billion for a new vehicle, according to Bloomberg, less than three months after closing a prior $9 billion-plus effort.
3. IPO plans
DoorDash has filed confidentially for an IPO, a long-awaited step for the food delivery startup that's believed to carry a current $13 billion valuation. UiPath, a maker of automation software valued last year at $7 billion, could go public as soon as 2021, Bloomberg reported this week. And GFL Environmental, a Canadian waste management company with PE backing, has filed again for an IPO, about four months after shelving plans for a debut amid a tepid reception from investors.
4. Fintech fanatics
A recent crush of fintech dealmaking continued with two major moves in the early part of the week. In a notable exit for several VC and PE backers, Intuit agreed to pay some $7.1 billion to acquire Credit Karma, combining two major names in taxes and consumer credit. In Europe, meanwhile, digital banking startup Revolut reportedly raised $500 million at a $5.5 billion valuation, matching the reported valuation attained by rival Klarna in August.
5. Inhale, exhale
If it's not already there, Juul Labs is shaping up to be the startup world's next big cautionary tale. The latest setback was news that a group of 39 states has launched an investigation into the vaping company's marketing practices, with Connecticut attorney general William Tong saying he and his colleagues "are prepared to take strong action." Elsewhere in inhalation, marijuana delivery startup Eaze closed a $35 million round this week, a much-needed infusion for the cash-strapped company.
6. Deals on wheels
Pony.ai is unfortunately not a company working on mimicking the equine mind, but rather an autonomous driving startup that raised $462 million this week at a $3 billion valuation. The majority of the funding came from Toyota, the latest link between traditional automaking powerhouses and a new generation of self-driving upstarts. Another wheel-powered startup, Singapore's Grab, announced more than $850 million in new funding this week to power its ridehailing, food delivery and other services.
7. What goes up
German industrial giant Thyssenkrupp picked a winner this week in the auction for its sought-after elevator division, opting to sell the unit to a consortium led by Advent International and Cinven for €17.2 billion (about $18.9 billion). The bidding had drawn a number of other private equity heavyweights, including Blackstone, The Carlyle Group and Canada Pension Plan Investment Board.
8. Building blocks
Roblox is the developer of a massive multiplayer video game that also offers the building blocks for players to create games of their own; this week, the company raised $150 million in VC at a $4 billion valuation, according to PitchBook data. Graphcore, which makes semiconductors that are the basis of various machine learning and AI applications, banked
$150 million in funding
. And Karius, a company that searches the human genome for insights that could be the foundation for future treatments, announced a $165 million Series B this week led by SoftBank's second Vision Fund.
9. Pumping iron
A wave of imitators has cropped up in the wake of Peloton's push to prominence, with names like Tonal and Mirror also raising VC to fund tech-powered, in-home fitness products. A startup called Tempo joined the club this week, banking $17.5 million for its fitness system, which combines weightlifting with a 42-inch touchscreen display and connected fitness classes.
10. A Salesforce spree
Salesforce agreed this week to pay $1.33 billion for Vlocity, a former Salesforce Ventures portfolio company that builds software on top of the Salesforce platform. It was the latest big-ticket acquisition for the SaaS pioneer. Salesforce finalized a $15.7 billion takeover of Tableau Software and a $1.35 billion acquisition of ClickSoftware Technologies in the second half of 2019, a year after shelling out a reported $6.5 billion for MuleSoft.
11. A Texas toast
What a week for the artisanal alcohol brands of Central Texas. On Monday, a startup called Austin Cocktails (which is just what it sounds like) registered just over $2.5 million in new funding with the SEC. On Tuesday, another business called Austin Eastciders (which is also just what it sounds like) submitted an SEC filing indicating $5.7 million in new funding. Bottoms up!
Join the more than 1.5 million industry professionals who get our daily newsletter!