VC Exits
Fintech mega-deal: Visa to pay $5.3B for Plaid
January 13, 2020
The great fintech startup boom just minted itself a new poster child.
Plaid
, whose software links a wide range of consumer finance apps with banks and other platforms, said Monday it would be acquired by
Visa
for more than $5 billion in a landmark exit for venture-backed fintech startups.
San Francisco-based Plaid's $5.3 billion price tag dwarfs the previous record, set when mobile-payments specialist
iZettle
was acquired by
PayPal
for $2.2 billion in 2018.
The purchase price underscores the rapid rise in fortunes for the fintech market broadly and in particular for Plaid, which was co-founded in 2012 by CEO Zach Perret, a former Bain consultant.
Investors poured roughly $150 billion into venture-backed fintech companies over the past five years, more than half that including deals involving corporate players like Visa, according to PitchBook.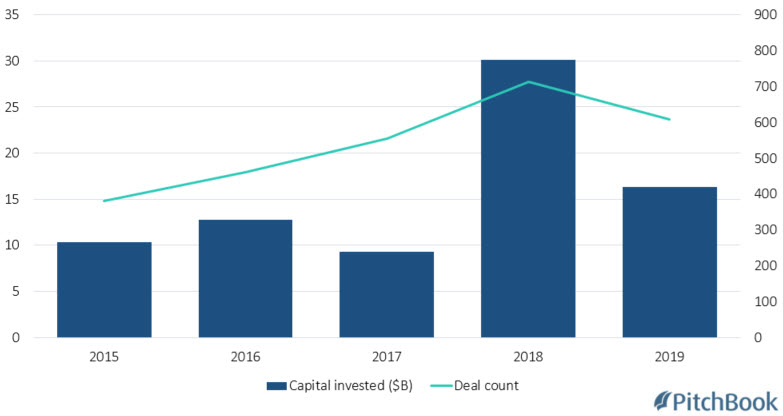 In 2016, investors valued Plaid at just $225 million in a Series B that included backers like
Citi Ventures
,
American Express
and
Goldman Sachs
. All told, Plaid has raised more than $300 million to date.
Plaid also counts several other marquee venture backers such as
Andreessen Horowitz
,
Index Ventures
and
NEA
.
Just over two years ago, Plaid secured a $2.65 billion valuation in a $250 million venture funding deal led by
Kleiner Perkins
. Now Visa, also based in San Francisco, is paying a hefty premium well above that.
Visa Chairman Al Kelly said the deal made sense because Plaid's technology, which last year powered banking connections of more than 200 million accounts, fills several holes in Visa's ambitions as leading a "network of networks in money movement" around the world. As part of that strategy, Visa last year acquired a controlling interest in
Earthport
, a company that provides cross-border payment services. Last fall, Visa and
MasterCard
both took strategic stakes in Plaid, according to the startup.
In a conference call with analysts after the deal was announced, Kelly declared that the combination with Plaid was a strategic move that would pay off "for at least a decade" into the future. Visa's revenue growth stemming from the deal is expected to rise 0.8% to 1% by 2021, the companies said.
Developers for financial apps like
Venmo
use Plaid's software to allow customers to link the app to their bank accounts. According to Plaid, one in four people with a US bank account has used the software for such connections covering about 11,000 financial institutions.
Featured image via Leon Neal/Getty Images News