After a hot quarter to wrap up 2018, the first three months of this year were relatively quiet across the board for private equity. Dealmaking slowed and exits dropped dramatically, leaving fundraising as one of the only bright spots across the industry.
Our
1Q 2019 US PE Breakdown
takes a deeper dive into the data outlining these trends. For a quick look at the highlights, check out these handy charts below.
US PE activity gets off to slow start
Dealmaking in PE had a rocky start this year, with the total number of deals declining 27.9% compared with 1Q 2018 and the total value falling 26.7% over the same period. The numbers for both deal count and value were not only worse than all quarters last year, but also worse than every quarter stretching back to 2Q 2013.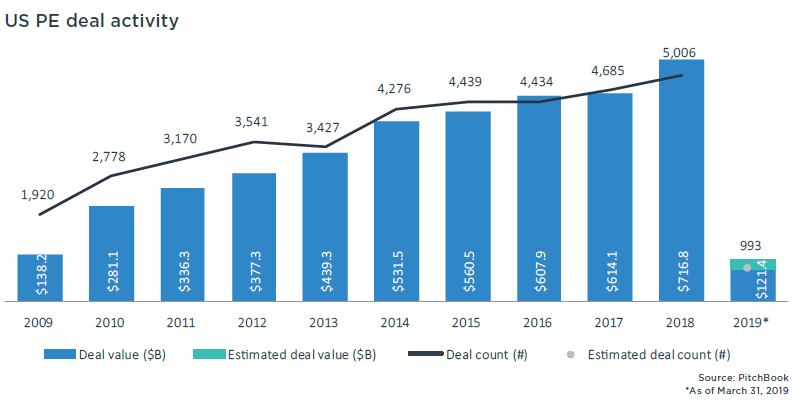 PE exit activity declines dramatically
Exit activity also took a massive hit in the first quarter, partly due to the government shutdown forcing companies to delay IPOs until later in the year. Firms are also generally exiting fewer companies, with twice as many platform buyouts in 1Q as there were exits.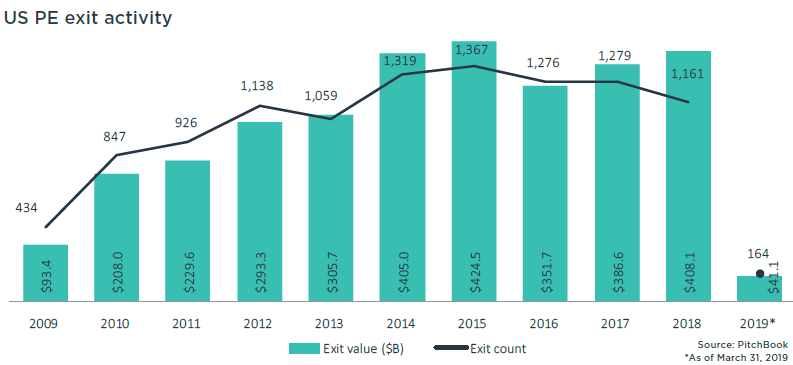 Take-private buyouts snap two-year drop
PE firms saw the 2018 downturn in the public markets as an opportunity to go bargain shopping, reversing a general trend of decreasing take-privates. The rise of mega-funds has also made the taking down of big game in the public markets a more viable strategy.
PE deals in software continue steady rise
Software companies remained a hot commodity for PE firms, with 1Q seeing a small but significant uptick in line with deal trends for the last three years. In fact, the $11 billion LBO of Ultimate Software Group was one of the largest buyouts of the first quarter, showing that GPs are comfortable and willing to take bigger risks on technology companies.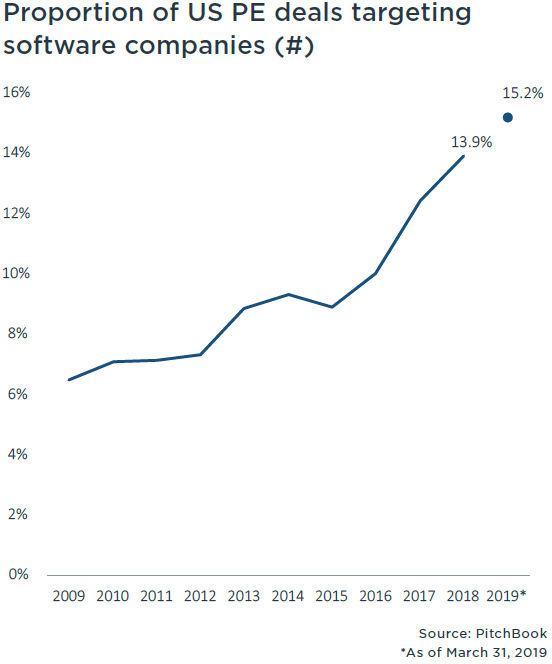 Add-ons account for record share of deals
The percentage of add-ons as a total of all completed PE deals increased in every sector in 1Q, except for materials & resources, which saw a small decline of about 3%. Overall, 1Q 2019 saw add-ons account for 71% of all PE deals, a burgeoning trend as firms aim to average down high multiple purchases through blending investments.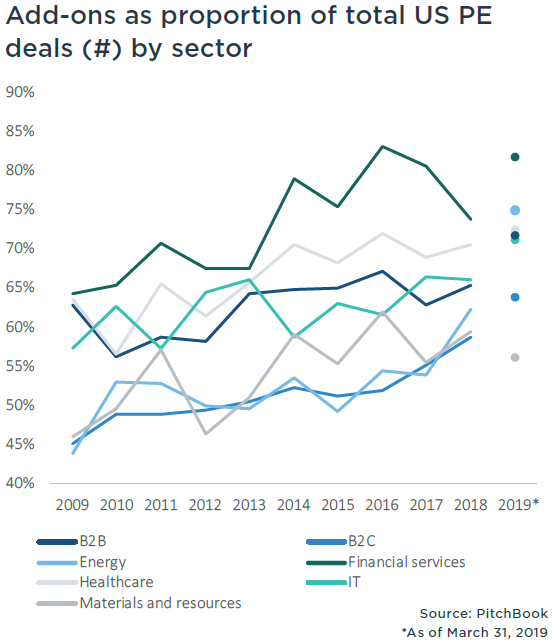 IT accounts for larger slice of deal value; B2B shrinks
IT drove a significant portion of deals in PE, accounting for over a fifth of all deal value in the first quarter. B2B, however, saw a significant decrease in proportion from previous years, with this year on track to see less than half the total deal amount of both 2017 and 2018.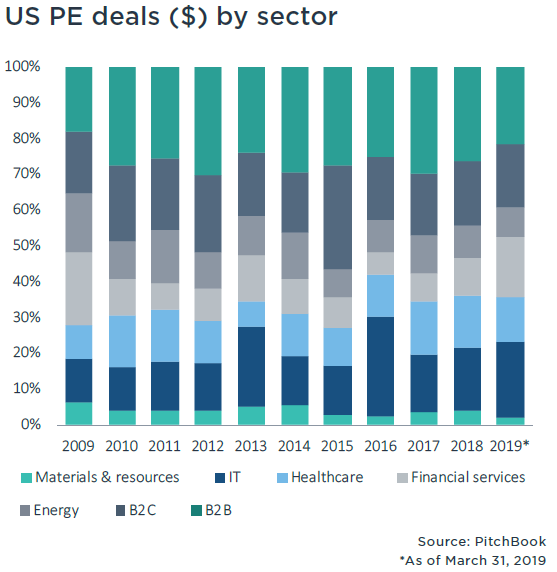 Number of deals below $25M continues to fall
Smaller deals have kept trending downward as funds become larger in response to investor demand. While most of these categories decreased, deals between $25 million and $100 million actually saw a modest increase in 1Q, jumping from 210 deals in 4Q 2018 to 237.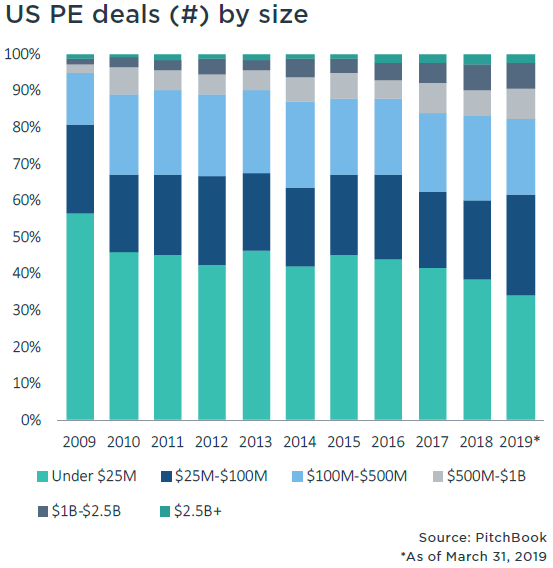 Healthcare acquisitions fall; share of total deal value up
Healthcare broke away from overall PE trends in 2016 when a majority of firms started exiting through SBOs. While that has now become the PE standard, healthcare continued to dive deeper into the trend, seeing fewer acquisitions and more add-ons. The proportion of deal value that acquisitions took up, on the other hand, has steadily increased.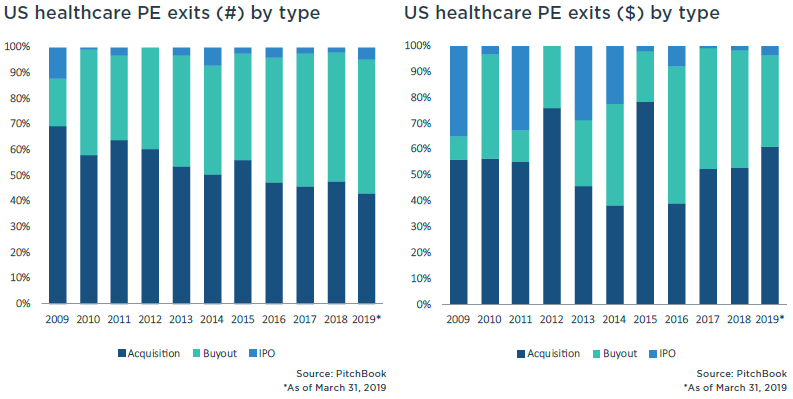 More PE dollars shipped to mega-funds
Funds over $1 billion continued to attract the dollars of those investing in PE funds, drawing 86% of the total available dollars. Investors have steadily kept funneling their dollars toward larger funds since 2014, partly because the amounts that firms are targeting have increased significantly.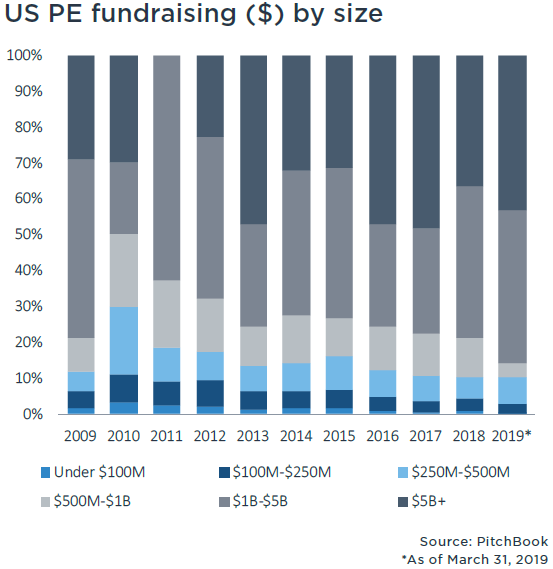 Average fund size sees mammoth jump
Although it isn't the first time that average fund size reached over $1 billion, 1Q marked an unusually high jump in the average size of funds. Buyout funds increased by 72% to nearly $1.7 billion and other PE funds increased 67% to nab a whopping $1.57 billion.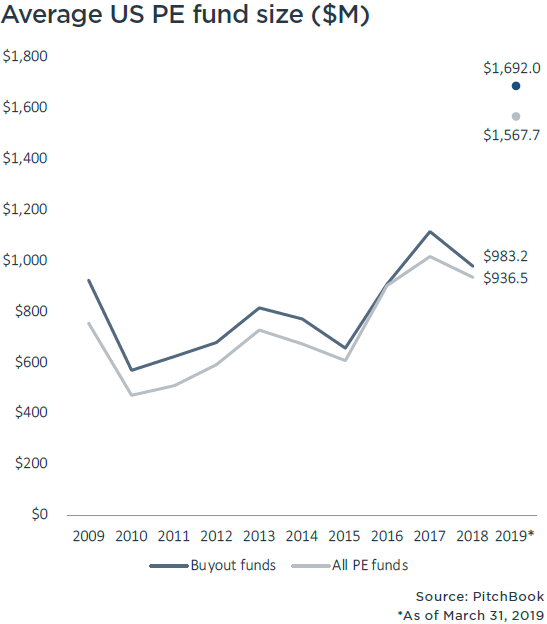 PE Investors start looking outside New York
While New York is still the popping place for PE, investors have started looking outside the finance hub to find other homes for their dollars. The increase has mostly been driven by the Bay Area, which saw about $27 billion in fundraising activity in 2015-2016 and over $80 billion in fundraising in 2017-2019.